East Coast hyperloop? Elon Musk claims 'verbal' approval; city officials know nothing about it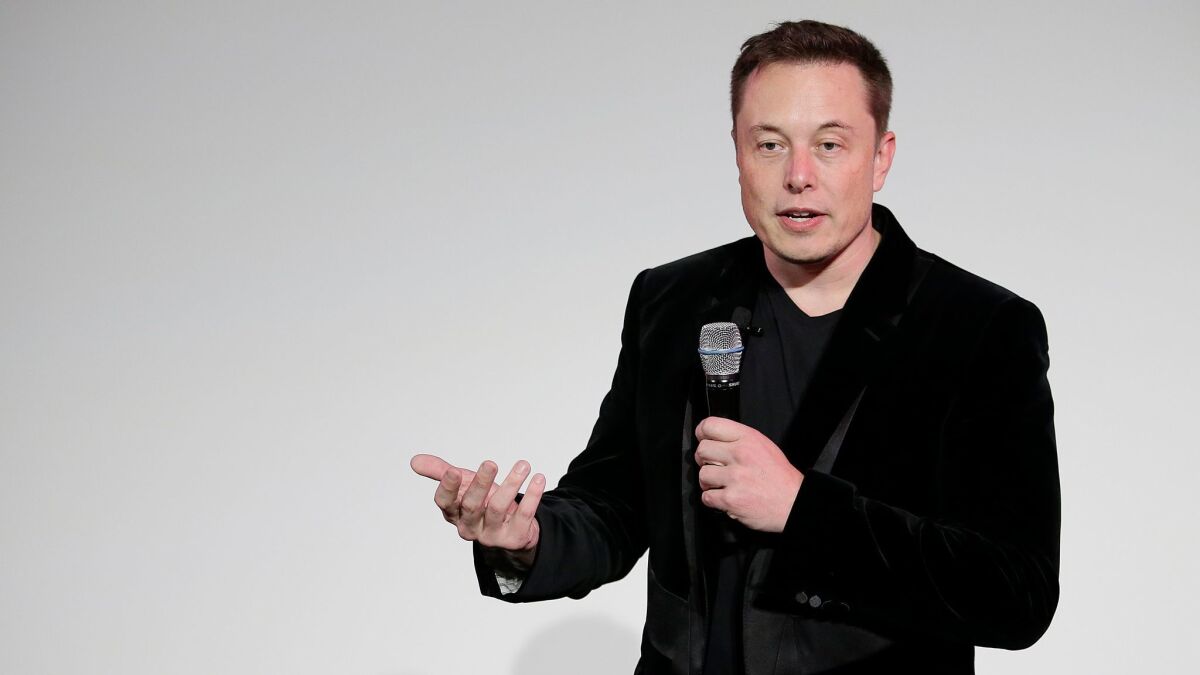 Elon Musk said Thursday that he has received "verbal government approval" — but not a formal go-ahead — for his newest, tunnel-digging venture to build an underground, high-speed transportation system connecting New York, Philadelphia, Baltimore and Washington, D.C.
Less than two hours after his first tweets announcing the verbal approval, the billionaire entrepreneur qualified his statements, tweeting: "Still a lot of work needed to receive formal approval, but am optimistic that will occur rapidly."
A Boring Co. spokesman later said in a statement that the company expected to secure the formal approvals necessary to break ground later this year.
A White House spokesman said there have been "promising conversations" with "Musk/Boring Co. executives" and that it was "committed to transformative infrastructure projects."
When asked whether those conversations or the White House's commitment to infrastructure projects amounted to a "verbal government approval," the spokesman said the White House had nothing more to add to the statement.
A Boring Co. spokesman said in the statement that the company has had a number of "promising conversations" with local, state and federal government officials and that "with a few exceptions, feedback has been very positive."
"We have received verbal support from key government decision-makers for tunneling plans, including a hyperloop route from New York to Washington, D.C.," the spokesman said.
But officials from New York City, Philadelphia, Baltimore and Washington said they have had no contact with Musk about his hyperloop plans.
"Nobody in City Hall, or any of our city agencies, has heard from Mr. Musk or any representatives of his company," Ben Sarle, deputy press secretary for New York City Mayor Bill de Blasio, said in an emailed statement.
He said it would be "premature" to speculate on a regulatory process for this project since the mayor's office knew nothing about the proposal, saying it would take more than a "quick 'verbal approval'" to green light such a project.
"This is the first we've heard of it too," said LaToya Foster, spokeswoman for Washington Mayor Muriel Bowser. "But we can't wait to hear more."
Baltimore Mayor Catherine Pugh said in a statement that she was "excited" to hear more about Musk's hyperloop plans.
Mike Dunn, spokesman for the city of Philadelphia, said Musk has had no contact with city officials on this matter.
"We do not know what he means when he says he received 'verbal government approval,'" Dunn said in an email. "There are numerous hurdles for this unproven 'hyperloop' technology before it can become reality."
Such a project would go through complex environmental reviews from localities, states and on a national level, said Elliott Sclar, professor emeritus of urban planning at Columbia University and director of the Center for Sustainable Urban Development at Columbia's Earth Institute.
"Until you understand what the technology is, you don't even know what the scope of the issues you're going to look at are going to be about," he said.
The extensive tunneling project would also face challenges in different terrain, as well as complexities in acquiring all of the rights of way, Sclar said. The longest tunnel in the world is the Gotthard base tunnel in Switzerland, which extends for about 35 miles. Musk's tunnel system is likely to be more than 200 miles.
Kaan Ozbay, professor in the civil and urban engineering department at New York University, said the process of obtaining the proper permits, clearing safety regulations and other issues would take "a very long time."
Musk, who also serves as chief executive of SpaceX and Tesla Inc., tweeted that the transportation system, known as the hyperloop, would connect each city center with "up to a dozen or more entry/exit elevators in each city." He added that travelers on the hyperloop could get from New York to Washington, D.C., in 29 minutes.
Musk first publicly mused about the hyperloop — low-friction tubes through which passengers would speed in pods — in 2012, then released a blog post a year later that gave more details on the design. At the time, he said the transportation system would move passengers from Los Angeles to San Francisco in 30 minutes at speeds of up to 760 mph.
But, so far, Musk has let other entrepreneurs run with the idea. Two Los Angeles start-ups focused on hyperloop technology have emerged, and Hawthorne-based SpaceX hosted a student hyperloop pod competition last year.
In December, Musk said he would build a tunnel-boring machine because traffic was "driving me nuts." He called the project Boring Co. and has since periodically tweeted updates about a tunnel-digging machine he called "Godot" and the tunnel it has been digging near the SpaceX headquarters in Hawthorne.
Later Thursday afternoon, Musk called for his Twitter followers to let their local and federal elected representatives know "if you want this to happen fast."
"Makes a big difference if they hear from you," he tweeted.
Twitter: @smasunaga
---
UPDATES:
2:20 p.m.: This article was updated with comments from Boring Co. and urban planning and engineering experts.
11:45 a.m.: This article was updated with comments from officials from the White House, New York City, Philadelphia and Washington.
This article was originally published at 10:55 a.m.
---
Sign up for the California Politics newsletter to get exclusive analysis from our reporters.
You may occasionally receive promotional content from the Los Angeles Times.