In the '20s, this tower housed fancy cars. Now it will house travelers and tourists
Ninety years ago, workers hurrying to their jobs on Spring Street witnessed a remarkable sight: a swanky garage that lifted Ford Model A's and other Jazz Age roadsters as high as 13 stories to a coveted parking spot.
A quarter century later, that same high-rise was converted into offices to serve the needs of a burgeoning title insurance company, only to be abandoned later and left a graffitied, empty shell.
Now, the building first known as Hill's Garage will get something rare in the world of commercial real estate: a third act — as an upmarket Cambria hotel catering to business travelers.
The $50-million makeover reflects the ongoing rebirth of Spring Street, the onetime "Wall Street of the West," which fell on hard times in the latter decades of the 20th century as white collar businesses departed for gleaming new skyscrapers closer to the Harbor Freeway and on Bunker Hill.
Today, real estate developers are spending hundreds of millions of dollars improving the blocks south of City Hall with residential, office and hotel projects. Some are being built from the ground up, like the 34-story Perla residential tower at Broadway and 4th Street. Others are renovations of historic structures such as the nearby Hellman Building, a 115-year-old office edifice being converted to luxury apartments and stores.
But those aren't former parking garages like the 419 S. Spring structure, heralded as a marvel upon its opening in 1928. The Times called it "the last word in automobile storage buildings," capable of housing 1,000 vehicles raised and lowered by two "immense elevators" running at the same speed as passenger elevators of the day.
Mechanics were on hand to perform light repairs to customers' cars or fill them with local Gilmore-brand gasoline. Attendants sped up and down inside the building on a "man lift," a continuously moving vertical conveyor belt with steps and handholds allowing brave souls to jump on and off at will.
The front and top of the building were elaborately ornamented in a Spanish baroque style of architecture called Churrigueresque, a respectable design choice at the time. Most of the ornamentation was chiseled off in the 1950s, however, when the building was converted to offices.
Title Insurance & Trust Co., which owned the Art Deco-style office building next door, bought the garage in 1952 and gave it a facelift while turning it into additional office space connected by an upstairs walkway.
The venerable title insurance provider was "the last of the great fiscal headquarters" to leave Spring Street, The Times reported upon its departure in 1977. By that time Spring Street was going to seed — the once-ritzy Hotel El Dorado across the street from the insurance buildings was advertising rooms at $6 a day, and another neighbor was providing food stamp and check-cashing services.
Offices in the former garage were rented to a series of tenants including the Los Angeles Police Department's Vice Division before the building was shuttered more than a decade ago.
Los Angeles hotel developer PNK Group Investments, which acquired the building in 2007, officially launched work Monday on the makeover to turn the old tower into the 180-room Cambria Hotel Los Angeles. Already, the remnants of its years as an office building are gone and the bones of its origins as a garage are laid bare.
A rusty steel tank in the basement awaiting removal still reeks of petroleum. On each upper floor, concrete beams sport the hand-painted numbers attendants used to locate parked cars, and the remains of mechanical oil dispensing pumps stand idle. Near the top are tanks that held water for washing cars.
Views across Spring Street from the roof include the 12-story Continental Building, which was the city's first high-rise when completed in 1904 — its offices have since been converted to apartments — and the former Hotel El Dorado, now a condominium building restored to much of its 1914 neo-Gothic elegance.
"We really feel like this is a premier location," said Janis Cannon, a senior vice president of the hotel's brand manager, Choice Hotels International Inc., using a description of Spring Street that would've been unthinkable a few years ago.
Cannon cited the growth of businesses in the nearby Arts District, including the pending arrivals of Spotify and Warner Music Group, and the cluster of government operations in the Civic Center a few blocks away.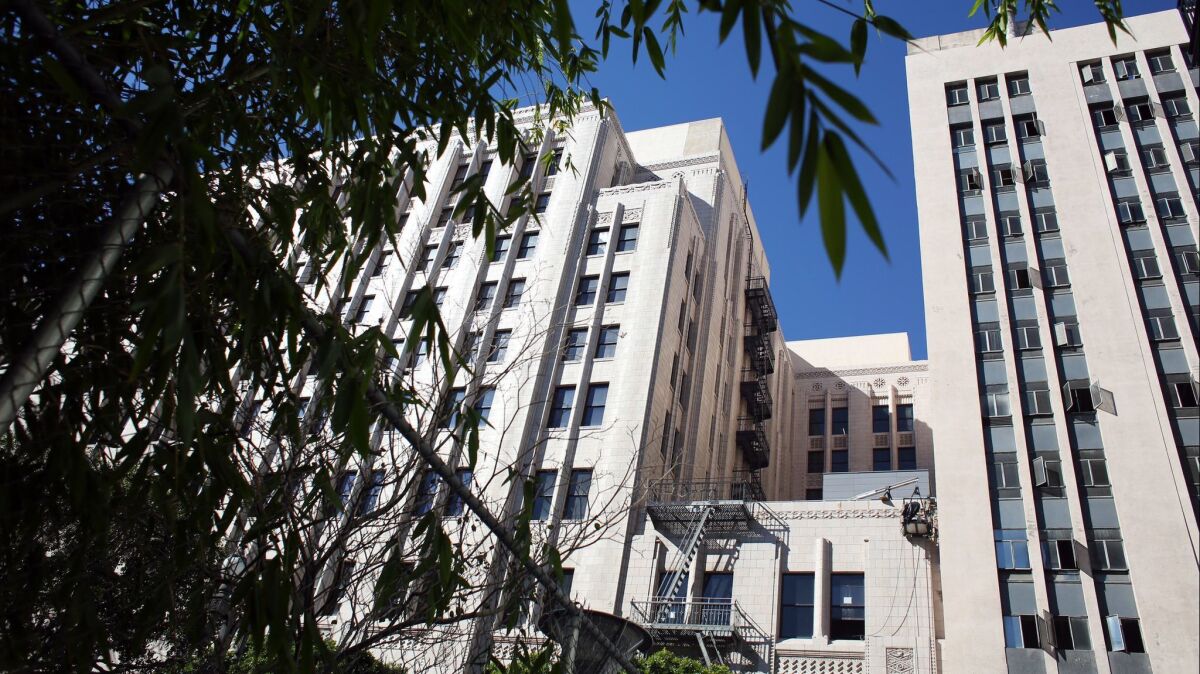 Maryland-based Choice Hotels was chosen by PNK to flag the hotel as a Cambria, one of Choice's top-shelf brands, pitched at business travelers. But Choice is also banking on leisure travelers — Cannon estimates that as many as 40% of guests will be on holiday. Los Angeles County hosted a record 50 million visitors in 2018 following eight straight years of tourism growth, according to the U.S. Travel Assn.
Downtown is a fast-growing hospitality market, said hotel sales broker John Strauss of JLL, who is not involved in the Cambria project.
The arrival of new brands to the area "demonstrates that the downtown hotel market has evolved and will continue to evolve to be an all-encompassing hotel market similar to San Francisco and Manhattan."
Downtown Los Angeles hotels reported average occupancy of nearly 80% last year, he said, with upscale rooms renting for about $230 per night. Rates have not been set for the Cambria, which is slated to open in 2020.
Another hotel is expected at 4th and Spring streets — Amsterdam-based CitizenM Hotels plans to build an 11-story inn with more than 300 rooms on a parking lot at the northwest corner of the intersection.
The arrival of hotels represents a decisive stage in the comebacks of economically struggling urban neighborhoods, said office landlord Christopher Rising. His firm Rising Realty Partners is renovating the long-vacant former Title Insurance & Trust building next door to the Cambria for reuse as an upscale office building set to open in March.
Comebacks typically start with residential developments like the ones that took place around 4th and Main streets in the early 2000s, which converted old offices to apartments, Rising said. Next come new offices for rent as the neighborhood comes back to life.
"Hotels are last," he said, helping inject the pizzazz people expect to find in a big city by bringing new people and providing locals places to eat, drink and hang out.
"The best thing about hotels, bars and restaurants is that offices feed off of them," Rising said. "It's a very symbiotic relationship."