NLRB empowers companies to treat more workers as independent contractors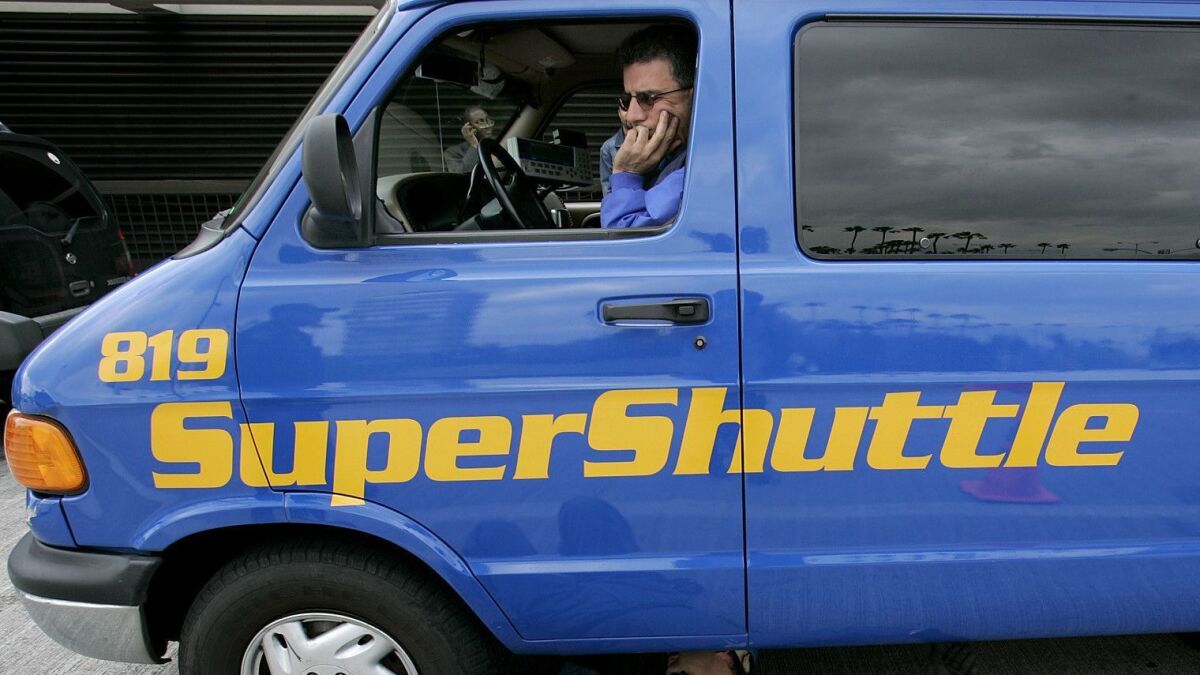 The National Labor Relations Board made it easier Friday for companies to treat their workers as independent contractors excluded from federal labor protections, overturning an Obama administration precedent. However, the ruling has limited impact in California.
By a 3-1 party-line vote, Republican board members sided against shuttle van drivers for SuperShuttle, who were seeking to unionize at Dallas-Fort Worth airport. The NLRB ruled that they were independent contractors, not employees, and therefore weren't protected by a New Deal-era law enshrining workers' right to organize.
The board overruled a 2014 case, FedEx Home Delivery, in which a Democratic majority on the NLRB had established a standard making it easier for workers to be considered employees rather than contractors. The majority in Friday's case wrote that the Obama-era ruling had "impermissibly altered the board's traditional common-law test" by "severely limiting" the significance of workers' "entrepreneurial opportunity" when analyzing whether they were contractors or employees.
Wilma Liebman, who chaired the NLRB in President Obama's first term, called the new ruling the latest example of the current board "ignoring worker realities and constricting labor law rights."
The labor board ruling does not appear to alter the impact of a controversial California Supreme Court decision last year that toughened the test for companies to classify California workers as independent contractors in cases of wage and hour violations.
The NLRB decision has "no impact on state law," according to Shannon Liss-Riordan, an attorney who represents workers suing Uber, Grubhub and other gig-economy companies in California. The test adopted by the California court in April, ruling on a driver's case against the courier company Dynamex Operations West, will remain in effect, she said.
Richard Reibstein, a management-side lawyer who specializes in independent contractor cases, agreed. "The NLRB's decision is extremely limited to determining only if certain individuals are employees that can be represented by a union," he said. "It has no application to state or federal wage and hour laws."
However, Reibstein added, "transportation companies worried about being unionized have less to be concerned about after this decision today by the NLRB."
A showdown over the independent contractor issue is gathering steam in the California legislature. The Chamber of Commerce, backed by Silicon Valley companies that rely on contractors, is pushing legislation to override the court's decision. The California Labor Federation, meanwhile, is promoting a bill to adopt the Dynamex test as state law.
The three-pronged test, which simplified an earlier, more ambiguous standard, only allows a company to classify workers as independent contractors if the worker is "free from the control and direction of the hirer" in performing the work; if the contractor's work is outside "the usual course" of the company's business; and if the worker is "customarily engaged in an independently established trade, occupation or business."
Staff writer Margot Roosevelt contributed to this report.
---
Sign up for the California Politics newsletter to get exclusive analysis from our reporters.
You may occasionally receive promotional content from the Los Angeles Times.