Nordstrom's newest store aims for a personal touch — and no clothing racks
The latest addition to the Nordstrom roster looks nothing like a department store and more like an exclusive boutique crossed with a hipster coffee and juice bar.
At Nordstrom Local, a 3,000-square-foot, ivy-covered shop on Melrose Place in the Beverly Grove neighborhood, customers can meet with a personal stylist, have clothing tailored, get a manicure and sip a beverage laced with caffeine or alcohol.
Just don't try to browse the racks. Because there aren't any.
Shea Jensen, Nordstorm's senior vice president for customer experience, said the new shop, which is much smaller than the chain's average 140,000-square-foot store, is an experiment emphasizing pampered service and convenience.
"What we are trying to do is bring together the best of our most popular services to a place that is very easy for our customers to access as they are shopping with Nordstrom," she said.
"Time is a precious commodity and we know that our customers appreciate speed and convenience," Jensen said. "With Nordstrom Local we are trying to create more accessibility and opportunities."
Nordstrom's test concept, which opened Oct. 3, comes as traditional retailers are being battered by the growing popularity of shopping online and at discount mass merchants, which has eroded mall traffic and hurt profit margins.
Wall Street has been chronically disappointed by recent financial reports from the likes of Nordstrom Inc., Macy's Inc., J.C. Penney Co. and other mall merchants.
Some retailers have resorted to bankruptcy protection, including Toys R Us Inc., Payless ShoeSource Inc. and Gymboree Corp. Others have gone out of business, such as Bebe Stores Inc. and Sport Chalet.
Nordstrom, which primarily is found at malls with more expensive stores, has held up better than many other retailers, and members of the Nordstrom family who run the Seattle company have been trying to raise money to take it private. The company operates 121 traditional Nordstrom stores in the U.S. and Canada, 224 Nordstrom Rack discount stores, two Jeffrey boutiques and two clearance stores.
On the same day that Nordstrom Local opened its doors, the company kicked off an opening celebration for its Westfield Century City mall Nordstrom, which was relocated from the Westside Pavilion. Nordstrom is billing the 154,000-square-foot department store as "an updated shopping experience, including new store design concepts and services."
Time is a precious commodity and we know that our customers appreciate speed and convenience.
— Shea Jensen, Nordstrom senior vice president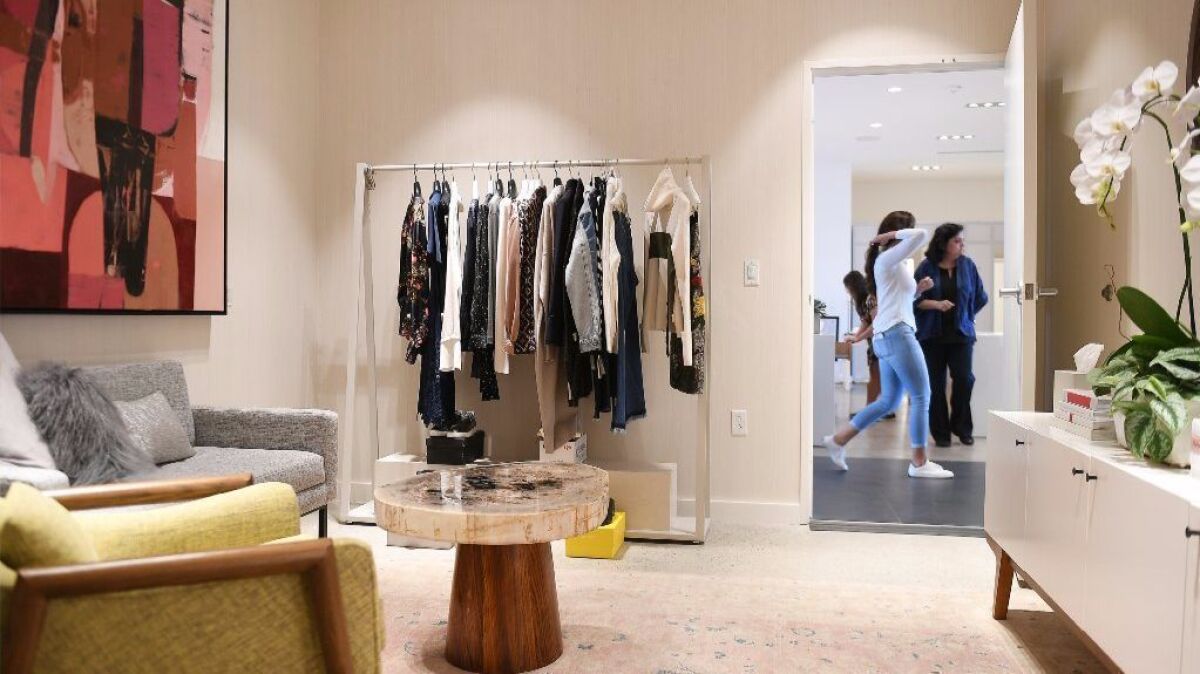 Retail experts say Nordstrom may be on to something by offering a different, more intimate approach at Nordstrom Local. The retailer is borrowing a page from several trendy e-commerce sites that have opened bricks-and-mortar storefronts as showrooms to try on clothing or to connect with their fan base.
"There's a new term for this, which we call 'retail-tainment,'" said Lisa Haddock, who teaches marketing, brand management and consumer behavior at San Diego State University and the San Diego campus of the Fashion Institute of Design and Merchandising.
It's designed to be "a fun, unique, personalized experience," Haddock said. "A customer can have a glass of wine. She can have her nails done. She can relax. You have to have that kind of interaction to engage the customer and reach them on an emotional level."
Nordstrom Local is designed around a one-stop shopping approach, Jensen said. Customers who have bought items online can pick up their purchases in the store, make sure they fit and get them altered if they don't.
It's also designed to accommodate Nordstrom's Trunk Club, a personalized service offering designer clothing to customers. Space outside has also been made to accommodate curbside pickups.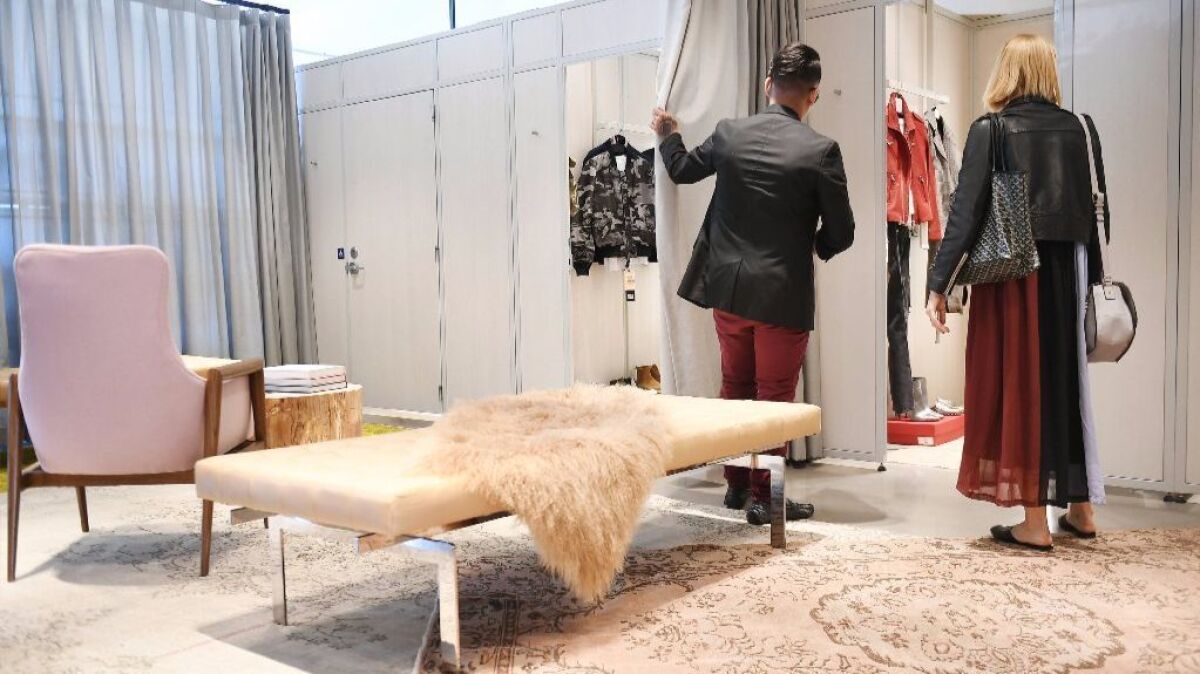 Stylists meet with clients near dressing rooms with living room-style furniture for family and friends. Some of the spaces can be made even more private by drawing curtains, like fashion emergency rooms.
Although Nordstrom Local lacks the deep inventory of a traditional store, there is a bar stocked with wine, beer, coffee and pressed juice. The Nail Bar offers an array of manicure services, including nail art.
Cory Goldstein, a marriage and family therapist, decided to drop in and get her nails done.
"This whole place is just so cool, one-stop shopping for the millennial in me," Goldstein, 30, said.
"I think I definitely will be coming back here to buy clothing in the future," she said. "It can be anticlimactic to shop online and get a delivery at home without the benefit of having someone's opinion of how it looks on you."
Homemaker Jennifer Golfman sat down with a personal stylist for an initial consultation, saying she has had trouble buying clothes online and then having to return them for various reasons.
"As a mom with two young children, as much as I love shopping, I have no time. I have been shopping online a lot and it's hard when you don't know how it's going to look and how it's going to fit," Golfman said.
Stephanie Chu, a 20-year-old USC accounting student, said she dropped by for some juice after hearing about the store.
"You can stop in and try a bunch of things on that you have seen online without all of the mall crowds," Chu said. "I don't want the hassle of having to walk through a bunch of stores and a bunch of people."
For more business news, follow Ronald D. White on Twitter: @RonWLATimes
ALSO
Robert McKay, who designed the first Taco Bell and turned it into a fast-food empire, dies at 86
L.A.'s iconic Fatburger restaurant chain prepares to take its story to Wall Street
Toys R Us says its bankruptcy won't interrupt the holiday shopping season
---
Sign up for the California Politics newsletter to get exclusive analysis from our reporters.
You may occasionally receive promotional content from the Los Angeles Times.