Robert McKay, who designed the first Taco Bell and turned it into a fast-food empire, dies at 86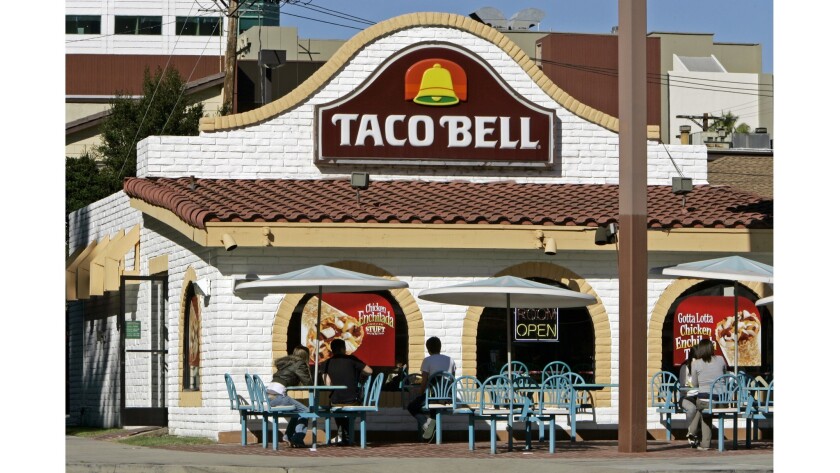 Robert L. McKay, the former architect who designed the first Taco Bell restaurant and helped transform the brand into a fast-food powerhouse, has died of cancer in Santa Ana. He was 86.
It was 1964 when McKay, then a Sherman Oaks architect, was hired by Taco Bell founder Glen Bell to create a distinctive new look for the business. Bell had opened his first Taco Bell in Downey in 1962, selling hard shell tacos and other Mexican-inspired foods.
McKay took the concept and designed the California Spanish-style mission motif, arched and tiled with the rooftop bell that became the signature image of the company.
Bell decided McKay could do more than just architectural design; Bell opened the company's headquarters in Torrance and hired McKay to be president. McKay closed his architectural and contracting business and devoted his full energy to Taco Bell.
The company went public in 1969 and McKay eventually became chief executive. In 1978, Taco Bell was sold to PepsiCo and McKay stayed on as president and chief executive until 1981.
By then McKay was ready to move on.
"I wasn't ever comfortable sitting around conference tables in fancy resorts listening to presentations from the very people doing the great work of running the company every day," he said.
In 1982, McKay turned his attention to financing and building new businesses. For the next 30 years, McKay invested in ventures ranging from technology and consumer products to real estate and fine art.
He was particularly proud of his involvement in building the National Bank of Southern California in Santa Ana into an important source of capital for local businesses. The bank was sold to US Bancorp in 1999.
In 1992, the McKay Family Foundation was formed, dedicated to social justice and community organizing work, particularly the rebuilding effort after the 1992 Los Angeles riots.
Separately, McKay and his wife, Meagan, were most proud of their work funding the creation of the Redeemer School in Jackson, Miss., for very-low-income children.
McKay, who died last week, is survived by his wife, Meagan; two sons, Rob and John; and five grandchildren.
For more business news, follow Ronald D. White on Twitter: @RonWLATimes
ALSO
Costco starts offering same-day grocery delivery
Nordstrom's newest store aims for a personal touch — and no clothing racks
As bids for Amazon's headquarters come due, tech has a chance to spread the wealth
---
Must-read stories from the L.A. Times
Get the day's top news with our Today's Headlines newsletter, sent every weekday morning.
You may occasionally receive promotional content from the Los Angeles Times.