Top Tribune Publishing shareholders at odds over sale to Gannett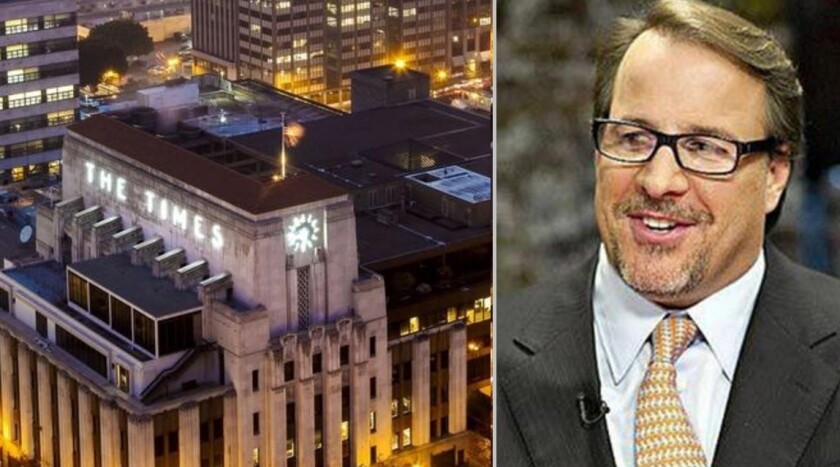 The second-largest shareholder of Los Angeles Times owner Tribune Publishing has ratcheted up the pressure on the company's board to reconsider a sale to USA Today publisher Gannett Co.
Los Angeles investment firm Oaktree Capital Management, which owns 14.8% of Tribune Publishing's stock, said in a securities filing Friday that the board should "pursue discussions with Gannett" or with other parties interested in buying Tribune.
What's more, Oaktree said in the filing that it planned to get in touch with other Tribune shareholders, with an eye toward coordinating efforts to push for a sale.
The filing, which comes just two days after Tribune Publishing announced that its board had voted to reject Gannett's buyout offer, marks the first time Oaktree has weighed in publicly on a possible Tribune sale.
It pits the investment firm, headquartered on downtown L.A.'s Bunker Hill, against Tribune's board and Chairman Michael Ferro, who became Tribune's largest shareholder earlier this year. He holds a 16.5% stake in the company. The third-largest shareholder is Pasadena-based Primecap Management, which has an 11.8% stake and has not yet weighed in publicly on the Gannett proposal.
In a statement Friday, a Tribune spokeswoman indicated that the board believes Gannett's proposal -- valued at $815 million including $390 million in debt -- is too low and there is "no basis for further discussion."
It would be in the best interests of (Tribune Publishing) and its stockholders ... to pursue discussions with Gannett.
Oaktree filing with Securities and Exchange Commission
Ferro has accused Gannett of "trying to steal the company" and acting "ungentlemanly" in its pursuit of Tribune, which also owns the San Diego Union Tribune, Chicago Tribune and other daily newspapers. Ferro bought his stake at $8.51 a share, a 5.5% discount at the time.
He told the Chicago Tribune on Thursday that "there's no price" for the company. "We're not for sale. We'll always listen to everybody but we're not for sale."
Gannett, which owns USA Today and about 100 small and mid-size newspapers across the country, privately approached Ferro and Tribune Chief Executive Justin Dearborn about a possible sale in the middle of last month.
On April 25, Gannett went public with its offer, saying Ferro and Dearborn were dragging their feet. Gannett offered to pay $12.25 a share for Tribune stock, a 63% bump over the stock's previous closing price.
The offer sparked a back-and-forth between the companies, with complaints about canceled meetings and disagreements over how much time Tribune needed to study the deal.
On Wednesday, the same day Tribune released its earnings report for the first quarter, the company's board unanimously rejected Gannett's offer.
Anticipating that rejection, Gannett had said it would urge Tribune shareholders to withhold votes for board members at a shareholder meeting in June.
Withholding votes is a symbolic gesture because it is too late to nominate alternative candidates for the company's board. That means regardless of how many votes are withheld, Tribune's slate of nominees will be elected.
Tribune's investor presentation calls Gannett's "withhold" campaign is a sign that the company "is acting in desperation and has no path to control" of Tribune.
Still, if enough shareholders withhold votes, it could be a strong signal to Ferro and the board that shareholders want to cash out. Withholding votes doesn't often lead to immediate results, but can effect change in the long term.
For instance, in 2004, more than 40% of Walt Disney Co. shareholders withheld votes to reelect then-Chairman Michael Eisner. Though it didn't cost him a board seat, he lost the chairmanship and it was taken as a vote of no confidence. He stepped down as chief executive the following year.
Oaktree, in its filing Friday, said one of the issues it would discuss with other Tribune shareholders was voting for or against nominees to Tribune's board.
Gannett could come back with a higher offer, or try to buy out shareholders directly through a tender offer.
Tribune Publishing shares closed Friday at $11.61, up .58 or 5%, above Thursday's close.
Twitter: @jrkoren
---
Your guide to our new economic reality.
Get our free business newsletter for insights and tips for getting by.
You may occasionally receive promotional content from the Los Angeles Times.