U.S. and China aim to hit climate goals sooner than expected in some cities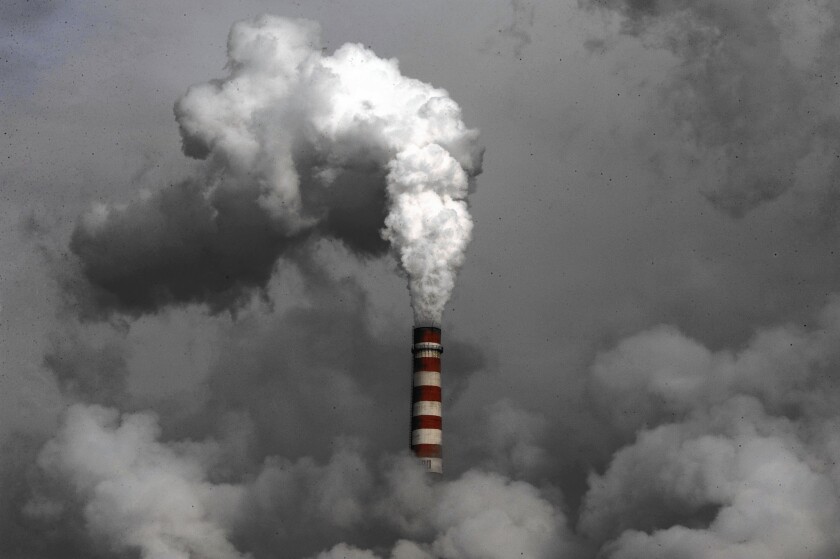 Reporting from Washington —
U.S. and Chinese officials plan to unveil new, more ambitious carbon-emission rules for several Chinese cities and provinces, embracing a faster timeline than the sweeping targets President Obama and Chinese President Xi Jinping set last year for reducing greenhouse gases over the next decade.
The announcements — to come during a climate-change summit Tuesday of mayors, governors and provincial leaders in Los Angeles — follow similar commitments made by American mayors and governors.
------------
FOR THE RECORD
Sept. 15, 5:19 p.m.: An earlier version of this article misspelled Chinese President Xi Jinping's name as Xi Jinpeng.
-----------
California has promised to reduce greenhouse gases at least 80% below 1990 levels by the year 2050. Seattle is striving to become carbon-neutral by 2050, producing no net greenhouse gas emissions.
Some critics have questioned whether the U.S. and China can meet their broad national goals. The U.S. promised to lower its carbon-dioxide emissions 28% from 2005 levels by 2025. China pledged to start tapering its national emissions by 2030.
White House officials see the new local commitments, both in China and at home, as an important sign that the pact between the presidents is more than just "window dressing," as one aide put it, and that there is support throughout both countries for putting plans in motion.
"They're now out there publicly committed to these targets," Obama's climate advisor, Brian Deese, said Monday. "There's a seriousness of effort, not just from the Chinese cities and provinces, but from the U.S. as well."
Under the new promises, the cities of Beijing and Guangzhou are committing to start tapering their carbon dioxide emissions by the end of 2020, according to documents released in advance of the Tuesday announcement.
NEWSLETTER: Get the day's top headlines from Times Editor Davan Maharaj >>
The Chinese cities and provinces signing on to the agreement account for about 25% of China's total urban emissions, according to a U.S. government analysis, putting them at roughly the same level of carbon dioxide emissions as Japan or Brazil.
Los Angeles Mayor Eric Garcetti convened this week's summit of mayors from a dozen cities in the U.S. and China who have been negotiating agreements to team up in the fight against climate change.
Beijing and Los Angeles, for instance, are committing to cooperate on low-carbon urban planning, low-carbon transportation, environmental technology and economic development. L.A. also has worked out a deal with the Chinese city of Shenzhen on a low-carbon initiative in vehicle fleets, green buildings and renewable energy.
The summit was timed to provide a boost to a global drive to get world leaders to set ambitious goals for fighting climate change at a Paris summit in December. Obama and Xi came out with their joint plan last November.
White House officials hope that the mayors' efforts will inspire other leaders to bring big plans of their own to the Paris summit.
Although the L.A. summit deals are nonbinding agreements, California Gov. Jerry Brown has said states, cities and provinces can play a key role in building momentum toward tougher standards.
"The real source of climate action happens to come from states and provinces," Brown said in July at a conference in Toronto. "The real energy has to come from below."
Garcetti came up with the idea of the mayors' climate summit in hopes that it would help local officials figure out what is working in other places and import successful practices.
"We are taking this very seriously," Garcetti said. "This is more than just words on a page."
ALSO
Porsche unveils all-electric Tesla-fighting sports car
Anaheim may freeze plans for new short-term rentals
Google turbocharges its driverless car initiative with new hire
---
For reporting and exclusive analysis from bureau chief John Myers, get our California Politics newsletter.
You may occasionally receive promotional content from the Los Angeles Times.