Regulator to face questions over unauthorized accounts in banking industry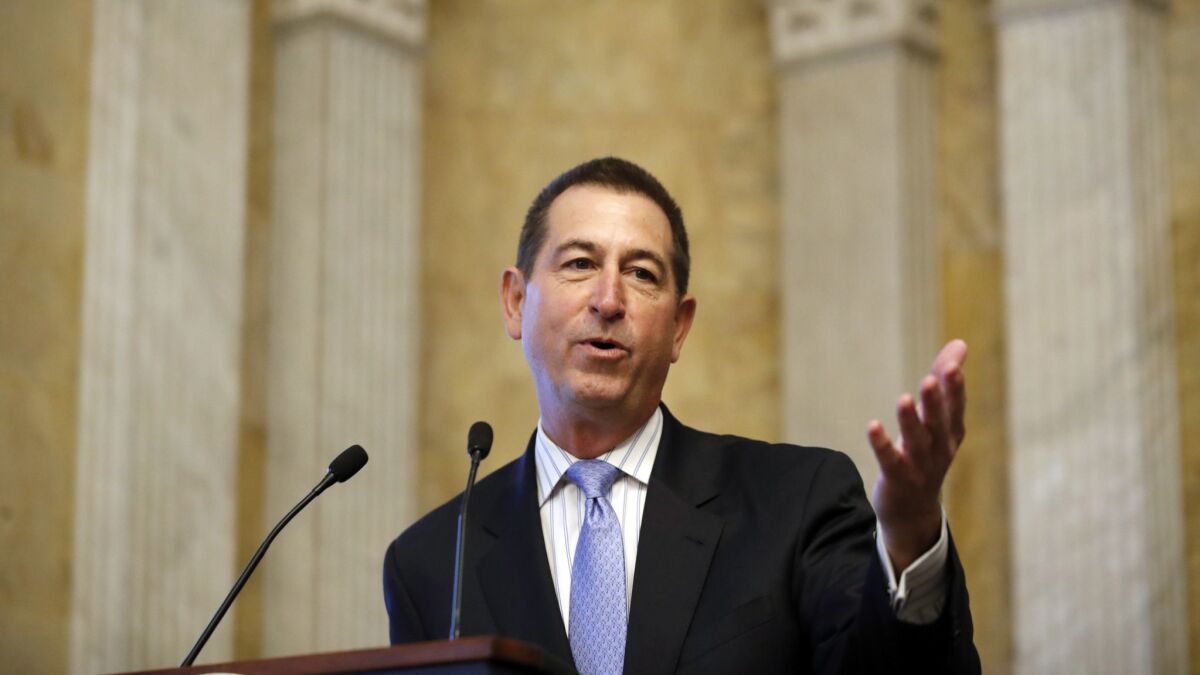 The nation's top bank regulator has found evidence that institutions other than Wells Fargo & Co. may have created accounts without customers' authorization — and a prominent Democrat wants the regulator to name names.
Ohio Sen. Sherrod Brown, the ranking Democrat on the Senate banking committee, said Tuesday he wants the Office of the Comptroller of the Currency to release more details of a review, spurred by Wells Fargo's accounts scandal, of sales practices at more than 40 large and mid-size banks.
Comptroller Joseph Otting will likely face questions about the matter from Brown and other lawmakers this week. Otting will testify before the House Financial Services Committee on Wednesday and before Brown's panel on Thursday.
The OCC's review found that some banks had opened accounts without proof of customers' consent, but the agency has declined to name those banks saying the results of regulatory exams are private. The results of the review, completed at the end of last year, were first reported last week by the publication American Banker.
"The public deserves more information on the prevalence of fake account abuses and other sales misconduct at the big banks the OCC reviewed," Brown said. "After the scandal at Wells Fargo revealed just how deep and pervasive fake account abuses and other sales misconduct can be, it is critical the OCC shares publicly the names of the banks reviewed."
The San Francisco bank in 2016 agreed to pay the OCC and other regulators $185 million and acknowledged its employees, motivated by strict quotas and sales incentives, may have opened millions of accounts without customers' authorization.
Soon after, the OCC said it would review sales practices at the nation's largest banks. The agency regulates more than 900 nationally chartered banks, including Bank of America, JPMorgan Chase and Citi.
Brown's comments came after Otting sent a letter to him and other members of the Senate and House banking committees, detailing some of the findings of the OCC's sales-practices review. A spokesman for Sen. Mike Crapo, chairman of the banking committee, declined to comment.
That review, according to the OCC's letter to Brown, found problems with sales practices and incentive policies at some banks, though such problems did not result "in widespread unauthorized account openings by bank employees."
Other than saying the practice was not widespread, though, the letter offers no clues about how many unauthorized accounts may have been created or how many banks may have created them.
Brown said the OCC should disclose how many such accounts were created and what banks are doing to address any consumer harm.
Byan Hubbard, an OCC spokesman, said the agency does not comment on correspondence with members of Congress.
The letter reports that many banks have changed their practices in the wake of the scandal and the OCC review, with some banks taking steps to eliminate practices that led to problems at Wells Fargo.
For instance, before the review, some banks were giving employees credit for opening accounts even if those accounts were never fully activated or used by the customer, and even if accounts were funded with money transferred from another account at the same bank rather than with "new money," according to the letter.
That's how the incentive system worked at Wells Fargo, allowing workers to get credit for creating unauthorized accounts that were never used and funding those accounts by transferring money from a customer's real account.
The report notes that some banks are now contacting customers after a new account is opened to make sure they know about the account — something Wells Fargo started doing only after its 2016 settlement with regulators.
Margaret Kane, a bank sales-practices consultant, said the letter to Brown suggests the OCC's review was thorough and that banks have taken the matter seriously. She also cautioned that the fact banks have changed some practices does not mean their practices were ever as problematic as Wells Fargo's.
"Just because they made changes doesn't mean they were seeing bad behavior, and I think the letter bears that out," she said. "I think banks are being extra careful to say, 'We don't want to create an environment where there is any unintended consequence.' "
Follow me: @jrkoren
---
Sign up for the California Politics newsletter to get exclusive analysis from our reporters.
You may occasionally receive promotional content from the Los Angeles Times.