Cashing in medals for money is tough sledding for most U.S. Olympians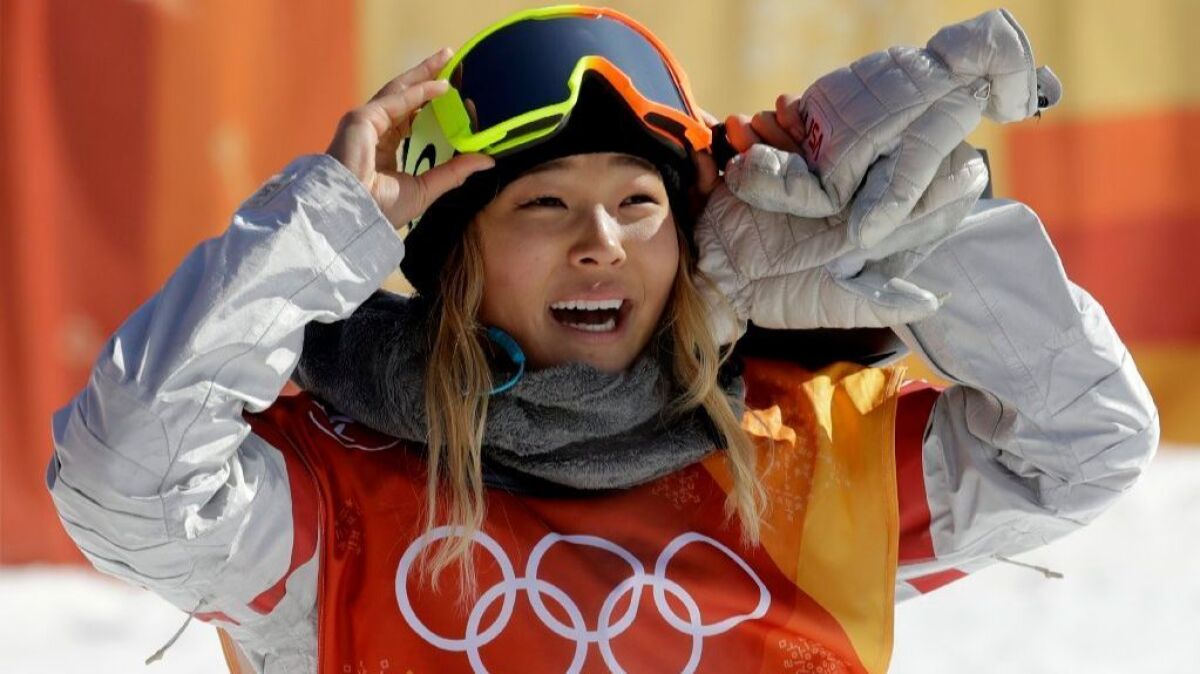 When she arrived for the Winter Olympics in South Korea, Chloe Kim already was an accomplished snowboarder with a handful of endorsement deals from the likes of Visa Inc., Nike Inc. and Toyota Motor Corp.
Then came her dominating performance to win the gold medal in the women's snowboarding halfpipe in Pyeongchang, and the charismatic 17-year-old Southern Californian instantly became a breakout star of the Olympic Games with a future likely to include much more lucrative sponsorship deals.
"She probably had five or six endorsements already and now she may well do at least another four or five major ones," said Don Franken, president of World Class Sports, a sports talent and marketing agency.
The U.S. women's hockey team, which won its first gold medal in 20 years with a dramatic 3-2 win over Canada in a shootout Thursday, also is a feel-good story that could be leveraged into added endorsements for the American group, analysts said. The team already has a multiyear sponsorship deal with Dunkin' Donuts.
But Kim and the hockey team will be the exception, not the rule.
Few athletes manage to convert their Olympic glory into fat bank accounts, sports marketing executives said. While established Winter Olympics stars such as skiers Lindsey Vonn and Mikaela Shiffrin, and snowboarder Shaun White, continue to profit handsomely from sponsorships, most members of the U.S. Olympic team don't attain multimillion-dollar wealth from their efforts.
"You may have gotten a bronze medal in the Olympics but typically it's not going to translate to even a bronze in endorsements," said Ben Sturner, chief executive of Leverage Agency, a sports and entertainment marketing firm.
The main problem: The games only come around once every four years, as opposed to other sports that stretch on for months every year.
Olympic athletes compete year-round in other events but "why would [corporate] brands get behind someone when they're not going to be seen on prime-time television for another four years?" Sturner said. "Two months from now there's no story about them. By April and May, no one is talking about the Olympics."
In addition, it's tough for Olympic celebrity endorsers to maintain staying power in the coming months when viewers, especially sports fans, are preoccupied with college basketball's March Madness, the opening of the baseball season and the start of the National Basketball Assn. playoffs.
"All of a sudden people are thinking about these other sports, and the Olympic stars and their moments to shine have passed," Franken said.
That doesn't mean there won't be a few Olympic athletes who convert their medals, and their heavy TV exposure in Pyeongchang, into commercial riches either with endorsements or by appearing on other TV programs.
Among the possibilities: Adam Rippon, 28, who won a bronze medal as part of the U.S. figure-skating team and gained even more attention among TV and social-media viewers with his outspoken and insightful comments in interviews.
"He's really made a name for himself" and might have a future as a TV analyst, Sturner said. "People want to know, 'What will he say next?'"
There's also snowboarder Red Gerard, 17, who became the youngest American male to win gold at the Winter Games in 90 years, then flew home to appear on "Jimmy Kimmel Live!"
Some athletes have earned millions of marketing dollars from being an Olympian, such as U.S. swimmer Michael Phelps and Jamaican sprinter Usain Bolt, because they had superlative careers that spanned more than one Olympics.
"The commercial staying power is huge once you've performed at two consecutive Olympics," said Greg Goldring, senior director of sports and entertainment at the Marketing Arm, a sports marketing agency.
The Pyeongchang games will enable established winter stars such as Shiffrin, 22, to add to their stable of sponsors as well. "This is a really great opportunity to build my legacy and build my brand," Shiffrin told reporters before winning two medals, a gold and silver, in South Korea.
Shiffrin reportedly was earning at least $3 million a year before this year's Olympics from endorsements. Her sponsors include the Red Bull energy drink, Barilla pasta and Oakley sunglasses.
But most athletes don't have much time to cash in on the Olympics. The window of opportunity to seal endorsement deals typically lasts only a few weeks after the games end and the "Olympics halo effect" wears off, marketing experts said.
Still, today's athletes have one asset that wasn't available a generation ago: Social media, which enables the Olympians to keep their presence — and their sponsors' products and services — in front of a major audience year-round.
The likable Kim, for instance, had a relatively small Twitter following of about 15,000 before Pyeongchang. That number has soared to 331,000 since she won gold there.
Kim also has shown she's savvy about helping her sponsors' social-media reach. She intersperses her fun, personal tweets with ones about Visa's "cool new payment technology" and photos that include Toyota vehicles in the background.
Even before South Korea, Kim's stardom and brand power were rising. She was among the athletes in Forbes' 2017 "30 Under 30" list of promising young sports figures. After winning her latest gold medal, she's on the cover of the newest Sports Illustrated.
Some Olympic athletes use TV appearances to stay in the public's eye and thus relevant with advertisers.
For instance, former Olympians such as soccer player Hope Solo, figure skater Kristi Yamaguchi and speed skater Apolo Anton Ohno have appeared on "Dancing with the Stars."
Tara Lipinski and Johnny Weir, both former figure skating Olympians, have become popular analysts on NBC's Olympics coverage. Other athletes, especially snowboarders, have a growing presence in online videos, some marketed by their sponsors.
White, the 31-year-old snowboarder who won his third gold medal in the men's halfpipe this month in his fourth Olympics, exemplifies how much Kim and other Olympic stars can prosper if they stay relevant over many years.
Even before this year's Olympics, White was the nation's most prominent snowboarder and had endorsement deals with Oakley, Target Corp. and many other firms. His net worth, aided by real-estate ventures and other investments, is estimated between $20 million and $40 million, Time reported.
(There haven't been any reports of White losing endorsement deals because of the bad publicity out of an Olympics news conference in which the athlete was questioned about a 2016 sexual harassment lawsuit, which White settled out of court.)
For most others, "even a high six-figure-a-year deal is unlikely in the off years between Olympics for any Olympian," Goldring said. "And there are only a handful of athletes in the Olympics that can command seven-figure deals, winter or summer."
Twitter: @PeltzLATimes
---
Sign up for the California Politics newsletter to get exclusive analysis from our reporters.
You may occasionally receive promotional content from the Los Angeles Times.