Timeline of scope-related outbreaks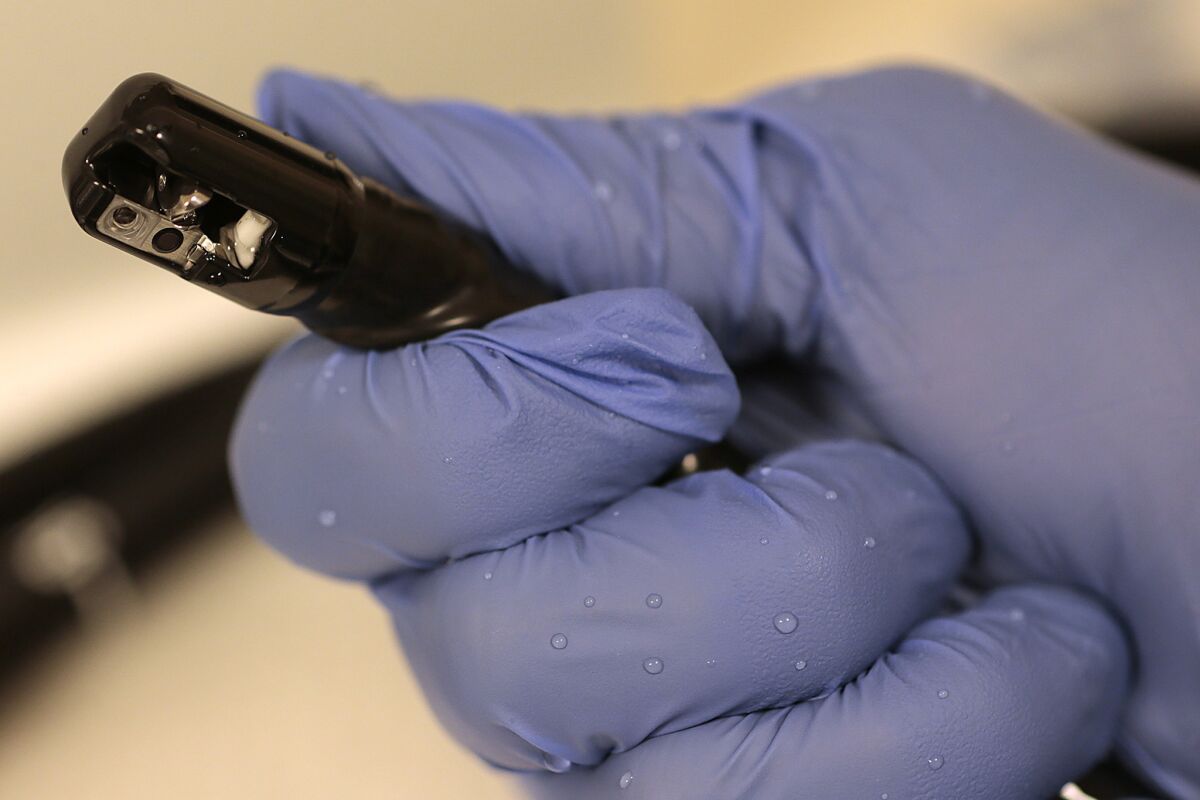 Recent events involving scope-related outbreaks of antibiotic-resistant superbug infections
2010
August: Japanese device maker Olympus Corp. introduces its TJF-Q180V duodenoscope.
2012
April 23: An Olympus employee dismantles a duodenoscope suspected of infecting 22 patients at a Netherlands hospital.
June 27: An independent expert's report on the Netherlands outbreak calls on Olympus to conduct a worldwide investigation and possibly recall the scopes if more contaminated devices are found.
Dec. 4: Olympus visits the University of Pittsburgh Medical Center after being alerted to apparent scope-related infections.
2013
January: Olympus issues "important safety advice" in Europe for the TJF-Q180V duodenoscope after infections in the Netherlands. There's no notification in the U.S.
November: Olympus visits Virginia Mason Medical Center to review the Seattle hospital's scope cleaning practices; an outbreak is later confirmed.
2014
August: Olympus sends a second safety alert in Europe after receiving complaints about tainted scopes.
Oct. 3: A UCLA patient carrying the CRE superbug undergoes a scope procedure with an Olympus device; the instrument remains contaminated after cleaning.
Dec. 14: UCLA begins investigating a superbug infection in a female patient who was treated with an Olympus scope.
2015
Jan. 28: UCLA ties patient infections to the Olympus devices, temporarily halts use of the scope.
Feb. 18: Los Angeles Times first reports the UCLA outbreak.
Feb. 19: The Food and Drug Administration warns U.S. hospitals about scopes spreading deadly bacteria.
March 4: Cedars-Sinai Medical Center reports four patients who had been infected by Olympus scopes.
March 26: Olympus issues new cleaning instructions to U.S. customers, similar to its European guidelines in 2013.
May 8: The U.S. Justice Department is investigating Olympus' role in outbreaks, the company confirms.
May 15: An FDA panel says that duodenoscopes are unsafe but that they should remain in use because no alternative is available.
June 9: Sen. Patty Murray (D-Wash.) demands details from Olympus on its response to infection reports, as part of a congressional investigation.
Aug. 17: The FDA cites Olympus and two other scope manufacturers for safety violations, including the failure to report potential injuries and deaths within 30 days.
Aug. 19: The Times reports that Huntington Memorial Hospital in Pasadena is investigating several patient infections tied to Olympus scopes.
Sept. 17: The FDA expands its warning, saying contaminated bronchoscopes made by Olympus and other companies may pose a risk to patients.
Sources: Olympus, Times reporting, hospitals
Sign up for the California Politics newsletter to get exclusive analysis from our reporters.
You may occasionally receive promotional content from the Los Angeles Times.