Prime Beverly Hills development site is sold to owners of next-door Beverly Hilton
A former department store site in Beverly Hills that has been slated for a $1.2-billion hotel and condominium complex is being sold to its next-door neighbors and rivals — the owners of the Beverly Hilton and Waldorf Astoria hotels.
The sale by Dalian Wanda Group, one of China's largest private companies, marks another Chinese pullback from overseas investments as government leaders constrict the flow of money out of the country. It also ends a years-long battle between Wanda and its rivals, who are seeking to build a condominium complex with a contentious history on the Hilton and Waldorf Astoria property.
Partners Alagem Capital Group and Cain International said Thursday that they have agreed to buy the 8-acre site at 9900 Wilshire Blvd., called One Beverly Hills, for an undisclosed price. Wanda Group paid $420 million for the property in 2014 and had been asking for at least that amount, according to real estate industry sources. This sale is expected to close later this month.
Alagem Capital Group, led by Beverly Hills investor Beny Alagem, is the longtime owner of the Beverly Hilton, a Wilshire Boulevard landmark that has hosted numerous presidents and Hollywood awards shows.
In 2017, Alagem opened a Waldorf Astoria in 2017 next door on the same property, at Santa Monica and Wilshire boulevards, considered a gateway to the city. London real estate company Cain International bought a stake in the hotels from Alagem in August in a deal that valued the properties at more than $1 billion.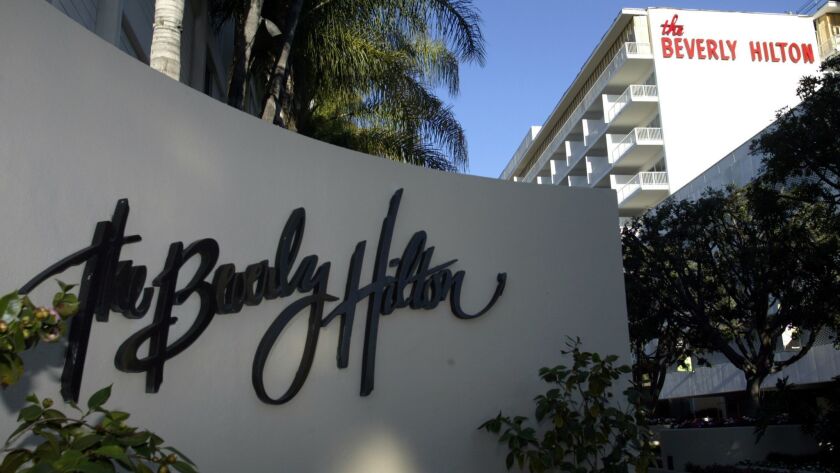 Cain had bigger plans in mind than just owning a part of the hotels, given Wanda's desire to sell its property.
The Beijing company, which has its roots in real estate, made a splash in Hollywood when it acquired the AMC movie theater chain for $2.6 billion in 2012 and Legendary Entertainment — the production company behind several Batman titles, including "The Dark Knight" — for $3.5 billion in 2016.
However, it has since reduced its ambitions amid a government-directed pullback of Chinese investment in the U.S. The pullback, which reversed nearly a decade of sharp growth, was underway even before President Trump imposed tariffs on Chinese goods amid rising economic tensions between the two nations.
Buying the stake from Alagem "was clearly a strategy we set out to acquire the next-door land," said Cain International Chief Executive Jonathan Goldstein. "I don't think Beverly Hills has maxed out its capacity" for deluxe lodging.
Alagem won approval last decade to build a mid-rise 110-unit condo project featuring towers of eight and 18 stories, but two years ago he backed a ballot measure that would have allowed him to combine the units into one 26-story tower.
The measure, which Alagem spent millions on, was defeated by voters and opposed by the Wanda development subsidiary, whose own project would have been dwarfed by the tower — which would have been the tallest in Beverly Hills.
Alagem, meanwhile, complained that Wanda had designed its project in such a way that its loading dock would have fronted the main entrance to the Beverly Hilton on Merv Griffin Way.
Wanda's One Beverly Hills property has approvals for a 134-room hotel and more than 190 condominiums in a complex designed by prominent architect Richard Meier, who designed the Getty Center.
The new owners intend to "stick with the outline" conceived by Meier, Goldstein said, but "of course, we would give it a fresh eye."
The combined 17-acre parcel has approvals for more than 1 million square feet of development, including condominiums and hotel rooms, he said.
Beverly Hills Mayor Julian Gold said he hopes the new owners will redesign the property as a cohesive whole instead of two competing entities cleaved by Merv Griffin Way, which could be realigned as part of a new plan.
"They are going to need to take some time to reimagine how they are going to program this to best utilize all the space they have to work with," Gold said. "This is a once-in-a-lifetime opportunity."
Alagem and Cain were the most logical buyers for the site, hotel industry consultant Donald Wise said, but they must be patient about making a profit.
"The condos will not sell out until 2024 to 2025," he said. "That's almost six more years."
The vast sums involved in developing the property apparently discouraged another buyer. Canadian real estate giant Triple Five Group was negotiating with Wanda to buy One Beverly Hills but recently bowed out.
Triple Five had arranged capital to do the deal but "ultimately decided not to close on the transaction," the company said in a statement, "given concerns about rising costs, including interest rates, and construction costs, and concern about the depth of demand for luxury condominium products, given global uncertainty."
The vacant land of One Beverly Hills was once home to Robinsons-May, a department store that was a sensation when it opened in 1952 as a high-end Robinson's. The $6-million structure boasted travertine stone from Peru, rose marble from Portugal, black granite from Brazil and rosewood from Madagascar. It closed in 2006.
The high-profile site has had a series of equally highflying owners since its days as a department store ended.
Wanda bought the property in 2014 from Joint Treasure International, a Hong Kong private equity firm that said it would develop the site.
Joint Treasure bought the property for $148 million in 2010 in a private auction from Banco Inbursa, a bank controlled by Mexican billionaire Carlos Slim. The bank took possession of the property that year after completing foreclosure proceedings against CPC Group, which was operated by jet-setting British developers Nicholas and Christian Candy.
The Candys made headlines in 2007 when they bought the parcel for $500 million in one of the largest transactions in the history of Los Angeles County.
The seller, New Pacific Realty Corp. in Beverly Hills, paid $33.5 million for the property three years earlier. New Pacific created the plan that called for razing the empty department store and building an ultra-luxury condominium and retail complex designed by Meier.
Twitter: @rogervincent
---
For reporting and exclusive analysis from bureau chief John Myers, get our California Politics newsletter.
You may occasionally receive promotional content from the Los Angeles Times.