China developer buys Robinsons-May site in Beverly Hills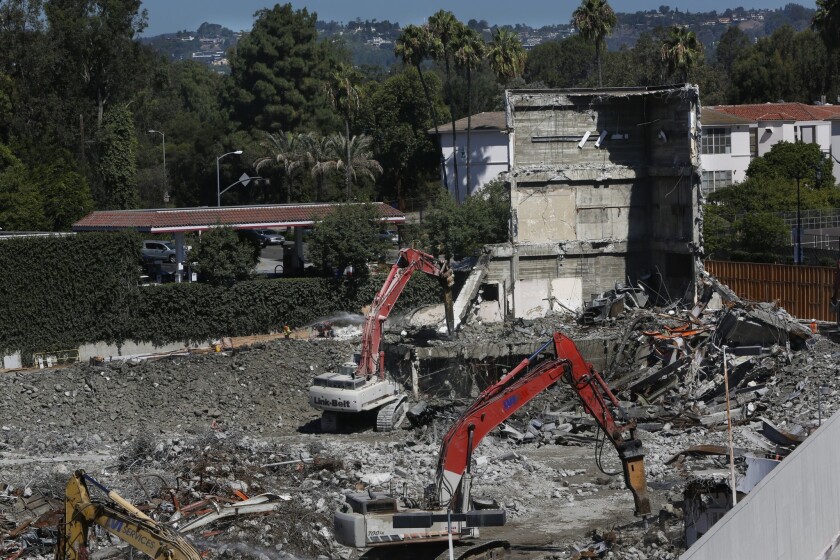 reporting from Beijing —
Establishing a major new beachhead in Hollywood, Wanda Group -- China's largest commercial property developer and owner of the AMC theater chain -- said Friday it has bought the site of the former Robinsons-May department store in Beverly Hills and will invest $1.2 billion to build a mixed-use development on the plot. No sales price was revealed.
The company, which has been aggressively expanding overseas since its $2.6-billion deal for AMC in 2012, said the development would serve as its "first important step into Hollywood." The company said it would set up a Los Angeles office to handle entertainment-sector investments -- including investment in local film production companies or global theatrical releases. The company's New York office will be responsible for commercial-sector investments.
Many of Wanda's Chinese shopping center developments are anchored by movie theaters, and the company has moved into film production and distribution on the mainland. It has also begun construction on a major film studio and entertainment complex in the eastern Chinese city of Qingdao, and is planning to launch what it calls a "major international film festival" in the city in 2017.
"The Los Angeles project is expected to aid in China's entry into Hollywood's film industry and generally promote Chinese culture abroad," the company said in a statement. "The Los Angeles office will be able to leverage on Hollywood's solid film industry resources to support the Group's Qingdao Oriental Movie Metropolis and Qingdao International Film Festival projects in China."
Wanda has been seeking to raise its profile in Hollywood, donating $20 million last year to the Academy of Motion Picture Arts and Sciences' soon-to-open film museum on the LACMA campus, which is just down the road from its newly acquired property. In recognition of the gift -- one of the largest to the project -- the museum's film history gallery will be named the Wanda Gallery.
Shortly after that donation, Hollywood movers and shakers including Leonardo DiCaprio, Harvey Weinstein and Nicole Kidman jetted to Qingdao to attend a splashy "unveiling" of the $8.2-billion Wanda studio complex.
Wanda Chairman Wang Jianlin has said the Qingdao complex would include 20 studios, an underwater stage, a film museum and an amusement park. Wang, one of China's richest men, says he has deals in place with foreign film and TV producers to shoot about 30 foreign co-productions at the facility, in addition to a number of domestic productions.
The company formally announced its film festival plans in Cannes this spring and has hired Rose Kuo, formerly the executive director of the Film Society of Lincoln Center, as head of the event. Kuo previously served as artistic director of AFI Fest in Los Angeles. Former academy President Hawk Koch has been serving as an advisor to Wanda as well.
Wanda owns shopping centers, luxury hotels, department stores and cinemas in China and has been expanding its investments in the U.S. and other countries. Wanda invested more than $1 billion in a luxury hotel in London last year and recently acquired a 28-story skyscraper in Madrid.
Last month, the company said it would take a 90% stake in a planned 89-story skyscraper along the Chicago River. The tower is to include a hotel and luxury apartments and is set for completion in 2018.
"Investing in Chicago property is just Wanda's first move into the U.S. real estate market," Wang said in a statement at the time. "Within a year, Wanda will invest in more five-star hotel projects in major U.S. cities like New York, Los Angeles and San Francisco."
The eight-acre parcel that Wanda said it has acquired is a highly desirable location on Wilshire, near the intersection of Santa Monica Boulevard and adjacent to the Beverly Hilton Hotel, site of the Golden Globe awards.
The property was bought in 2010 by Joint Treasure International, a Hong Kong private equity firm, for $148 million. The firm had said it intended to complete an existing plan to build 235 condos on the property designed by Getty Center architect Richard Meier. Meier's design includes underground parking for 876 cars and nearly 21,000 square feet of shops and restaurants. But that never materialized.
It was unclear Friday if Wanda would stick to that plan.
The Robinsons-May structure, which opened in the 1950s, was demolished last month.
Real estate experts familiar with the Beverly Hills market told the L.A. Times this spring that the property was worth more than twice what Joint Treasure paid for it, perhaps in the mid-$300-million range.
Besides Wanda, other Chinese property developers have been snapping up parcels in Los Angeles recently. In December, Chinese property developer Oceanwide Real Estate Group said that it would make its first foray into the U.S. by buying a sprawling parking lot in downtown Los Angeles across from Staples Center and the L.A. Live entertainment complex. The company plans to develop a five-star hotel, apartments and retail space.
In January, Chinese real estate developer Shanghai Greenland Group bought a sprawling parking lot next to the freeway north of 9th Street downtown for nearly $150 million. The full city block known as Metropolis has been approved by the city for 1.65 million square feet of hotel, condominium, office and retail development on a block that links the financial district with L.A. Live and Staples Center.
---
For reporting and exclusive analysis from bureau chief John Myers, get our California Politics newsletter.
You may occasionally receive promotional content from the Los Angeles Times.