Online retailers improve delivery times over Christmas, study finds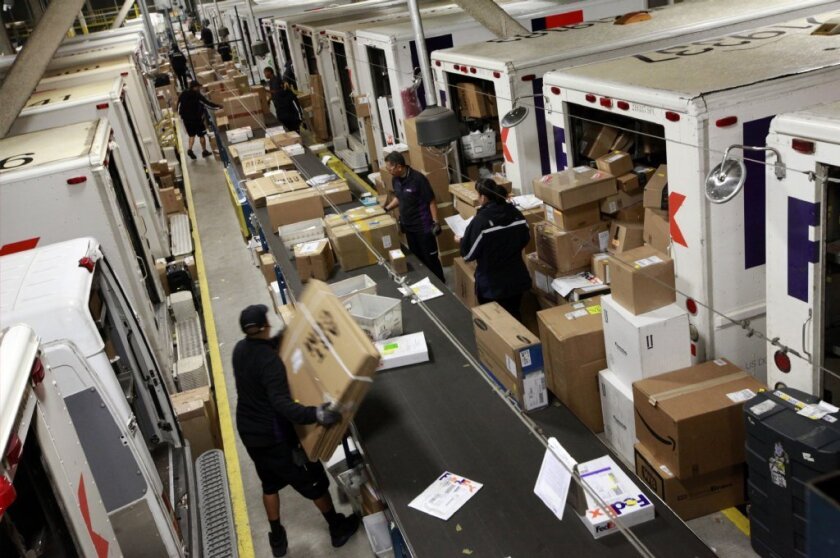 This time last year, the nation's biggest online retailers were reeling from a wave of delivery shortfalls that left countless consumers empty-handed Christmas morning.
But warmer weather allowed many of those retailers to bounce back this holiday season, according to a study by StellaService, a market research firm.
Only 7% of orders placed by the firm failed to reach their destination on time -- a marked improvement from last year when 12% of orders were missed.
"This year we saw improved performance within retailers' distribution centers. Retailers were turning around orders quickly," said Kevon Hills, vice president of research at StellaService. "We found many retailers were fulfilling orders in the same day they were received."
StellaService placed 160 orders across the U.S. from 40 top retailers, including Apple, Toys R Us and Crate & Barrel.
Orders were placed during a retailer's advertised cutoff date for Christmas arrivals. If no cutoff date was advertised, StellaService calculated a date based on standard-shipping and fee-expedited shipping times.
Best Buy, Costco, Crate & Barrel, J.C. Penney, Kohl's, Macy's, Staples, Toys R Us and Wayfair missed at least one delivery, according to the study.
Apple, Dell, Nordstrom and Zappos all made their deliveries on time, even though they offered the latest cutoff date of any of the 40 retailers, Dec. 23.
Of all the orders placed by StellaService, 93% used UPS or FedEx. UPS was the preferred carrier, responsible for 59% of those packages.
Last year, Retailers and shippers were devastated by unusually cold weather that stymied attempts to delivery gifts on time.
"The weather last year was a significant reason why carriers were performing so poorly," Hills said. "Luckily, there was no major inclement weather this year that could affect deliveries in the days before Christmas."
Online orders account for about 6% of all retail sales, according to the National Federation of Retailers, but the category is expected to grow 8% to 11% this year.
---
Be your money's boss! Learn how to make a budget and take control of your finances with this eight-week newsletter course.
You may occasionally receive promotional content from the Los Angeles Times.