Legislature passes bills to reform PACE energy-efficiency loan program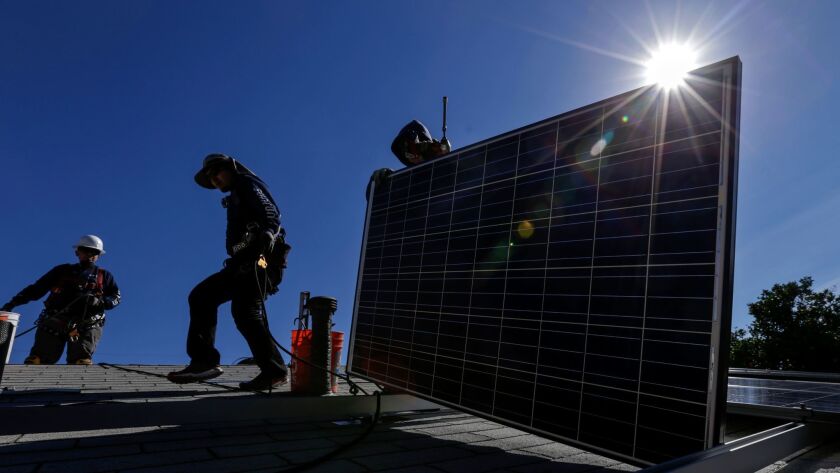 Two bills that would boost protections for consumers taking out PACE home-improvement loans are headed to Gov. Jerry Brown's desk after passing the Legislature.
The regulations come amid criticism by consumer advocates that too many borrowers are taking out unaffordable loans for solar panels and other energy-efficiency projects — the kind of upgrades funded by PACE — because contractors misrepresent how the financing works.
The bills, if signed, would enshrine a number of reforms into law, including a first-time requirement that income be factored into underwriting. The legislation also bars kickbacks and establishes a minimum training requirement for contractors, who typically also act as salespeople.
"We want people to benefit from water and energy efficiency, but they shouldn't have to sacrifice consumer protections," said Assemblyman Matt Dababneh (D-Woodland Hills), who authored AB 1284, which includes the income and training requirements.
The bill also charges the Department of Business Oversight with regulating PACE lenders, something Dababneh called critical to the success of the new rules.
"We were able to make sure there is some enforcement," he said. "We have a referee."
Major lenders largely supported the package of bills, but consumer groups said there were too many loopholes in Dababneh's bill, which passed early Saturday morning.
"There remain significant areas of concern," the California Low-Income Consumer Coalition told Dababneh in a letter, expressing its neutral position.
First started in 2008, PACE, or Property Assessed Clean Energy, programs are typically established by local governments, which tie the privately financed loans to the home and allow them to be repaid as line items on property tax bills. Beyond energy efficiency, the loans can be used for items such as low-flow toilets that save water.
In Southern California, Los Angeles, Riverside, San Bernardino and San Diego counties have approved PACE lenders to operate.
The programs can be a moneymaker for governments, which take fees for collecting the loan payments and turning them over to the lenders. Contractors who do the work are paid and managed by the lenders.
If PACE bills go unpaid, a homeowner could lose the house to foreclosure. But the three major California-based lenders — Renovate America, Ygrene Energy Fund and Renew Financial — say the vast majority of their thousands of customers come away happy after completing energy-efficiency projects.
And they say they haven't yet foreclosed on anyone for not paying their assessment.
But consumer groups say too many contractors have misrepresented how the loans are to be paid back, particularly to elderly individuals who now are struggling to make payments. Kern County and its largest city, Bakersfield, recently voted to end their PACE programs because of such concerns.
The two bills attempt to fix some of the problems.
SB 242 would mandate that PACE providers have calls with all homeowners before they take out the loan to ensure they understand the terms — something not all of the major companies did at first, but say they do now.
The bill, authored by Sen. Nancy Skinner (D-Berkeley), also bars lenders from paying kickbacks to contractors.
AB 1284 would require lenders to make a "reasonable good faith effort" to ensure borrowers have the ability to repay their loans based on income, assets and current debt obligations. Today, eligibility is largely based on home equity.
"This is really going to reshape and strengthen PACE significantly in California," said Greg Frost, a spokesman for Renovate America.
Alys Cohen, a staff attorney with the National Consumer Law Center, disagreed.
She said AB 1284 has too many loopholes, including one that allows a borrower to be approved for financing before an ability-to-repay analysis is completed. If the analysis later finds the homeowner cannot afford the payments, the bill requires PACE lenders to cover the difference, except in the case of intentional misrepresentation by the borrower.
Dababneh said lenders can't file a lien to enforce the loan before completing the analysis, which gives assurance to borrowers they won't be on the hook.
But Cohen said how the process will work isn't spelled out and doing an analysis on the back end leaves open the possibility that homeowners will be forced to make payments they can't afford.
"This whole process is backwards," she said. "The setup allows the contractor to pressure the homeowner at the door because they don't have to do the affordability analysis until after.
"It preserves a troublesome business model," she said.
Dipti Singh, directing attorney with pro bono law firm Bet Tzedek, said the income section also is vaguely written.
For example, when describing how a lender — often called a program administrator — must verify a borrower's income, it gives examples of how they "may" complete that requirement, rather than mandate specific steps.
"We don't want a program administrator to just check one pay stub, for example, and call it a day," she said.
Still, Singh called the bill a step in the right direction and said Bet Tzedek would continue to work with lawmakers to tighten the rules.
"We are not done," she said.
Dababneh said he thought many of the issues consumer groups raised will be addressed in rule-making by the Department of Business Oversight and said he was open to cleanup legislation if anything needs fixing.
Follow me @khouriandrew on Twitter
---
For reporting and exclusive analysis from bureau chief John Myers, get our California Politics newsletter.
You may occasionally receive promotional content from the Los Angeles Times.