These loans were created to help homeowners, but for some they did the opposite
After nearly half a century at the house on South Sierra Bonita Avenue in Los Angeles, Ossie Hill wanted to spruce up the two-bedroom home she and her late husband purchased in the early 1970s.
But the 86-year-old didn't have the money.
Then her daughter, Cassina Edwards, had an idea, recalling radio ads for a local home-improvement contractor: "We can help you. Low income. No credit check. Government program. Give us a call."
So Edwards did.
Now her mother, who receives $11,600 a year from Social Security and suffers from dementia, is struggling with a roughly $50,000 loan paid through a $5,500 annual tax assessment — an increasingly popular form of home-improvement financing known as PACE.
Edwards said the contractor explained that "a government program" would help the octogenarian afford the improvements, but never explained how the payments would work or warned them Hill could lose her house if payments were missed.
The first $5,500 bill last year came as a surprise, said Edwards, who helps manage her mother's finances. With her mother unable to afford it, it has gone unpaid.
"I want my mother to keep her home. This is all she has," Edwards said on a recent afternoon, as Hill sat next to her, eyes closed, head rested on her cane. "It's pretty sad that they prey on people for your lack of knowledge. If you came in and were truthful about it, this would have never happened."
Consumer groups, regulators and lawmakers are increasingly raising concerns about Property Assessed Clean Energy loan programs, which are authorized by governments but largely administered and funded by private lenders. In particular, the focus is on independent solar, plumbing and roofing contractors who pitch the loans and sign up consumers through online software — a system that's drawn scrutiny but helped the industry grow aggressively.
The total amount lent for residential PACE projects topped $1.5 billion in 2016, up from $350 million just two years earlier, according to trade group PACENation.
The loan programs are meant to serve a public good — allowing more people to finance solar and other energy-efficiency projects.
The loans are secured by a property lien and if unpaid a borrower can be foreclosed upon. Consumers put no money down and usually don't pay anything for at least six months. Eligibility is largely based on home equity. Credit score and income are not a factor.
Many consumers simply know their loans as the HERO program, the name of the PACE program from the industry's biggest lender, Renovate America in San Diego.
Critics say PACE can serve a worthy purpose, but worry too many consumers are agreeing to loans they don't need or understand after being contacted by aggressive contractors, who often make cold calls or engage in door-to-door marketing.
According to lawsuits and interviews with borrowers and their advocates, some contractors are inflating the cost of their services and misrepresenting how much the loans cost or how they are paid back.
Contractors can get consumers approved on the spot, having them sign documents on a tablet computer — an experience advocates say can be confusing, particularly for elderly homeowners. Lenders then send final financing documents to homeowners for their signature, with the process taking a few hours to several days.
"They go out and push these sales and these projects without really any care whether people can actually afford it or not," said David Hiller, a Pasadena attorney who has handled PACE cases for consumers. "It feels exactly like what was going on with mortgage lending precrisis."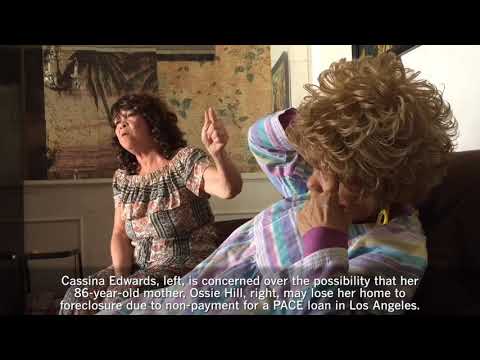 Cassina Edwards is upset over the possibility that her mother, Ossie Hill, 86, may lose her home to foreclosure due to non-payment for a PACE loan in Los Angeles.
The three major private lenders — Renovate America, Renew Financial of Oakland and Ygrene Energy Fund of Petaluma, Calif., — say most of their customers come away happy and point to low default and delinquency rates as evidence the programs are working.
Cisco DeVries established the first PACE program last decade while working for the city of Berkeley, later founding Renew Financial, where he is the chief executive. He says PACE has "democratized clean energy" by allowing consumers without much cash and less-than-stellar credit to fix their homes.
"We have had homeowners in tears" after they finally could finance repairs, DeVries said. "Any public policy, any private effort, by nature is going to be imperfect. But PACE has to be one of the most successful energy-efficiency programs in the history of the state and the country."
The Western Riverside Council of Governments launched its PACE program in 2011 as a way to use private money to support a decimated construction industry and help homeowners conserve energy.
It has partnered with Renovate America and Renew Financial to offer loans and now oversees one of the largest PACE operations in the U.S., covering more than 380 municipalities statewide after it opened eligibility beyond Riverside County. In the last fiscal year, PACE fees accounted for $9.5 million of the council's revenue, or 17.5% of its total budget, said Rick Bishop, the group's executive director.
"Generally, it's been really, really positive," Bishop said of PACE. "We have hundreds and hundreds of really solid contractors. It's a little disappointing the contractors are all getting painted with the same brush."
A more typical experience, proponents say, is that of Lorri MacMillan, who last year used a $14,000 HERO loan to pay for an air conditioner. The Rancho Santa Margarita resident said her contractor didn't misrepresent anything and Renovate called her to go over terms in detail — something the company said it began doing for every customer in recent months.
"It was a great process," the 54-year-old bank systems analyst said.
PACE programs got their start in 2008 when Gov. Arnold Schwarzenegger signed legislation that authorized the special type of financing.
To fund the programs, governments issue bonds backed by the borrower tax assessments and then typically transfer collection rights to private PACE companies. The firms take those assessment bonds and compile them into securities and sell them on Wall Street to finance new loans.
Across the nation, less than 1% of all securitized PACE loans that Kroll Bond Rating Agency tracks have defaulted, said Cecil Smart, a senior director at the company.
Renovate America said over the last five years, none of its clients have been foreclosed on for not paying their PACE loan, but nearly 80 homeowners with such financing, or 0.08% of the total, have been foreclosed upon after they didn't pay their mortgage.
Consumer advocates say it's too early to tell if those rates will hold.
Renovate America has also drawn scrutiny from regulators following several Wall Street Journal stories, including one that revealed the firm paid the debts of some borrowers but didn't tell bond investors. The company said it did so in 83 cases in which borrowers were confused about when their payments would start.
Christian Guzman hasn't defaulted on his PACE loan, but he said he's struggling after a contractor walked through his L.A.-area neighborhood two years ago and asked if he wanted a free estimate to fix his roof.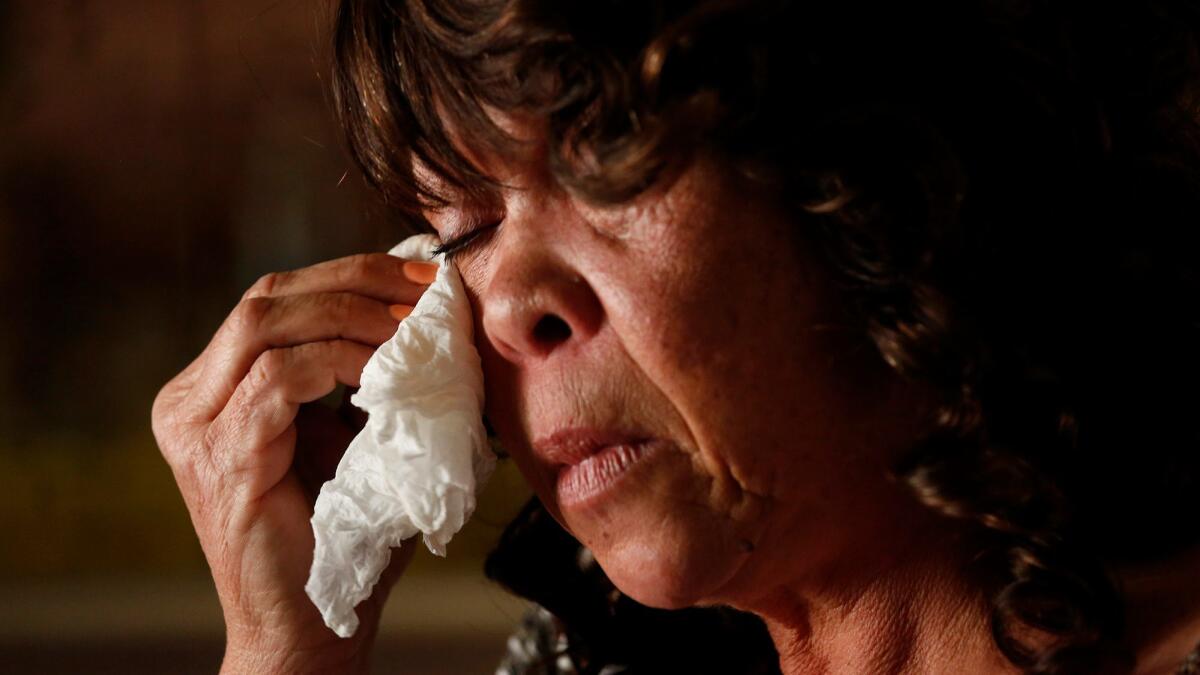 A few days later, Guzman said the contractor from All American Design in Torrance came back and told him he was qualified for more than $46,000 in HERO financing, which would cover a new roof and solar panels. Guzman said he agreed to both and signed documents on a tablet after the contractor told him a government grant would cover the $26,000 roof.
He recalled the tablet showing he would only pay around $20,000 in total, but acknowledged he didn't get a good look at the device.
"He held on to it pretty well. We saw only what he wanted us to see," Guzman said.
After the job was complete, he said he received a final payment schedule from Renovate that detailed he would owe much more — over $12,000 annually for five years — and later learned there would be no government grant.
The All American salesperson told him not to worry, and "after a while he just stopped answering," the 29-year old electrician said. Guzman also reached out to Renovate for help, but said he was told there was nothing they could do.
Renovate said Guzman's signature was electronically signed on a financing contract that detailed the more than $12,000 annual payment a week after the first document he signed, which was an application.
Guzman said he doesn't recall signing the second document.
"I honestly don't know how I am going to do this," he said. "It's an extra $1,000 a month I don't have."
All American Design did not respond to requests for comment. Renovate said it has kicked All American out of its program because the company didn't meet its standards under a new contractor rating system.
Today, California, Florida and Missouri have active residential PACE programs, while 19 other states have authorized such financing though programs aren't up and running, according to PACENation. Many states also have commercial PACE programs for businesses that have proved far less controversial.
The residential loans average around $25,000 and run five to 30 years. The loans typically carry rates of 6.5% to 8.49%, meaning with today's low-interest rates someone with good credit can often get a better deal with a home equity loan.
Most governments turn to private PACE companies to run the programs. The companies, meanwhile, use contractors to sell the loans.
"It's pretty painless as far as qualifying," contractor William Redmond, co-owner of AlumaCovers in Riverside, said of the HERO program. "It allows a client to afford what normally they couldn't afford. So, it's opened up another channel of new [sales]."
Speed is part of the allure.
Ygrene promises contractors training, lead generation, marketing materials and the ability to get customers "pre-approved in 30 minutes or less." Renovate offers "state-of-the-art tools" to "streamline every stage of your project." Renew Financial pledges that contractors can "submit financing documents with your customer at the kitchen table."
Redmond says he hasn't heard of contractors misusing PACE and that he tells clients to direct financing questions to Renovate.
"They don't make things complicated and they don't make a bunch of red tape," Redmond said.
But consumer groups say the swift approval process — along with weak contractor oversight and lack of underwriting — is leading to problems.
"When someone is weighing a $45,000 loan to put solar panels on the house, why do they need speed for that?" said John Rao, an attorney with the National Consumer Law Center. "You should not be rushing people through for these major retrofits."
The companies add that they disqualify for bankruptcies and missed mortgage payments and say speed is often needed for emergency repairs such as a broken air conditioner in 100-plus degree heat.
Borrowers also have a three-day right to cancel and contractors aren't paid until a homeowner signs off on a completed work form, Ygrene CEO Rocco Fabiano noted.
The three major companies are taking steps to improve consumer protections. For example, they say they now have a phone call with all consumers before approving a loan to ensure they understand the terms of financing — as recommended by the Department of Energy late last year.
Renovate said it will start using income as part of its underwriting later this month and in January it launched a new contractor rating system, removing more than 80 companies — 10% of the contractors that frequently used its financing.
Rao, of the national consumer group, acknowledged that consumers have long complained about aggressive, unethical contractors, but said PACE put those problems "on steroids," given how easy it is to qualify for funding.
"They are making a lot of money and they are creating the financial opportunities for these contractors," he said.
The California Contractors State Licence Board is investigating 50 cases in which consumers alleged solar contractors misrepresented PACE financing. Those making the complaints are often elderly or don't speak fluent English.
Two lawsuits filed in Los Angeles County allege that an employee from G.E. Solar Solutions of La Mirada signed homeowners up for Ygrene PACE financing after pitching the loans as leases for solar panels that would be paid off through their energy bills and also save them thousands of dollars.
The homeowners, who speak only Spanish, allege their signatures were forged on English-only Ygrene contracts and they estimate their debt exceeds $100,000, according to the two complaints.
One of the owners, Dolores Artiga, said she worries she can't keep up with the loan payments.
"It is difficult," Artiga, who works for a cleaning company, said in Spanish. "What I make is not enough money to pay this."
In court documents, an attorney for G.E. Solar denied the allegations.
In a statement, Ygrene said G.E. Solar, not Ygrene, is alleged to have misrepresented the financing and, if those allegations are true, the contractor's actions are "inconsistent with Ygrene's consumer protections policies and procedures."
Scott Minnix, director of the L.A. County Department that overseas PACE, said in a statement that the county has worked with its partners, Renovate America and Renew Financial, "to ensure the highest standards of consumer protection and fiscal accountability."
The county said that there has been no PACE foreclosures and that it has set up reserve funds to cover missed borrower payments for a time, making a quick foreclosure unlikely for those who've missed PACE payments.
Even so, Edwards, the daughter of the Los Angeles homeowner, is worried and in April filed a lawsuit against Renovate and 360 Remodeling of Burbank, which painted her mother's house and installed windows and a patio cover it said would reduce energy use.
The lawsuit alleges a 360 Remodeling employee tricked Hill into signing up for a loan with an annual payment of more than $5,000 by asking her to sign a tablet to only authorize her creditworthiness.
A final contract for Edwards and Hill to review was to be put in the mail, the complaint says.
In a court filing, the 360 Remodeling employee denied all allegations.
Frank Cicora, the company's general manager, said he didn't know what the worker said, but the family knew Hill was taking out a loan and the financing terms would have been explained on the tablet and by Renovate over the p hone.
"They are upset because they can't afford something they committed to," he said, adding the family agreed to move ahead with the project.
A spokesman for Renovate denied the complaint's allegations, which include weak contractor oversight, and said the company will defend itself vigorously. He said 360 Remodeling "scores well" in Renovate's contractor rating system.
Edwards said a final contract to review never came in the mail, but she trusted the contractor, who quickly began ripping up the outside of her mother's home.
"They already tore down the house. If I told them to stop, who would fix it?" Edwards said, sitting next to her mother on the living room couch. "This situation has been very stressful for my mom."
A few minutes later, Hill began to tear up and asked to leave.
Part 2: With some borrowers struggling, regulators, polticians and the industry grapple with reform. »
Follow me @khouriandrew on Twitter
ALSO
Desired for their labor, rejected as neighbors. Farmworkers in California face hostile communities
SpaceX, in another advance, launches supplies to space station in a reused capsule
An airline reward program for travelers with fur and feathers