Historic PacMutual building in downtown L.A. is sold for $200 million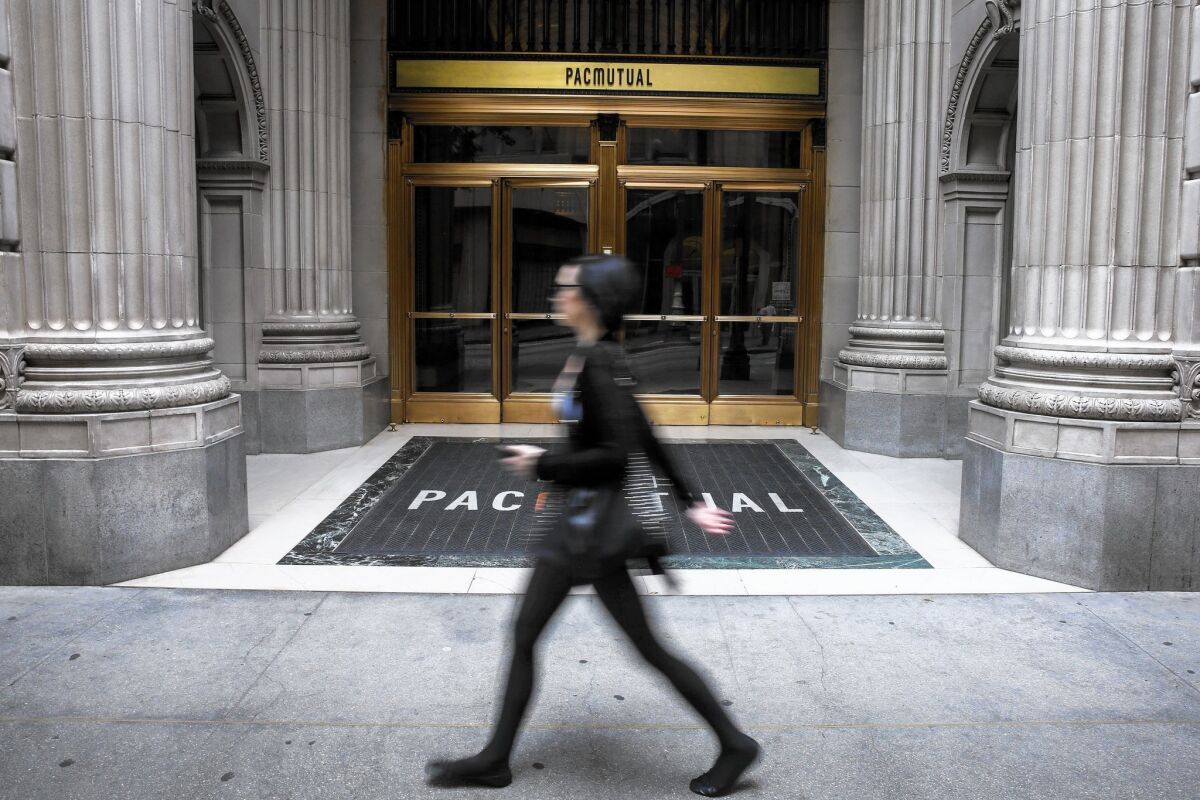 The historic PacMutual center was sold for $200 million on Wednesday, capping a profitable turnaround for what was once a second-tier office complex in downtown Los Angeles.
Rising Realty Partners made over the Beaux Arts-style building from a lower-rent alternative for conventional white-collar firms into a preferred address for businesses in creative fields such as technology and entertainment. It acquired the property at 6th and Olive streets for $60 million in 2012.
The Los Angeles developer exposed the century-old bones of the building by removing "improvements" made in the decades after World War II. Drywall, dropped ceilings and carpet were yanked out to reveal brick walls, concrete floors and even some windows that had been covered for many years. By eliminating some hallways and recapturing idle space, the company raised the amount of rentable square feet 9% to 464,000.
------------
FOR THE RECORD:
PacMutual Building: In the Sept. 10 Business section, an article about the sale of the PacMutual office complex in downtown Los Angeles said that a lease by law firm Hueston Hennigan is valued at $60 million. Terms of the lease were not disclosed. —
------------
Stunning photos, celebrity homes: Get the free weekly Hot Property newsletter >>
The new owners are Ivanhoe Cambridge, a Canadian real estate investment company, and Callahan Capital Properties, a Chicago private equity firm that buys and manages office buildings in large U.S. cities. Nelson and Christopher Rising, the father and son co-founders of Rising Realty, declined to disclose the sale price, but industry sources familiar with the deal valued it at $200 million.
That is a new high-water mark for the neighborhood, said Petra Durnin, regional research director for real estate brokerage Cushman & Wakefield.
"We are now north of $430 a foot, which is a record price for a pure office building downtown," said Durnin, whose firm was not involved in the transaction.
The move to brand such a large property as creative offices was considered risky by market observers when Rising Realty acquired PacMutual. Although bare brick and exposed ceilings were popular in Santa Monica, Hollywood and other neighborhoods popular with creative firms, most downtown office buildings were still fitted out to appeal to the traditional tastes of the banking, legal and accounting firms that dominated downtown's office rental market.
Rising Realty further flouted convention by signing a large lease with Nasty Gal, an online fashion retailer known for selling provocative women's wear. In the past, landlords who hoped to rent space to white-shoe law firms would have steered clear of tenants who might be considered racy.
Rising Realty "really took a risk" by making PacMutual creative and bringing in unconventional tenants, said Los Angeles developer Dan Rosenfeld, who was not involved with the project. "They pulled up the bridge behind them. There was no going back."
The gamble paid off. Prominent L.A. trial attorneys Hueston Hennigan this year agreed to a $60-million lease at PacMutual. Other white-collar and creative firms have followed, bringing occupancy from about 50% at its low point after Rising Realty bought PacMutual to more than 90% today. It is charging rents that slightly exceed typical rates in much newer nearby skyscrapers, according to Cushman & Wakefield.
Christopher Rising said PacMutual's appeal relies in large part on its historic features. Eliminating dropped ceilings and uncovering windows were not just cosmetic changes.
"This building was meant to have high ceilings and a high volume of light," he said. "By pulling it back to a sense of what it was like in 1920s or '30s, we had people saying 'I'll pay for this.'"
The three-building PacMutual complex is among the oldest functioning office structures in the city. Pacific Mutual Life Insurance Co. completed its first building in 1908 and made additions and improvement into the 1930s.
Rising Realty spent about $18 million on improvements such as new boilers and energy-saving features. It also reopened street-level courtyards in the complex and brought in new shops and restaurants.
The developers plan to keep chasing the burgeoning creative office market downtown, said Nelson Rising, the elder of the two founders. They are in the process of acquiring another large historic office building in the neighborhood.
Rising Realty is one of several developers pursuing creative office projects downtown.
Twitter: @rogervincent
Sign up for the California Politics newsletter to get exclusive analysis from our reporters.
You may occasionally receive promotional content from the Los Angeles Times.