Community groups oppose L.A. bank merger over low-income lending concerns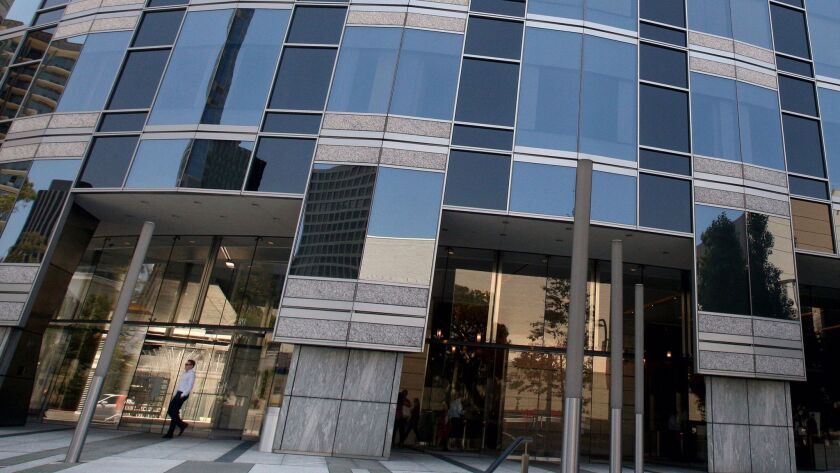 More than a dozen advocacy groups are trying to block the merger of two L.A.-area banks, saying the deal would not benefit low-income and minority communities and that one of the banks does a poor job of lending in some rural California counties.
The California Reinvestment Coalition and other groups on Friday sent a letter to the Federal Reserve Bank of San Francisco and the Federal Deposit Insurance Corp., saying that the acquisition of downtown L.A.'s California United Bank by Beverly Hills-based Pacific Western Bank should be approved only if the terms are changed.
"If [Pacific Western] is unwilling to make further commitments to communities, we believe the regulators should, in addition to holding public meetings, also reject this merger," the letter stated.
Pacific Western in April announced plans to buy California United for $705 million in cash and stock. Bank officials said at the time that they expected the deal to close by the end of the year, though opposition from fair-lending groups could delay the transaction.
Executives at the bank did not respond to a request for comment.
When banks merge, regulators must consider whether the institutions are meeting the requirements of the Community Reinvestment Act, or CRA, a federal law that pushes banks to lend to low-income and minority neighborhoods within their service areas.
Banks often make big CRA commitments ahead of mergers and acquisitions, both to ease regulatory approval and to avoid opposition from fair-lending groups. For instance, when L.A.'s City National Bank was about to be acquired by Toronto's Royal Bank of Canada, it pledged to make $11 billion in CRA-related loans and donations over a five-year period.
But when such pledges aren't made or when advocacy groups believe CRA plans are insufficient, they often protest, which can delay a deal or force banks to make richer promises.
When New Jersey lender CIT Group announced plans in July 2014 to buy Pasadena's OneWest Bank, criticisms of the CRA plans pushed federal regulators to take the rare step of holding a public hearing about the deal's community benefits. The merger was ultimately approved, but took longer to close than expected.
In this case, the coalition and its allies, including the Alliance of Californians for Community Empowerment and the Fair Housing Council of the San Fernando Valley, say Pacific Western has shown them a draft CRA plan that falls short.
The groups lay out a long list of demands, including that the merged bank do more small-business lending in Fresno, Kern, Kings and Tulare counties — areas where the groups say Pacific Western has relatively large amounts of customer deposits compared with the small-business loans it makes.
The coalition also questioned the propriety of the bank's hiring of a former FDIC official, given that the agency is also tasked with evaluating Pacific Western's adherence to the CRA.
Stanley Ivie, Pacific Western's chief risk officer, had been director of the FDIC's San Francisco region, which is responsible for banks across 11 Western states. He did not return a call seeking comment.
Paulina Gonzalez, executive director of the coalition, suggested the bank could have hired Ivie to help it "finesse" approval of a lackluster CRA plan.
Pacific Western has made a handful of recent acquisitions, becoming one of the largest banks in Southern California.
Its biggest deal was its 2014 buyout of downtown L.A.'s CapitalSource, which more than doubled Pacific Western's assets to $15.4 billion. In 2015, it bought North Carolina's Square 1 Bank, its first out-of-state purchase.
If it acquires California United Bank, Pacific Western would have about $25 billion in assets.
Follow me: @jrkoren
---
Your guide to our new economic reality.
Get our free business newsletter for insights and tips for getting by.
You may occasionally receive promotional content from the Los Angeles Times.