Palantir once mocked the idea of salespeople. Now it's hiring them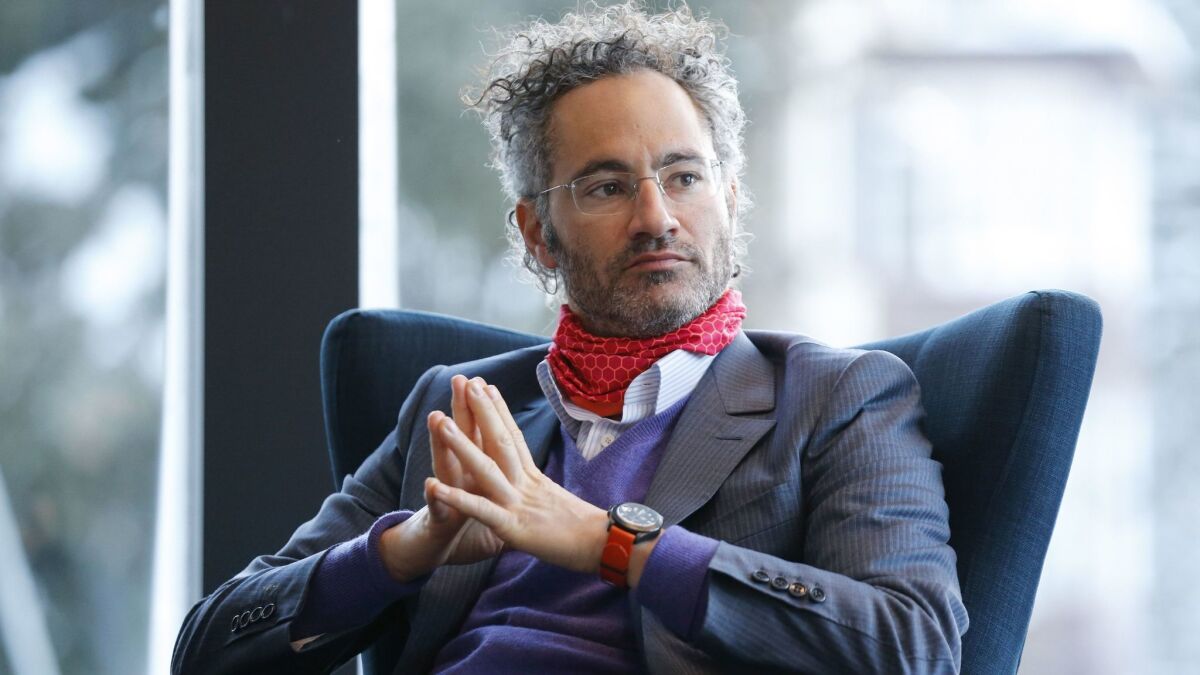 Bloomberg
Palantir Technologies Inc. has always been a different sort of company. It didn't hire salespeople; it seemed largely unconcerned with pedestrian headaches like turning a profit; and it was co-founded and backed by Peter Thiel, tech's reigning contrarian.
But as the data-mining company prepares for its long-awaited initial public offering — which is expected as early as this year — the 15-year-old startup has taken a cue from other, more traditional tech companies. It has trimmed runaway expenses, revamped its product aimed at large companies and even begun building a sales team, a function it has long disdained.
Now, according to public filings in Europe, there are some signs that — in that region at least — the strategy has started to pay off. Revenue in Europe was up 57% in 2017, the filings show.
In recent months, Palo Alto-based Palantir has brought on dozens of sales staffers to pitch its new product, slowly changing its mix of employees, said many current and former Palantir employees and investors. Bloomberg spoke to nearly a dozen people, all of whom asked not to be identified because the details of the company's plans were private. Palantir declined to comment for this article.
The sales push is a marked departure from Chief Executive Alex Karp's long-held philosophy. For Karp, it was a point of pride that the tech was good enough to sell itself. Karp once said publicly the only way he'd hire a sales team was if he were forced to by investors, or if he were "hit by a bus." As recently as 2017 he told CNBC, "Almost everyone here is an engineer. I'm a PhD in philosophy," and "We have no salespeople."
Some of the new hires have been top salespeople at major American companies such as Oracle and IBM. And additional hiring is underway: More than five dozen global positions with "business development" or "leverage" in their titles are now listed on the company's website. Those positions, said several people, often perform functions that are typically handled by sales teams, despite the absence of "sales" in their titles and job descriptions.
The product that most of the new employees are selling is called Foundry, data analytics software aimed at large corporate clients. Current Foundry customers include Morgan Stanley, which uses it to deter insider trading; Merck, which uses it to speed drug discovery; and Fiat Chrysler Automobiles, which uses it to identify faults in its cars before they cause problems.
Foundry, and its predecessor Metropolis, performs the same type of big data analysis Palantir's Gotham does for government groups: helping users sift through troves of data to mine patterns and specific information. Compared with Metropolis, Foundry requires less customization and far fewer engineers, resulting in a potentially lower cost to customers and fatter margins for Palantir.
Foundry took years to develop and is now one of just two products Palantir offers. The other is Gotham, used by federal, state and local agencies and nonprofits around the world. By pouring resources into Foundry, the company has signaled a change of priorities, moving beyond a focus on government work and toward more seriously pursuing the larger, potentially more lucrative corporate market.
The stakes are high for the new product. "Everything rests on Foundry and the ability to sell it," said one Palantir investor who asked not to be identified because he was not authorized to speak publicly. "It's what makes Palantir a software company instead of a consultancy."
Worldwide, the company is still unprofitable, according to several people familiar with its financials. But the strategy appears to be gaining traction in Europe. According to public filings in the U.K., the company is hitting notable financial milestones in the region.
Palantir made money in Europe in 2017 as revenue soared to about $175 million from about $110 million the year before. That's thanks to Foundry and large deals with the likes of German healthcare giant Merck and airplane manufacturer Airbus, among others.
Now the company's sales method in Europe is being duplicated worldwide, several people said. This involves dispatching a three-person team — consisting of one engineer and two people in what would typically be considered sales jobs — to pitch clients on the software.
It's still far from a traditional sales meeting. Even with the increasing pressure to turn a profit, Palantir's pitch to clients remains fiercely technical. One recent hire tasked with wooing new customers said that, after the first two months on the job, all training had been on the Foundry software itself, with no sales instruction.
Palantir's historic reticence toward salesmanship, and its CEO's very public disparagement of the profession, could make building a global sales force difficult. "Without cultural buy-in, especially from the CEO at the top, it can implode," said Matt McGraw, founder of San Francisco sales recruiting agency TheLions. "If you have a CEO who is nauseous dealing with someone who's slicker than they are, then that can be a problem."
But Palantir's evolution is not uncommon: Other engineering-first companies including Slack Technologies Inc., Microsoft Corp.'s GitHub and Dropbox Inc. "all went through similar phases of this anti-sales culture," said Mark Cranney, a former operating partner for venture firm Andreessen Horowitz. Despite being much older than its peers, Palantir could pull off the same transformation, he said. "With maturity, they will bring in the right people."
---
Sign up for the California Politics newsletter to get exclusive analysis from our reporters.
You may occasionally receive promotional content from the Los Angeles Times.