Bills headed for state Senate would put limits on payday, auto-title lending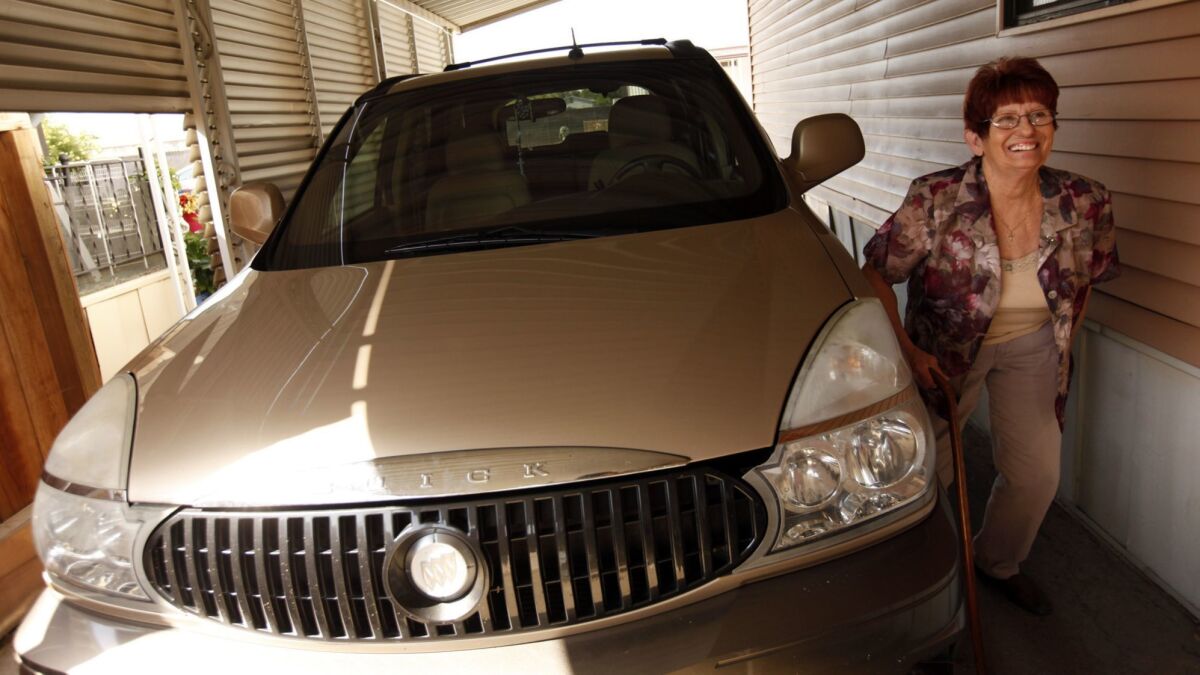 State legislators killed a bill that would have reshaped much of California's consumer lending market, but two more-modest bills made it through the state Assembly and now move on to the Senate.
One would stop borrowers from taking out more than one payday loan at a time; another would cap interest rates on auto-title loans. Both will be taken up Wednesday by the Senate banking committee.
Lenders say the bills would make it harder for Californians with bad credit to get emergency loans or would push those borrowers to unregulated lenders — arguments that have helped scuttle other bills, including ones that died in the Assembly last year and again last month.
The new bills' author, Assemblywoman Monique Limón (D-Santa Barbara), said she hopes her proposals will succeed where those failed in part because they are more limited in scope.
"There are those bills that aimed to, overnight, completely do a shift to the market and shut down parts of the industry all at once, and then there are bills that aim to look at the problem in increments," she said.
Limón's Assembly Bill 3010 would stop Californians from taking more than one payday loan at a time. Those loans are designed to be paid back in a lump sum on a borrower's next payday, and Limón said borrowers who are already strapped for cash probably can't repay several loans at once.
It's already illegal for California payday lenders to give more than one loan to the same customer, but there's nothing to stop customers from taking out loans from several lenders. Limón and lenders agree some borrowers do exactly that because they need more than $255 — the maximum amount of a payday loan under current law.
Borrowers could instead take out installment loans, which are larger and are paid off over months or years, but some payday loan borrowers probably wouldn't qualify for those loans. Even if they did, subprime installment lenders generally only offer loans of $2,500 and up and often charge interest rates topping 100%.
It's not clear how common it is for borrowers to take out multiple payday loans, as neither lenders nor the state Department of Business Oversight, which regulates payday lending, track the practice.
Limón's bill would require the Department of Business Oversight to set up a database that lenders would have to use to check if a borrower already has a payday loan outstanding.
The lending trade group California Financial Service Providers Assn. argues that such a database would present "a shocking risk to Californians' data and privacy" and that the prohibition on multiple payday loans would prevent borrowers from getting the amount of cash they need.
"California cannot ban its way to a healthy financial services marketplace," the group wrote in a letter to the Senate banking committee.
Limón acknowledged that the one-at-a-time rule would restrict access to credit, which is why she included an amendment in the latest version of her bill that would essentially create a new type of consumer loan in California — one she said would be more appealing to lenders and fill a gap between payday and installment loans.
The California Financial Service Providers Assn. said in its letter, though, that the proposed loan rules, which closely resemble a proposal from the nonprofit Pew Charitable Trusts, would not work for the group's members.
Limón's second bill, AB 2953, would prevent lenders from charging annual interest of more than 36% on auto-title loans. With those loans, if a borrower fails to repay, the lender can seize his or her car.
Even with that collateral, though, title loans are expensive.
In 2017, lenders in California made about 113,000 title loans. The vast majority charged rates higher than 36% — and more than half charged rates topping 100%. What's more, title lenders repossessed 20,280 cars last year and even more the year before.
Limón said the high interest rates coupled with frequent repossessions amount to an unacceptable level of potential consumer harm.
"It's a really big deal to have a car repossessed," Limón said. "It's fundamentally about seeing families lose a valuable asset."
Another bill, Assembly Bill 2500, would have capped interest rates on all consumer loans of $2,500 or more, including auto-title loans and unsecured loans, which are much more common and also often carry triple-digit interest rates.
But the Assembly turned that bill down last month while approving Limón's more-limited measure.
Still, the bill faces opposition from lenders. In a letter to the Senate banking committee, the California Financial Service Providers Assn. said that its members would not be able to make loans under the proposed rate cap and that "the negative consequences to California consumers would be significant."
LoanMart, a Los Angeles company that specializes in title loans, has lobbied against the proposed restriction. At the state Capitol, the company has circulated information packets that include a built-in screen and a video showing LoanMart customers talking about how they used loans from the company to pay bills, make rent deposits and cover other necessities.
LoanMart executives were not available for interviews, and the company's lobbyist did not return calls for comment.
An information sheet accompanying the video packet says thousands of LoanMart customers would not have qualified for unsecured consumer loans, making auto-title loans one of the few available options.
Follow me: @jrkoren