CFPB moves to water down tough pending rules on payday loans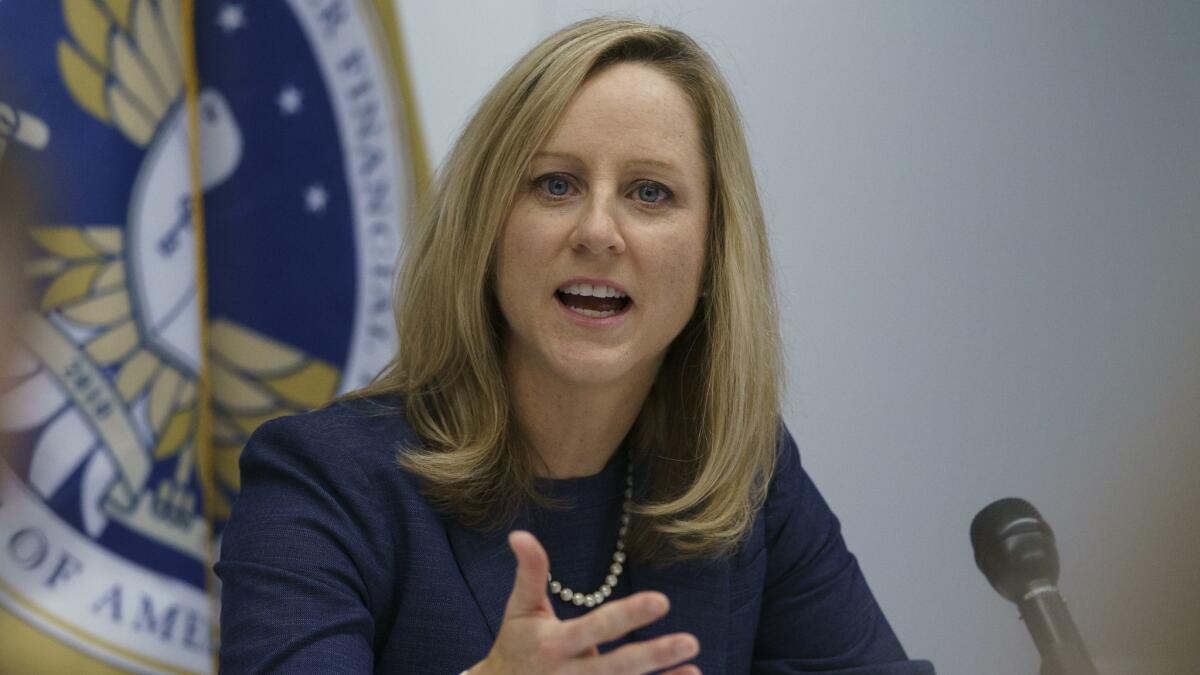 Reporting from Washington —
The nation's new consumer financial watchdog proposed Wednesday to significantly water down tough pending rules on payday and other short-term loans designed to prevent lenders from taking advantage of cash-strapped Americans.
The proposal by Kathy Kraninger, who became director of the Consumer Financial Protection Bureau in December after being nominated by President Trump, would eliminate key provisions requiring lenders to determine whether borrowers can repay the short-term loans.
For the record:
1:00 p.m. Feb. 6, 2019
An earlier version of this article said that new payday rules from Obama nominee Richard Cordray were proposed. In fact, they were enacted and were set to go into effect in August.
Financial industry officials have pushed to change the rules and cheered the announcement. Consumer advocates blasted it as a "gift to the payday loan sharks."
The bureau's proposal to revise the rules "suggests there was insufficient evidence and legal support for the mandatory underwriting provisions" enacted in 2017 under Obama nominee Richard Cordray, according to a bureau news release. They would be the first federal rules on payday loans.
Kraninger also wants to delay the effective date of the ability-to-repay provisions, set for August, until November 2020. However, the bureau has decided to move ahead in August with implementing the rest of the 2017 rules pending a Texas court ruling that had delayed the entire set of regulations. The other rules set new limits on lenders withdrawing payments from customers' bank accounts.
"The bureau will evaluate the comments, weigh the evidence, and then make its decision," Kraninger said of the effort to overhaul the rules, which begins with a 90-day public comment period. "In the meantime, I look forward to working with fellow state and federal regulators to enforce the law against bad actors and encourage robust market competition to improve access, quality, and cost of credit for consumers."
The ability-to-repay provisions "would impose substantial burdens on industry, significantly constrain lenders' offering of products, and substantially restrict consumer choice and access to credit" in states that allow payday and other short-term loans, such as those secured by a vehicle title, according to the bureau's notice of proposed rule-making released Wednesday.
Payday loans are allowed in California and 32 other states, with the rest prohibiting them.
An estimated 12 million Americans take out payday loans each year from websites and about 14,000 storefront locations. The loans typically are cash advances on a worker's paycheck for two to four weeks and carry a flat 15% fee or an interest rate that doesn't seem particularly high.
But costs can quickly add up if the loan isn't paid off, and the effective annual interest rate is actually 300% or more.
The rules enacted in 2017 would require payday lenders to determine upfront the ability of potential borrowers to repay short-term loans of 45 days or less. If the short-term loan period expires and the debt is unpaid, borrowers can face painful charges or be forced to refinance the loan, creating what consumer advocates see as a debt trap.
The ability-to-pay provisions are "the heart and soul" of the new regulations that were drafted after extensive research, Cordray said Wednesday in an interview.
"You have to make a reasonable assessment that these loans will work before you make one," he said, noting that Congress has put in place similar restrictions on mortgages and credit cards. "Rolling it back would mean exposing hundreds of thousands of people to considerable harm of the kind that we documented every day across this country."
Cordray rejected the argument that the rule would restrict consumer access to credit.
"It restricts access to irresponsible credit. That seems like a reasonable measure," he said. "The industry believes this will hurt them because they provide a lot of irresponsible credit. They make a lot of money on that and they don't want to give that money up."
The bureau took several years to craft the rules, so federal law requires detailed reasoning for changing them. The bureau outlined its rationale for eliminating the ability-to-repay mandates in a 171-page filing that will appear in the Federal Register, and argued for delaying implementation of the rules in another 29-page document.
Acting White House Chief of Staff Mick Mulvaney, who replaced Cordray on an interim basis, joined with two industry trade groups to get a federal judge in November to postpone the August effective date for the entire rule because of potential changes he wanted to make.
Mulvaney received $65,750 in campaign contributions from payday lenders when he was a Republican congressman from 2011 to 2017, according to the nonpartisan Center for Responsive Politics. Consumer advocates complained he was biased toward the industry, but Mulvaney said he would not be influenced by the contributions.
Kraninger, a former aide to Mulvaney at the White House, was nominated by Trump last year to be the permanent director. After being confirmed by the Senate and taking the job, she said she would not be Mulvaney's puppet.
A payday industry trade group has complained that the 2017 payday restrictions would harm consumers and said it was pleased, but not fully satisfied, with Kraninger's proposal.
"Under former Director Cordray's leadership, the bureau took an unbalanced approach to its rulemaking and crafted a rule based on a partisan political agenda," said Dennis Shaul, chief executive of the Community Financial Services Assn. of America.
But Shaul said he was disappointed that Kraninger left some provisions in place and called for the 2017 initiative to be "repealed in its entirety."
Consumer advocates said Kraninger's move went too far.
"The Kraninger CFPB is giving an early Valentine's present to payday lenders, helping them continue trapping Americans in crippling cycles of debt," said Rebecca Borné, senior policy counsel at the Center for Responsible Lending.
"The payday rule was developed over years of extensive research and dialogue with stakeholders," said Borné, whose group is part of a coalition called Stop the Debt Trap supporting the regulations. "Scrapping it will especially harm communities of color, whom payday lenders disproportionately target for predatory loans."