Peet's brews up another deal, takes majority stake in Intelligentsia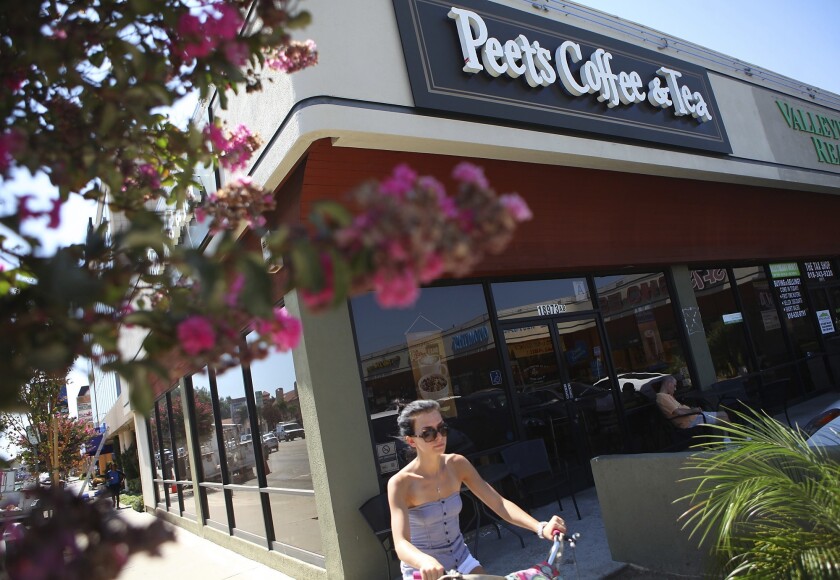 Peet's Coffee & Tea is buying a majority stake in Intelligentsia Coffee, the second time this month the specialty coffee pioneer has brewed a deal with an upstart "super-premium" roaster.
With the acquisitions of Intelligentsia on Friday and Stumptown Coffee Roasters almost four weeks ago, Emeryville, Calif.-based Peet's now owns two of the three top artisanal coffee brands.
Industry insiders call the companies, along with Durham, N.C.-based Counter Culture, the big three of the "third-wave" coffee movement, based on an artisanal approach to coffee that doesn't adhere to traditional roasting or sourcing standards.
"They try to use the best products through the best providers to make the best cup of coffee using pretty strict techniques," said Andrew Alvarez, industry analyst with market research firm IBISWorld.
And it's a segment that's quickly growing. An analysis by market research firm IBISWorld found that Chicago-based Intelligentsia's revenue increased on average about 25% each year from 2009 to 2014. Revenue of Portland, Ore.-based Stumptown increased 69% on average each year during the same period.
By contrast, the overall coffee and snack shop category is expected to have grown at a rate of 4.3% from 2010 to 2015 to $38 billion, according to IBISWorld.
"If you're looking for revenue growth, third-wave coffee would be a great place to look because they're growing faster than any other company in the saturated market," Alvarez said.
Peet's Chief Executive Dave Burwick said coffee drinkers today are looking for "variety and different types of experiences."
"To fully satisfy those consumers, it really helps to have multiple concepts to bring to them," he said. "We see a tremendous amount of growth in the future for the business and the brand."
Terms of the deal were not disclosed.
Intelligentsia was founded in 1995 and sources and develops naturally sweet coffees. It operates 10 coffee bars in Chicago, Los Angeles and New York, and has roasting facilities in Chicago, L.A. and San Francisco. Its bags of beans can also be bought in stores such as Whole Foods.
The company will continue to run independently and co-founders Doug Zell and Emily Mange, along with co-owner Geoff Watts, will maintain significant stakes, Burwick said.
With Intelligentsia and Stumptown, half-century-old Peet's can profit from the specialty sector without cannibalizing its stores in the traditional coffee market, analysts said.
"This is one way for them to wedge themselves into specific markets they might not have penetrated with their traditional stores," Alvarez said.
The expansion into the super-premium market can also help Peet's compete with Starbucks Corp., which has more than 23,000 stores worldwide. Peet's has more than 200 stores in California, Colorado, Illinois, Maryland, Massachusetts, Oregon, Virginia, Washington and Washington, D.C.
"Peet's has long struggled to reach the scale or anything close to the scale that Starbucks has," said Sara Senatore, managing director and senior analyst at Bernstein. "Buying one of these smaller companies could be a way to accelerate growth."
Intelligentsia's Zell said the deal with Peet's gives his company access to resources and a "larger canvas."
"You've got a venerable coffee company that's been around, understands coffee, understands what we're after, but also values what's special about us," he said. "It was a great fit. They can fuel the fire for us to get better every day."
For more business news, follow @smasunaga.
MORE FROM BUSINESS
Americans are paying more for broadband speed but getting less
Automakers struggle to bring affordable diesel cars to U.S. market
Amazon cuts back on price, delivery times by cheating workers, lawsuit says
---
Must-read stories from the L.A. Times
Get the day's top news with our Today's Headlines newsletter, sent every weekday morning.
You may occasionally receive promotional content from the Los Angeles Times.