Cable took the hardest blow in the Mayweather-Pacquiao fight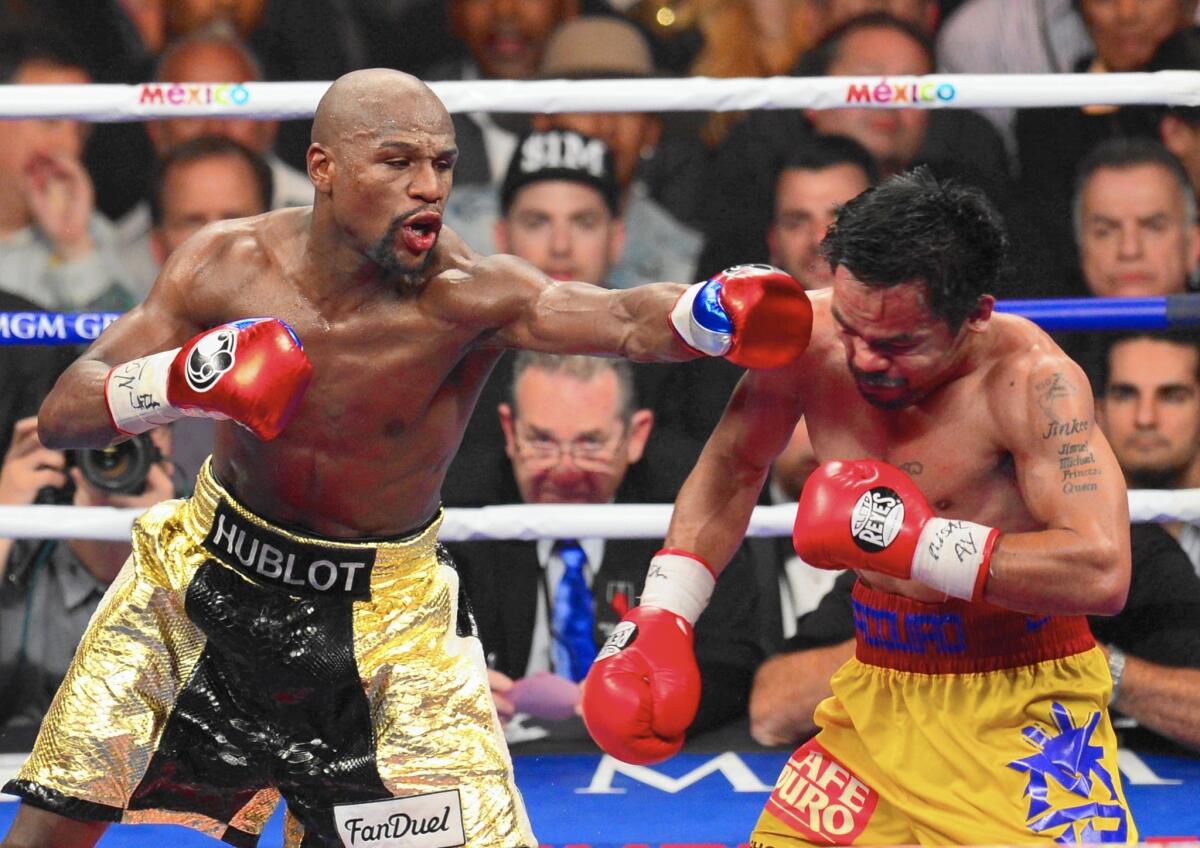 The "Fight of the Century" has ignited a battle between cable giants and upstart live-streaming apps.
The conflict centers on video apps such as Twitter's Periscope and rival Meerkat, which allow smartphone users to instantly broadcast anything to anyone, anywhere. Such apps allowed thousands of users to skip the $100 pay-per-view fee for Saturday's bout between Floyd Mayweather Jr. and Manny Pacquiao and watch online for free.
After the fight, Twitter Chief Executive Dick Costolo tweeted: "And the winner is … @periscopeco."
That poses a serious threat to cable companies that rely on subscribers ponying up big bucks to watch marquee events.
The free-for-all adds one more complication for cable companies already reeling from cord cutters switching to cheaper streaming TV platforms such as Netflix. It also poses problems for sports leagues and any other organization with copyrighted content worth protecting.
"Once technology is developed, you can't rein it," said Peter Csathy, chief executive of Manatt Digital Media and a start-up advisor. "Technology companies are becoming media companies. It can't be separated anymore."
Saturday's pay-per-view telecast was co-produced and co-distributed by HBO Pay-Per-View and Showtime PPV live from the MGM Grand Garden Arena in Las Vegas. Both networks declined to comment on the effect that live-streaming apps had on their broadcasts.
One of the fight's promoters, Top Rank Inc., has already pledged to pursue legal action.
But cracking down on the streaming of pirated content across the apps will be difficult, to say the least. The platforms allow thousands of users to share content, making it all but impossible to identify them or catch them before they sign off.
"If you go after individual users it becomes more like a game of Whac-A-Mole," said Aaron Moss, an attorney specializing in copyright law and a partner at Greenberg Glusker in Los Angeles.
Moss said Periscope and Meerkat aren't required to do anything by law until they're informed by copyright holders of violations.
Twitter said it received 66 complaints about illegal broadcasts during the Mayweather-Pacquiao fight and was able to disable 30 of them within minutes.
"This kind of use is a clear violation of our content policy," Twitter said in a prepared statement. "We respect the intellectual property rights of rights holders and are working to ensure there are robust tools in place so we can react expeditiously."
Meerkat did not respond to a request for comment, but Chief Executive Ben Rubin tweeted Sunday night that he was working with CBS on copyright issues.
It's unclear which app had more Mayweather-Pacquiao broadcasts, though Periscope is among the 10 most-downloaded social-networking apps in the Apple App Store. Meerkat is ranked dozens of spots lower.
Analysts say both Periscope and Meerkat could benefit from taking a cue from YouTube, which receives content from record labels and TV networks, among others, and enters it in a database called Content ID. The program can check against the database to detect an unlicensed upload.
A system could also prevent people from broadcasting inside a movie theater using one of the apps, at least in theory.
Patrick Corcoran, vice president and chief communications officer for the National Assn. of Theatre Owners, said movie studios and theater owners often place a unique watermark on movies during playback. The apps could be set up to automatically recognize those watermarks, he said.
"Most theaters are going to treat these apps the same way as they would anyone else recording inside a theater," Corcoran said. "Even if it's live through an app, it's still someone with their camera recording, which theaters will not allow. I heard there was someone streaming 'Furious 7' and that the person was stopped by the theater."
HBO reportedly sent take-down notices to Periscope last month after users illegally broadcasted the channel's hit show "Game of Thrones."
Sports leagues are also watching the technology closely.
The National Hockey League sent a memo to members of the media last month warning them not to stream hockey games using Periscope and Meerkat. The National Basketball Assn. said it also prohibits anyone from broadcasting games using the streaming technology. The National Football League said it was using the off-season to evaluate the apps and how they could affect the league.
Such live-streaming apps are still in the early stages. Footage is often grainy and shaky, and less-than-compelling content has piled up (anyone want to see a live stream of someone standing in an Old Navy cashier line?).
But the allure of watching expensive content free of charge is obvious, said Shan Sinha, chief executive and founder of Highfive, a fast-growing video conferencing platform.
"From an end user's perspective," he said, "it's a no-brainer."
Twitter: @dhpierson

Twitter: @peard33

Times staff writer Meg James contributed to this report.