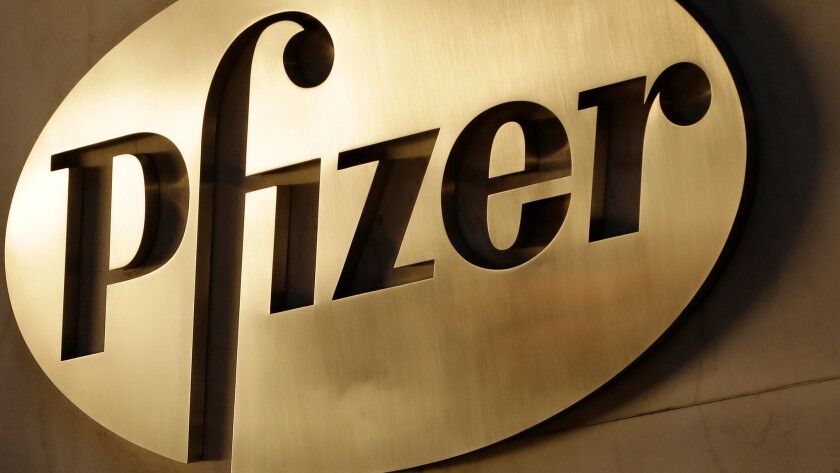 Pfizer Inc. is acquiring Anacor Pharmaceuticals Inc., a California company with a potentially lucrative eczema treatment, in a deal valued at about $5.2 billion.
Anacor's topical treatment for eczema, called crisaborole, is under review by the Food and Drug Administration. If approved, Pfizer said it believes peak year sales could reach or exceed $2 billion. Anacor, based in Palo Alto, also holds the rights to a topical treatment for toenail fungus called Kerydin.
See more of our top stories on Facebook >>
Albert Bourla, group president of Pfizer's global innovative pharma and vaccines, oncology and consumer healthcare businesses, said in a statement that the buyout is attractive because it provides an opportunity to address a significant unmet medical need for a large patient population with eczema. Bourla said that there are few safe topical treatments available for the condition.
Pfizer Inc. is to pay $99.25 per Anacor share. That's a 55% premium over Anacor's Friday closing price of $64.03.
Anacor's stock was up more than 55% on Monday morning, trading as high as $99.86.
Pfizer expects the transaction to add to its adjusted earnings per share starting in 2018 and increasing after that. The New York company does not expect the acquisition to affect its 2016 financial outlook.
SIGN UP for the free California Inc. business newsletter >>
The boards of both companies have approved the deal, which is expected to close in the third quarter.
MORE FROM BUSINESS
Warren Buffett's company buys 9.8 million Apple shares
Gannett's bid for Tribune Publishing jumps to $15 a share
Want to invest in a social network? How about a condom company? Now's your chance
---