Warren Buffett's company buys 9.8 million Apple shares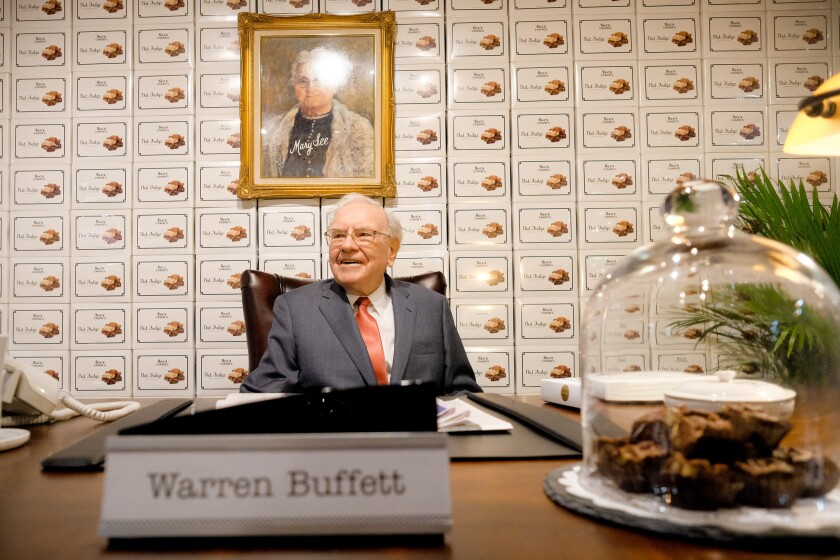 Warren Buffett hasn't lost his aversion to technology stocks, but the billionaire's holding company can still buy them.
Buffett's Berkshire Hathaway Inc. disclosed Monday that it purchased 9.81 million shares of Apple Inc. in the first quarter, an investment reportedly made by another stock picker at Buffett's Omaha-based conglomerate.
The portfolio manager no doubt saw a buying opportunity: Apple's stock has tumbled in the last year because of slowing sales of the technology giant's iPhone and other devices.
Apple's stock rose $3.36, or 3.7%, to $93.88 a share Monday in response to news of Berkshire's stake, which was valued at $1.07 billion as of March 31, according to a filing Berkshire made Monday with the Securities and Exchange Commission.
The value of that stake has dropped since then, to $921 million, because of the slump in Apple's share price this year.
Buffett, 85, is the second-richest American, with a net worth of $66 billion, second only to Microsoft Corp. cofounder Bill Gates at $75 billion, according to Forbes.
Buffett's wealth is derived mainly through Berkshire, where for decades he has made shrewd, long-term investments in financial, manufacturing and retail companies that earned him the nickname the "Oracle of Omaha."
Berkshire's major investments are in companies such as American Express Co., Coca-Cola Co. and Wells Fargo & Co. He has long stayed away from technology companies, which he professes not to understand fully, even though Gates sits on Berkshire's board and the two are longtime bridge partners.
One exception: Berkshire owns a stake in International Business Machines Corp. valued at about $12.3 billion.
The Apple investment was made by one of Berkshire's stock-picking lieutenants who did so without consulting Buffett, CNBC and the Wall Street Journal quoted Buffett as saying via email.
They also reported Buffett as saying that he might support a potential bid by Quicken Loans founder Dan Gilbert to acquire Yahoo Inc.'s Internet assets, but Buffett said he would not make a bid himself partly because "I don't know the business."
Berkshire and Apple declined to comment on Berkshire's purchase.
Buffett has "always prided himself on, 'I stick with what I know and I just don't know tech,'" said Lawrence Cunningham, research professor of law at George Washington University and the author of four books on Berkshire.
Speaking of Berkshire's other portfolio managers, Cunningham said, "My headline for this story isn't so much that Warren is now warm and fuzzy on tech but that his brain trust is much larger than it has ever been."
Berkshire likely is taking advantage of the drop in Apple's stock price that came as Apple posted its first quarterly sales decline in 13 years and a drop in profit, largely because of a slowdown in sales of the iPhone, iPad and other devices.
Apple's fortunes are now largely tied to the iPhone, which accounts for two-thirds of its revenue. But gaining new customers, especially overseas, is proving tougher for Apple, one of the world's most valuable companies with a total market value of $496 billion.
At $640 on average, iPhones are too expensive for many smartphone purchasers in emerging markets. Apple sold 51.2 million iPhones in January through March this year, about 10 million fewer than in the same quarter a year ago.
Besides its investment portfolio, Berkshire owns dozens of companies including Geico insurance, Benjamin Moore paints, See's Candies and the truck-leasing company Xtra Corp.
This year Berkshire also completed its largest acquisition ever, a $37-billion purchase of Precision Castparts Corp., whose operations include nearly 30 facilities with a combined 5,000 employees in Southern California.
Times staff writer Samantha Masunaga contributed to this report.
james.peltz@latimes.com
Twitter: @PeltzLATimes
MORE FROM BUSINESS
Gannett raises bid for Tribune Publishing to $15 a share
Alaska Airlines wants to replace Southwest Airlines as California's go-to airline
Want to invest in a social network? How about a condom company? Now's your chance
---
UPDATES:
3:15 p.m. - This article was updated with Apple's closing stock price and additional details on Apple's iPhone sales and Berkshire Hathaway's operations.
10:50 a.m. - This article was updated throughout with staff reporting.
This article was originally published at 7:03 a.m.
---
Your guide to our clean energy future
Get our Boiling Point newsletter for the latest on the power sector, water wars and more — and what they mean for California.
You may occasionally receive promotional content from the Los Angeles Times.