Senate easily confirms Jerome Powell to be next Federal Reserve chairman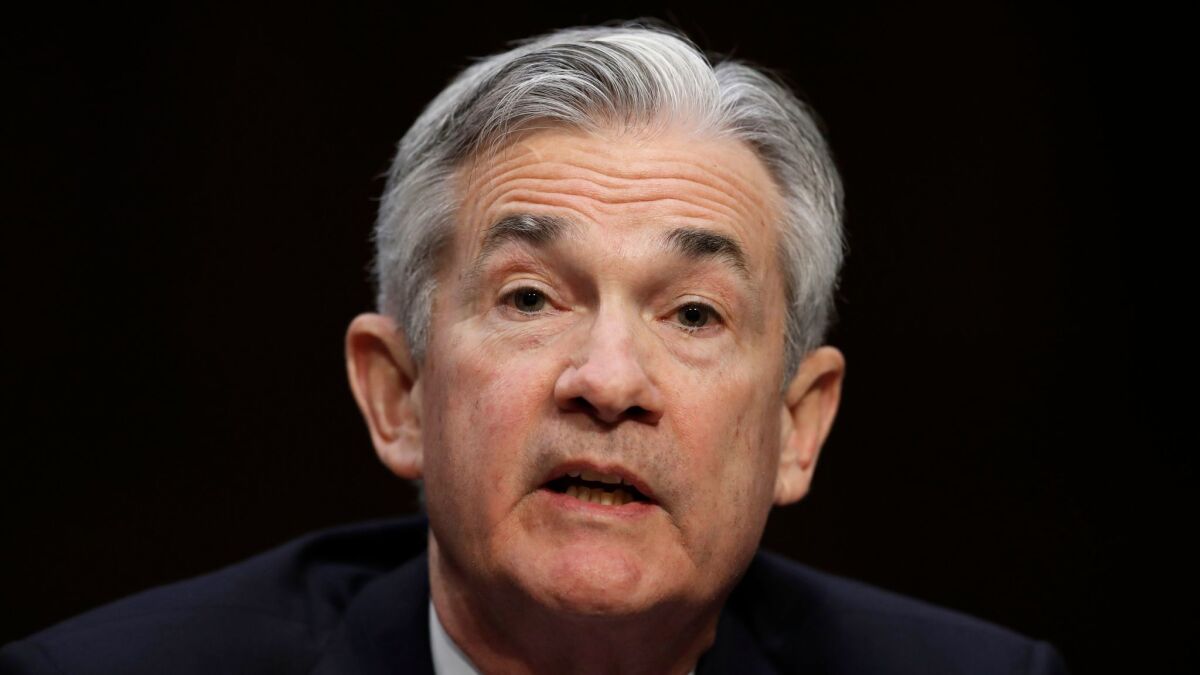 Reporting from Washington —
The Senate on Tuesday voted overwhelmingly to confirm Jerome H. Powell to be the next chairman of the Federal Reserve, allowing him to take over when Janet L. Yellen's term expires early next month.
Powell, 64, a well-respected Republican who has served as a governor on the Fed board since 2012, enjoyed broad bipartisan support, and his easy confirmation had been expected.
The Senate vote was 84 to 13 .
Most of the opposition came from liberals eyeing a 2020 presidential run, including Cory Booker (D-N.J.), Kirsten Gillibrand (D-N.Y.), Kamala Harris (D-Calif.), Bernie Sanders (I-Vt.) and Elizabeth Warren (D-Mass.). California's other senator, Democrat Dianne Feinstein, also voted against Powell.
All most likely were concerned — as Warren expressed in a speech before the vote — that Powell will roll back tough regulations put in place after the financial crisis.
"We need a Fed chair who can stand up to Wall Street and think about the needs of working families in this country," she said. "We need someone who believes in the toughest rules for banks, not in weaker rules for banks. That person is not Gov. Powell."
There was some Republican opposition as well. Powell's confirmation was opposed by Sens. Ted Cruz (R-Texas), Mike Lee (R-Utah), Rand Paul (R-Ky.) and Marco Rubio (R-Fla.) — all critics of the Fed's recent stimulative monetary policy, which Powell has supported.
Powell will assume leadership of the world's most influential central bank at a challenging time.
The stronger economy, which will get a boost this year from the recently enacted tax cuts, is exerting pressure on the Fed's monetary policymakers to more rapidly increase interest rates. Such a move could slow growth but head off higher inflation.
Powell is expected to continue the strategy taken by Yellen, a Democrat, of gradually raising the Fed's key short-term interest rate.
But he has signaled more openness to easing financial regulations, which would align him more with President Trump and many Republicans.
Trump nominated Powell after a lengthy search that included considering Yellen for a second four-year stint leading the Fed. Yellen made history as the first woman to lead the Fed in its more than 100-year history. She was confirmed 56 to 26, with only Republicans in opposition.
Yellen's term as chairwoman ends Feb. 3.
Powell's nomination was overwhelmingly approved by the Senate Banking Committee, and the panel's chairman, Sen. Michael D. Crapo (R-Idaho), and its top Democrat, Sen. Sherrod Brown (D-Ohio), both urged their colleagues Tuesday to support the nomination.
"His track record over the past six years shows he is a thoughtful policymaker," Brown said before the vote.
Powell has extensive Washington experience, including time as an assistant Treasury secretary under President George H.W. Bush. Before joining the Fed, Powell was a visiting scholar at the Bipartisan Policy Center think tank and a partner at the Carlyle Group, a high-powered Washington asset-management firm.
He was first nominated to the Fed by President Obama, and since joining the board, Powell has never dissented on decisions by Yellen and the rest of the Fed's monetary policymaking committee to raise the central bank's interest rate very cautiously after the unprecedented stimulus policies used to fight the Great Recession.
In 2012, Powell was confirmed 74 to 21. All but one of the opposing votes came from Republicans amid concerns that Powell would be a rubber stamp for the stimulus policies of then-Fed Chairman Ben S. Bernanke. There also was a general opposition among some in the party to Obama nominees.
Twitter: @JimPuzzanghera
---
UPDATES:
3:30 p.m.: This article was updated with comment from Sen. Elizabeth Warren (D-Mass.) and to note that Sen. Marco Rubio (R-Fla.) voted against Powell and that the Senate revised the final vote to 84-13 after Sen. Dianne Feinstein (D-Calif.) changed her vote.
This article originally was published at 2:40 p.m.
Sign up for the California Politics newsletter to get exclusive analysis from our reporters.
You may occasionally receive promotional content from the Los Angeles Times.