Review of San Onofre deal is sought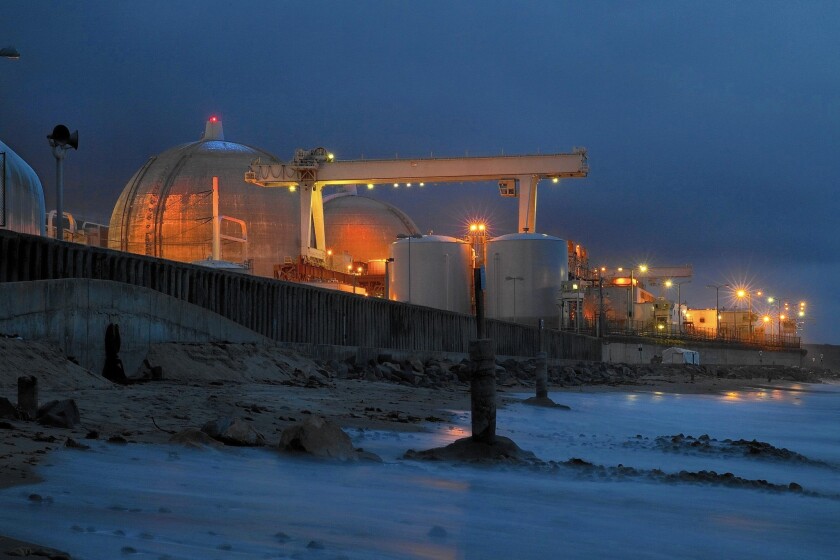 REPORTING FROM SACRAMENTO —
A Los Angeles County lawmaker is asking state regulators to reopen a legal settlement that apportioned costs of permanently closing the San Onofre nuclear power plant near San Clemente.
The controversial agreement, approved in November by the Public Utilities Commission, requires San Onofre's owners — Southern California Edison Co. and San Diego Gas & Electric Co. — to pay $1.4 billion while residential and business ratepayers get hit with a $3.3-billion charge.
"I believe it is imperative to investigate and scrutinize the entire settlement process ... to assure that the settlement process was legitimate and uncorrupted," Assemblyman Anthony Rendon (D-Lakewood) wrote in a letter Thursday to PUC President Michael Picker.
Rendon, the chairman of the powerful Assembly Committee on Utilities and Commerce, asked Picker to compel Edison and its parent company to "turn over to the commission all internal and external emails relative" to San Onofre, including the investigation of defective steam generators that forced closing of the 2,200-megawatt plant.
Picker said he plans to consult with the assemblyman on details of his request. Edison did not comment.
The financial settlement has been a source of controversy since it was hashed out in private talks a year ago by Edison, SDG&E, two ratepayer groups and some environmentalists.
Some San Diego consumer advocates had denounced it as a sweetheart deal.
Their contentions were bolstered when Edison revealed last month that one of its top executives had participated in an informal negotiation session with then-PUC President Michael Peevey during a March 13 industry seminar at a hotel in Warsaw.
The document, handwritten on hotel stationery, was seized by state investigators in January when they searched Peevey's La Cañada Flintridge home.
"I believe it is your duty as president of the commission to shine a bright light on the process," Rendon wrote, "after recent revelations that suggest the outline of the settlement may have been agreed to in principle in a secret meeting."
Rendon's strong interest in further probing the San Onofre closure was greeted enthusiastically by San Diego attorney Michael Aguirre, who has filed a number of lawsuits seeking to reopen the inquiry.
"Assembly member Rendon adds great force to the growing momentum for President Picker to reopen the San Onofre investigation," Aguirre said.
Mark Toney, executive director of the Utility Reform Network, said his group "fully supports further investigation into any secret and unreported communications."
Twitter: @MarcLifsher

---
Your guide to our new economic reality.
Get our free business newsletter for insights and tips for getting by.
You may occasionally receive promotional content from the Los Angeles Times.