What customers need to know about Walgreens' takeover of Rite Aid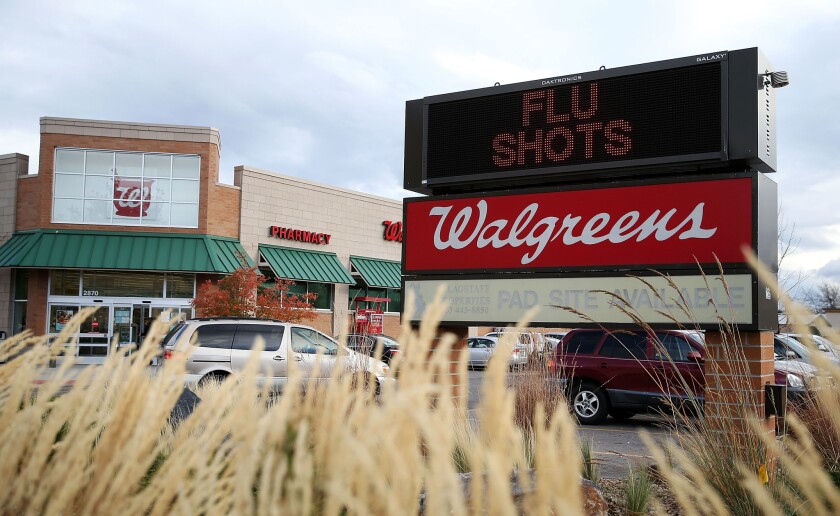 Change is coming to local drugstores after Walgreens Boots Alliance Inc. said Tuesday it is buying rival Rite Aid Corp. for about $9.4 billion.
The deal combines two of the nation's largest drugstore chains, helping them to better compete in the rapidly consolidating healthcare industry. Drugstore chains face increased competition from mail-order pharmacy services and pharmacies inside grocery store chains.
See the most-read stories this hour >>
But what will it mean for consumers? Here's how the deal could affect shoppers.
Will stores close? Read more
The two companies didn't say whether they would shutter stores or lay off workers after the deal closes. But they did say that "decisions will be made over time regarding the integration of the two companies" and that Walgreens "plans to further transform Rite Aid's stores to better meet consumer needs."
Analysts said that there will likely be a government review of both chains' operations and that the Department of Justice will probably require them to get rid of stores in regions where there is a lot of overlap.
In a call with analysts Wednesday morning, Walgreens Chief Executive Stefano Pessina said the company would not speculate on the number of stores it might have to divest.
Walgreens has about 8,200 stores across the U.S., with 637 in California; Rite Aid operates about 4,600 stores in 31 states, including 577 in the Golden State.
Why are these companies combining?
Hospital operators, physician groups, health insurers and now drugstore chains have all merged in the wake of the Affordable Care Act to try to cut costs and gain more leverage with suppliers.
Analysts say health insurers want to bulk up to take advantage of increasing revenue from the health law and the rising enrollment of Medicare and Medicaid patients, and healthcare companies see mergers as a way to deal with limits on earnings under the Affordable Care Act.
SIGN UP for the free California Inc. business newsletter >>
This year, Rite Aid acquired a small pharmacy benefits manager, which acts as a kind of middleman by processing prescriptions for insurers and negotiating prices with drugstores and pharmaceutical companies.
In the Wednesday morning call with analysts, Pessina said increased negotiating power with pharmacy benefits managers was not part of the decision. Instead, he said, the deal will increase Walgreens' footprint in the U.S. and save money by finding synergies with Rite Aid.
Will prices go up?
Companies could argue that bulking up means more financial muscle to negotiate better deals, but that might not necessarily help consumers, said Carmen Balber, executive director of the advocacy group Consumer Watchdog.
She said it was "fair to assume" that drug prices could increase for consumers after the merger because there would be fewer companies negotiating with pharmacy benefits managers and pharmaceutical companies.
Will Rite Aid's name change?
Rite Aid will initially continue to operate under its own name after the merger, which is expected to be completed in the second half of next year.
Who will compete with the combined company?
CVS Health Corp., the second-biggest drugstore chain, has more than 7,800 stores across the nation, including more than 860 in California.
And what about Thrifty's ice cream?
Walgreens spokesman Phil Caruso said Rite Aid products will be available while the drugstore continues to initially operate under its own name. Other decisions on product lines will be made later, he said.
For more business news, follow @smasunaga.
MORE FROM BUSINESS
Amazon delivery drivers sue, alleging pay violations
Fed holds interest rate steady, but hints a hike could come in December
Why CNBC is counting on the next Republican debate to raise its profile and revenue
---
Your guide to our clean energy future
Get our Boiling Point newsletter for the latest on the power sector, water wars and more — and what they mean for California.
You may occasionally receive promotional content from the Los Angeles Times.