Amazon delivery drivers sue, alleging pay violations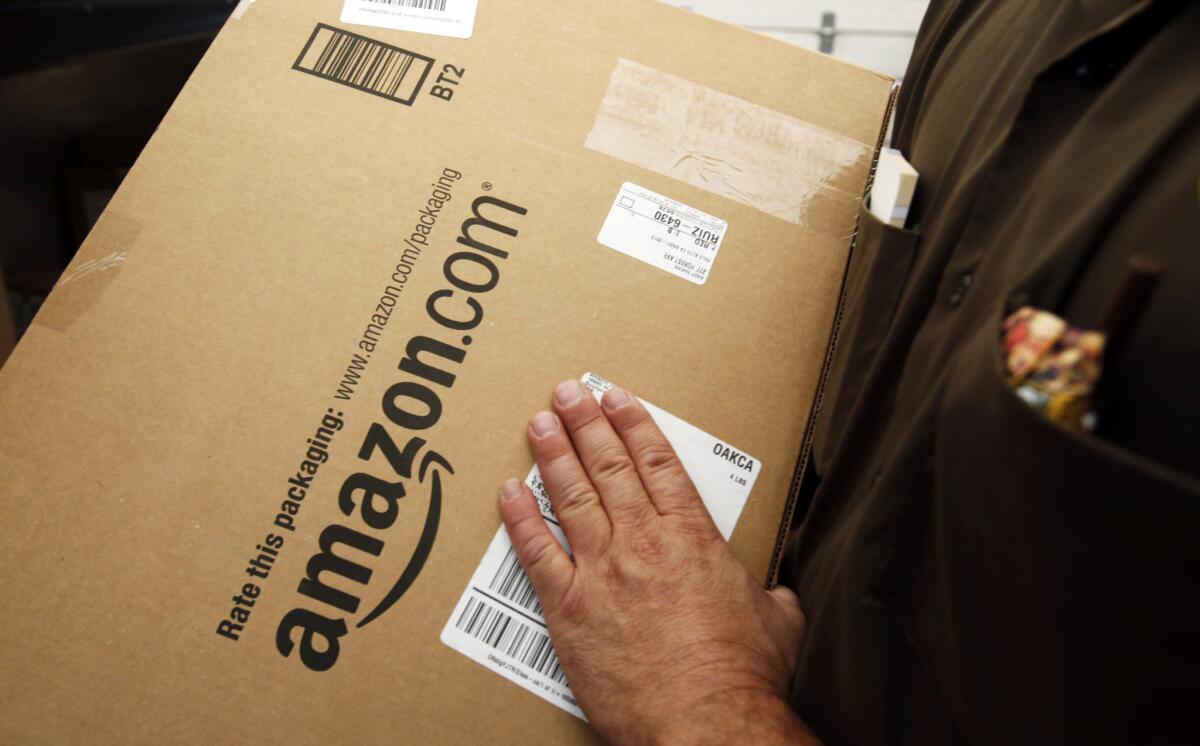 A group of drivers for the new Amazon Prime Now delivery service filed suit against the company Tuesday, alleging they were denied overtime pay, workers' compensation and mileage reimbursements.
The workers say they were improperly classified as independent contractors instead of employees.
The Prime Now service launched in Southern California last month and promises one- and two-hour home delivery of goods such as groceries and electronics.
SIGN UP for the free California Inc. business newsletter >>
Lawyers are seeking class-action status in the suit, filed in Los Angeles County Superior Court against Amazon and Scoobeez, its contracted courier service. The named plaintiffs, four drivers from Orange County, allege they were classified as independent contractors even though Amazon set their schedules and controlled virtually all aspects of their work.
"Plaintiffs cannot reject work assignments, nor can they request that their deliveries be restricted to a particular geographic area," the lawsuit reads. "Plaintiffs who do not follow defendants' rules or instructions are subject to discipline up to and including termination."
Although drivers are paid $11 an hour, the suit claims that many are in reality receiving less than California's $9 minimum wage after factoring in expenses such as gas, tolls and maintenance.
The question of whether workers are employees or independent contractors has gotten increased attention over the last year, as companies in the so-called gig economy (Uber, TaskRabbit) have redefined the traditional employer-employee relationship. Last month a federal judge in San Francisco gave the go-ahead to a class-action lawsuit involving Uber drivers who claim they should be treated as employees.
Beth Ross, the lead attorney in the Amazon Prime Now lawsuit, said the case is more clear-cut than the Uber lawsuit.
"These are people who are in no way, shape or form in business for themselves," Ross said. "They're people who interviewed for a job, were hired for that job and show up to an Amazon warehouse every day."
Ross and her firm, Leonard Carder, earlier this year won a $228-million settlement with FedEx in a case involving California delivery drivers who were classified as independent contractors.
Amazon and Scoobeez did not respond to requests for comment on the lawsuit.
Twitter: @c_kirkham
ALSO:
Cord-cutting: It's easier (and cheaper) than you think
Amazon boosts holiday hiring, signaling shift in retail jobs
Prime Now, Amazon's one-hour delivery service, comes to L.A.