RadioShack posts 8th straight quarterly loss, may close 1,100 stores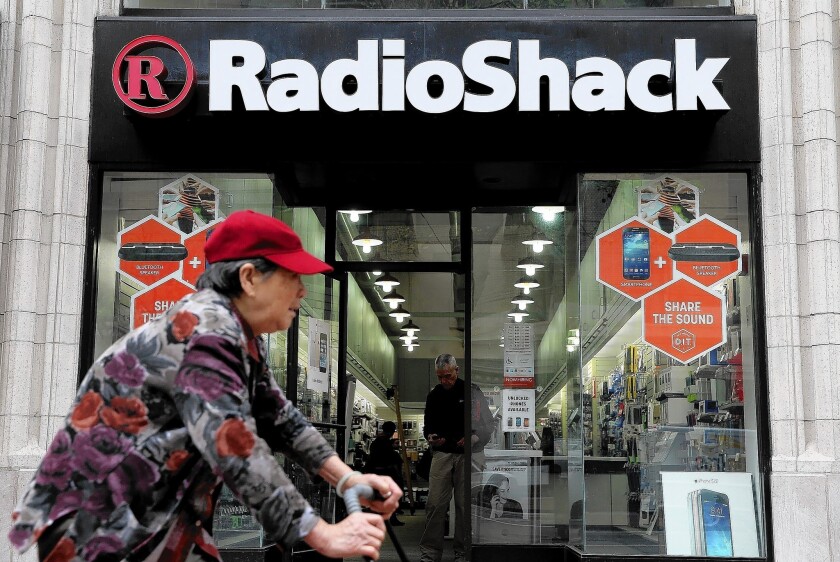 RadioShack Corp., the struggling electronics retailer, on Tuesday said it might close 1,100 stores — about a fifth of all its outlets — after it reported its eighth straight quarterly loss.
The Forth Worth company said it had a net loss of $191.4 million for the fourth quarter — more than triple what it lost a year earlier. Its fourth-quarter revenue slumped 20% to $935.4 million.
Like many bricks-and-mortar retailers, RadioShack is struggling to reverse declining foot traffic to its stores and fend off competition from other retailers, including Amazon.com.
Its financial results, however, underscored some of the difficulties the retailer is trying to overcome — among them a perception that the chain, which has been in business more than 90 years, is outdated.
Exhibit A: Last month's Super Bowl commercial. The minute-long spot poked fun at that perception and featured 1980s celebrities — Erik Estrada of CHiPs, horror-movie fictional serial killer Jason Voorhees and Alf the alien — ransacking a RadioShack outlet to "get their store back."
The ad "was one of the largest media events in our company's history," RadioShack Chief Executive Joseph C. Magnacca said in a conference call with analysts Tuesday. He said the ad generated high levels of consumer engagement and was among the most talked-about Super Bowl ads last month.
But the timing of the Super Bowl ad may have been too late.
RadioShack said the holiday shopping season produced lower store traffic despite aggressive discounting to entice consumers to the chain's more than 5,000 locations. Magnacca blamed weak demand for its mobile phones "and a few operational issues."
Magnacca, however, remained optimistic and said the company plans to update dozens of its stores. The goal is to allow consumers to test out gadgets and interact with sales staff. He said the chain would also address problems with its inventory, including a focus on keeping items stocked that it promotes in weekly ads.
Another area the company wants to improve is selling new, exclusive products at its stores. It recently announced a partnership with Quirky, a New York invention company, to stock its products in RadioShack stores.
The "RadioShack turnaround will take time," said Magnacca, who was hired as CEO a little more than a year ago.
Tuesday's financial results hit the retailer's stock hard. Its shares closed Tuesday down 47 cents, or 17.3%, at $2.25 after hitting a low of $2.19.
Morris Ajzenman, an analyst at Griffen Securities Inc., was pessimistic about RadioShack's future.
"RadioShack's time has passed," he said. "It is a dinosaur.... Ultimately, I think it'll go out of business."
For now, though, the company's relatively strong balance sheet will keep the company going, he said.
RadioShack reported total liquidity of $554.3 million, including nearly $180 million in cash.
"The balance sheet is in halfway decent shape … and gives them more time," he said. "It's a very difficult environment for them, to say the least."
The company did not offer many details about which stores would be closed or how many employees would be affected. The company has more than 27,000 employees worldwide. Despite the closures, the company will still have more than 4,000 stores in the U.S.
Twitter: @rljourno
---
Your guide to our new economic reality.
Get our free business newsletter for insights and tips for getting by.
You may occasionally receive promotional content from the Los Angeles Times.