L.A. Japanese-American newspaper must get 10,000 subscribers by year's end -- or close its door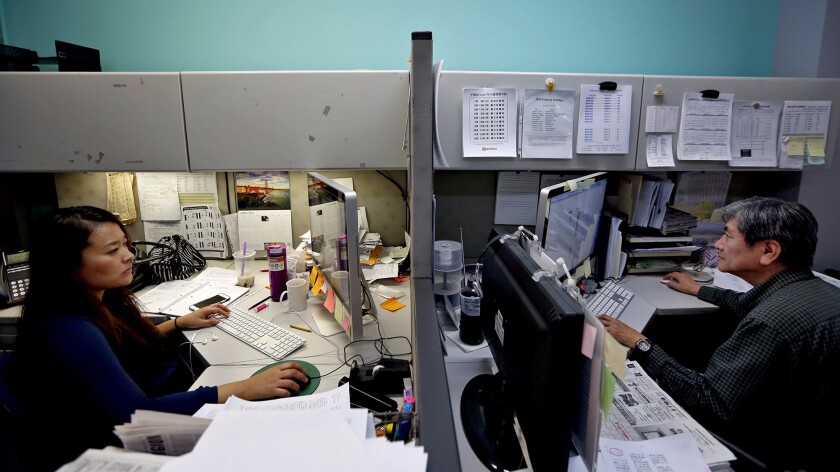 For 113 years, the Rafu Shimpo newspaper has chronicled the story of the Japanese American community in Southern California.
It survived World War II, when writers and editors were shipped off to internment camps. Before leaving, they hid the paper's Japanese type under office floorboards.
But if the money-losing paper doesn't raise about $500,000 in revenue — by more than doubling its subscribers — it could close in December, marking the end of one of the last English-Japanese dailies in the U.S., and the oldest.
"Some of the things we cover you can't get anywhere else," said Michael Komai, 64, the paper's publisher, whose family has run the Little Tokyo-based publication for three generations. "Some people aren't going to know they'll miss us until we're gone."
Like many papers, the Rafu has struggled to adjust to the changing media landscape. However, those issues have been amplified by its small community, aging readership and the greater assimilation of younger Japanese Americans compared with other Asian American communities.
The Rafu currently has a print circulation of about 7,800, down from a peak of 23,000 subscribers in the late 1980s. Its online subscriptions total about 800.
"It became more of a challenge for the Rafu Shimpo to be the hyperlocal community voice because the community dispersed, grew older, and unlike most of the other major Asian news media, was not replenished by increased immigration," said Sandy Close, executive director of New America Media, a nationwide organization for ethnic media.
"The digital revolution, combined with the recession, has, of course, been tremendously challenging for the ethnic media sector overall," she said.
The Rafu Shimpo — which means, literally, Los Angeles newspaper — got its start in 1903 as a mimeographed sheet put together by three USC students.
Some people aren't going to know they'll miss us until we're gone.
Michael Komai, publisher
In the early 1920s, H.T. Komai, the current publisher's grandfather, took over the paper. He ushered in several changes, including the development of a new English-language section to appeal to a younger generation after immigration laws stymied the flow of new arrivals from Japan.
As tensions built between Japan and the U.S., the paper ran editorials urging the Nisei — the second generation of Japanese in the United States — to show they were patriotic American citizens. The paper also proclaimed it was "100%" loyal to the U.S.
A look at historical front pages from the Rafu Shimpo>>
But on Dec. 7, 1941, hours after Japanese planes attacked Pearl Harbor, Komai was arrested by the FBI along with other leaders from the community who were labeled "enemy aliens." That left his eldest son, Akira, in charge of the paper's welfare.
Before Akira Komai was forced into a camp with other Japanese Americans along the West Coast, he hid the newspaper's Japanese lead type in hopes that the Rafu could one day restart.
The last issue published before the staff was sent to the camps came out on April 4, 1942, and contains a letter from the newsroom with the headline, "We'll meet again." At the bottom of the page is a single-line advertisement in bold: "Buy your defense stamps at the Rafu Shimpo."
On Jan. 1, 1946, the paper resumed publishing.
In the postwar era, Japanese Americans returned to L.A., especially Little Tokyo, and the neighborhood became a vibrant community, according to Lane Hirabayashi, a professor in the Asian American studies department at UCLA. In the late 1960s, legislation opened up further immigration from Japan.
The community also began to spread throughout Southern California. Japanese Americans with higher incomes moved out, toward Gardena and the Westside, after civil rights legislation was passed outlawing housing discrimination.
During this period, the Rafu battled for dominance in L.A. against another Japanese American daily, the Kashu Mainichi, and a few other publications. Nearly all have since vanished, and several of their writers, editors and columnists were absorbed into the Rafu's staff.
That included George "Horse" Yoshinaga, who penned the popular "Horse's Mouth" column until his death last year at the age of 90.
-----------
FOR THE RECORD
May 2, 5:44 p.m.: An earlier version of this article incorrectly said that George "Horse" Yoshinaga died this year.
------------
"Horse and I, we got along very well together," said Maggie Ishino, 90, a part-time typist at the Rafu who transcribed Yoshinaga's columns for 16 years. "He really had a great sense of humor."
Ishino began writing her own column, "Maggie's Meow," in 2012. She continues to work at the Rafu and takes three buses to reach the office from her home in West Los Angeles.
Today, there are only a few Japanese American publications left in the country. The Hawaii Hochi, founded in 1912, is believed to be the only other English-Japanese daily in the nation.
See the most-read stories this hour >>
One California publication, the Nichi Bei Times, was able to revive as a nonprofit weekly. Like the Rafu, the San Francisco-based Nichi Bei Times faced declining circulation and advertising revenue, despite shifting its coverage to appeal to younger readers and separating its English and Japanese sections, said Kenji Taguma, president of the Nichi Bei Foundation and editor-in-chief of the Nichi Bei Weekly.
"What going to nonprofit has allowed us to do is open up a couple of avenues," Taguma said.
The shrinking list of Japanese American publications contrasts with the dozens of publications geared toward the Chinese and Korean communities in L.A. and beyond. The disparity reflects shifting levels of immigration among those groups.
In 2014, there were 274,000 ethnic Japanese in California, all but 103,000 of whom were native-born, according to the U.S. Census Bureau. This contrasts with the higher number of immigrants in the Chinese and Korean communities. There are 947,000 Chinese immigrants and 334,000 Korean immigrants statewide.
Like many print publications, the Rafu's subscriber base is composed mostly of older readers. And like larger newspapers, the Rafu has been unable to make up for falling ad revenue.
Last year, the Rafu pulled in $549,502 from advertising, an 8% dip from just two years ago. The paper has lost $750,000 over the last three years, and is expected to lose $350,000 this year.
Editors said they plan to shift their coverage to appeal to younger readers and continue homing in on what makes their stories distinct from those of larger publications.
Only the Rafu covers every single summer Obon festival, the annual Nisei Week celebration in Little Tokyo, and numerous community events from awards dinners to bazaars. When someone in the Japanese American community dies, the obituary will probably appear first — if not only — in the Rafu.
During graduation season, the staff prints a special section listing the names of most Japanese American graduates in Southern California. On its sports pages, the Rafu extensively covered the CIF Southern Section championship wins of the North, South and West Torrance High Schools' girls' basketball teams, whose rosters are filled with Japanese American players.
"Those kind of successes in the community are only going to be here," said Gwen Muranaka, the paper's English editor-in-chief.
Hyperlocal content like this could be a growth area, said Felix Gutierrez, professor emeritus of journalism at USC. As general-audience publications expanded their geographic reach, they left holes in covering local neighborhoods and communities. But it's not clear whether smaller and more focused media can exploit the openings, he said.
Some community members have called for the paper's management to look for new sources of revenue.
To reach a wider audience, the paper could include stories that appeal to readers interested in Japanese culture, or it could increase the Rafu's digital presence, said Ellen Endo, former Rafu editor.
The paper recently got an Instagram account and is getting increasingly active on Twitter and Facebook.
SIGN UP for the free California Inc. business newsletter >>
The Rafu has also initiated the subscription drive, with a goal of 10,000 new online subscribers for $50 each annually. "This isn't a one-year fix," Komai said. "We need an immediate boost, but we also ... need steady growth, steady progress."
Community members have started to respond. About 550 people have signed up for an online subscription since March, when Komai published a letter about the paper's finances on the front page titled, "The State of the Rafu Shimpo."
One of those is Gay Kurahashi, 54. She is a longtime Rafu reader but only recently subscribed to the online edition. Like many Japanese Americans, Kurahashi got the paper from her mother-in-law, who passed on her copy when she was done with it.
After reading about the paper's finances, Kurahashi said she decided to sign up.
"They have such deep roots in the community in L.A.," Kurahashi said. "I don't want to see them go away."
Twitter: @smasunaga
ALSO
The plan: A rooftop solar project that can power 5,000 homes -- and 500 L.A. jobs
In reversal, staff of Coastal Commission recommends approval of Newport Beach hotel and housing project
After pepper spray incident, UC Davis chancellor's troubles raise a question: How could such a brilliant woman stumble so badly?
---
Your guide to our clean energy future
Get our Boiling Point newsletter for the latest on the power sector, water wars and more — and what they mean for California.
You may occasionally receive promotional content from the Los Angeles Times.