Counterfeit Yeezys and the booming sneaker black market
A self-confessed buyer of counterfeit Adidas "Yeezys" shows the difference between the real shoes, designed by rapper Kanye West, and the replica footwear
Counterfeit Yeezys and the booming sneaker black market
Kevin longed for a pair of Adidas' "pirate black" Yeezys, a charcoal-colored edition of the ultra-hip sneakers designed by rapper Kanye West.
But the 22-year-old Riverside resident couldn't just walk into a store and buy them. The limited production shoes sold out shortly after their release, and resellers online were charging upward of $1,500, seven-and-a-half times the original retail price.
So the assistant high school football coach did what more and more collectors are doing to satisfy their Yeezy fix: He had a replica pair delivered to his doorstep from China.
"If I could readily buy a pair of Yeezys at the store right now I wouldn't buy fake ones," said Kevin, who agreed to be interviewed on the condition his last name not be published to avoid jeopardizing his relationship with illegal sellers.
Kevin's entrée into the world of replica shoes was through the user-generated website Reddit, where collectors share photos of copycat shoes and contact information for sellers. They coach counterfeiters on how to get minute details correct like the proper length of a sock liner or the right amount of fuzz on a suede patch. With each batch of bootlegs, the replicas become increasingly difficult to distinguish from their authentic counterparts.
"Why pay over $1,000 for Yeezys when you can get a pair that looks the same for $120?" he said.
It's a question vexing brands and copyright holders the world over. High-end fake Yeezys may represent a tiny fraction of the $460-billion knockoff goods industry, but they provide a snapshot into how widespread counterfeiting has become in the digital age — all to the delight of collectors who are so devoted to the shoes they're willing to undermine the very brand that makes them.
The shadow sneaker trade shows the tools of globalization aren't restricted to multinational brands. The replicas Kevin wears are re-created expertly in China, marketed on social media, sold over reputable e-commerce sites and delivered discreetly by international couriers. And customers are more than willing to pay more than $100 a pair for the fakes, knowing it often takes an expert to spot the difference.
"When I'm in the city I like to pay attention to what people have on their feet and I've never seen more fakes ever in my life," said sneaker designer Jeff Staple, who has collaborated with brands such as Puma, New Balance and Nike, for which he created the riot-inducing "Pigeon Dunks." "There's no shame in the game anymore."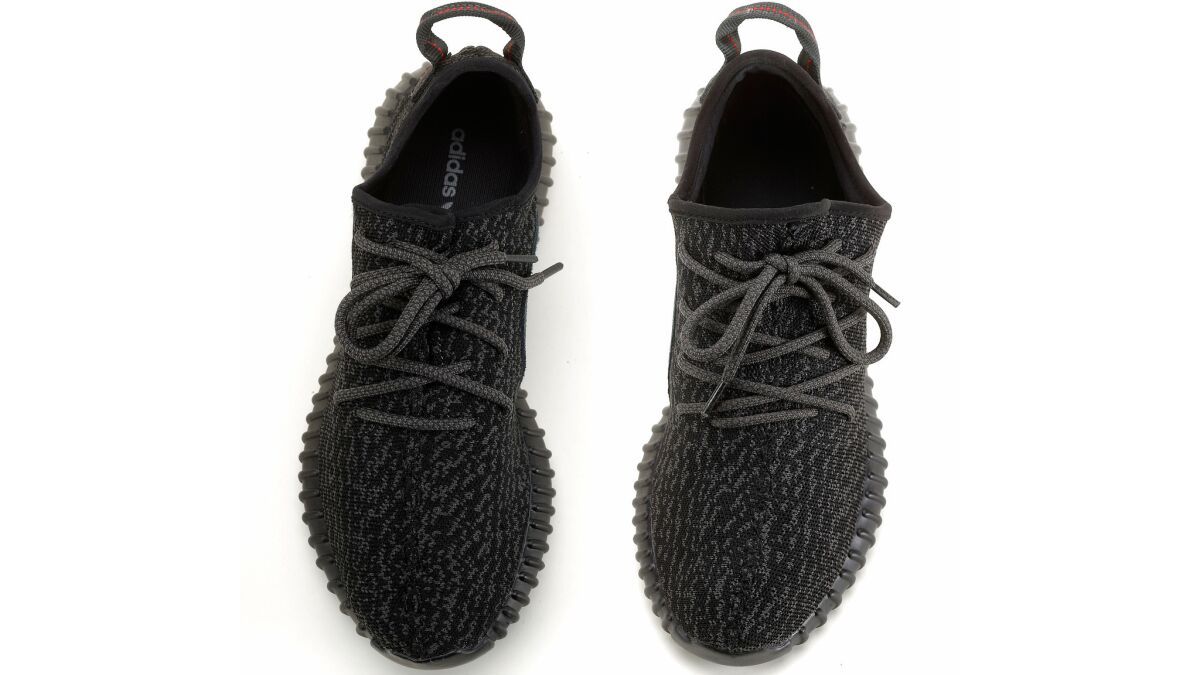 Not since Michael Jordan left his imprimatur on a line of Nike high-tops more than 30 years ago has a pair of sneakers had a bigger impact on popular culture or inspired more high-end counterfeits.
With its recognizable "primeknit" fabric and chunky soles embedded with proprietary "boost" cushioning, the Yeezys have transcended the niche world of streetwear and crossed into celebrity territory thanks to the Kardashians, the Hadid sisters and, of course, West, one of the most closely followed musicians in the world. Hash-tagged endlessly on social media platforms like Instagram, the Yeezys helped launch an improbable coup in the fashion world by making Adidas seem cooler than Nike.
Nike remains the overwhelmingly dominant athletic footwear brand in the U.S., commanding 37.7% of the industry's market share by revenue in July, according to NPD Group. But that's down from 39.5% the same time a year ago. Adidas, the second-biggest brand, has seen its market share grow to 11.9% from 7.3% in that period.
Winning West's endorsement was a victory for Adidas. The rapper originally worked with Nike to release his namesake shoes (Yeezy is a derivative of his nickname, Ye), but severed ties with the company in 2013. When Adidas put out its first pair of Yeezys in 2015, it sparked a frenzy that has contributed to the company's share price nearly doubling since then.
Collectors and resellers camped out in front of specialty sneaker stores days before new Yeezy releases. Tech-savvy buyers downloaded bots that would scan online retailers for Yeezys the moment they became available. The shoe's success even inspired other pop star and clothing brand tie-ups like Rihanna for Puma and Beyonce for Topshop.
"They are the ultimate; the top sneakers," said Riley Jones, a sneaker expert who has written for Footwear News, Sole Collector and Complex. "A lot has to do with the slow rate Adidas puts out a new style. It keeps people hungry."
By comparison, Nike's decision to make more of its Jordans available dulled enthusiasm for the shoes.
"Today, anyone can walk into a Foot Locker and buy a pair of retro Jordans," said Josh Luber, co-founder and CEO of StockX, a stock exchange and marketplace for collectible sneakers. "Not only are they not selling out on the secondary market, they're not selling out at retail."
The popularity of Yeezys and shoes like them has fostered the growth of an entire secondary sneaker industry that authenticates and resells hot shoes, led by StockX and Culver City's GOAT, which has raised $37.6 million in venture capital. (The authentic Yeezys that appear with this story were provided by GOAT.)
But the clamor and high prices have also alienated a community of sneakerheads who don't have the means — or desire — to pay Gucci prices. For them, the only alternative is getting replicas. And sooner or later, they find their way to a Reddit forum called Repsneakers.
---
When Kevin stumbled upon the Repsneakers forum in 2015, there were 3,000 subscribers. It has since ballooned to more than 56,000.
"When I started, there was only one post every few days," he said. "Now you can't keep up even if you wanted to."
In the past, those seeking counterfeit sneakers had to navigate a slew of foreign sites that inspired little confidence. Repsneakers emerged as a place to seek out and share the best on the market.
It's a community buoyed by a sense of righteousness — as if they're turning the tables on a hype-addled industry exploiting their addiction. Unlike ordinary sneakers, which are produced and sold in the millions, each Yeezy style is believed to amount to just 40,000 pairs. That scarcity fuels a secondary market, which is where members of the forum direct their scorn.
"The sneaker world in its current state is being controlled by people who [use] bots. These people aren't buying to wear, they're buying to make profit, which then drives the price up for people who genuinely want to buy to wear," said a Repsneakers subscriber named Spencelord. "I appreciate people are making a living from doing this, but I don't want to support it."
Instead, members of the forum take their business to China, the source of the majority of legitimate sneaker manufacturing as well as 85% of the world's counterfeit goods. Sellers can be found on Instagram or on Repsneakers, where they go by names like Amy, David and Edith. Connections are forged over Skype, WhatsApp or WeChat, China's dominant social media platform. Money moves through PayPal or Western Union. Buyers post pictures and reviews of their purchases for fellow subscribers to inspect.
"The right shoe's curves looks much better than the left shoe," reads one particularly precise comment. The replica Yeezy review details how the shoes were packaged ("double boxed with bubble wrap"), how they fit ("go half size down") and the quality of customer service ("Eric is great").
Other posts deal with the stigma of wearing knockoff shoes and how to respond if caught, better known as being "called out." Like a support group, the Redditors tell each other to hold their heads high.
"As repheads we know every single little flaw with our shoes and while we think they do, I promise nobody is going to see that the color is off or the suede is too high...Just rock your shoes," read one post.
The holy grail for collectors is a perfect replica, known as a 1:1 in the parlance of Repsneakers. But the quest for that perfect ratio can elicit eye rolls too. One member felt compelled to write, "As stupid as this might sound, I feel the need to remind you guys that we're buying replicas."
Another subscriber uploaded a purported microscopic close-up of a replica Yeezy with its primeknit fabric in disarray. The post turned out to be a hoax, but the point was made: Armchair experts need to stop nitpicking about their replicas and just enjoy wearing them.
Spotting the fake Yeezy
Replicating the highly coveted and commercially successful Adidas Yeezy has become so sophisticated that even some of the most astute fans can't tell the difference between a well-made fake and the real deal.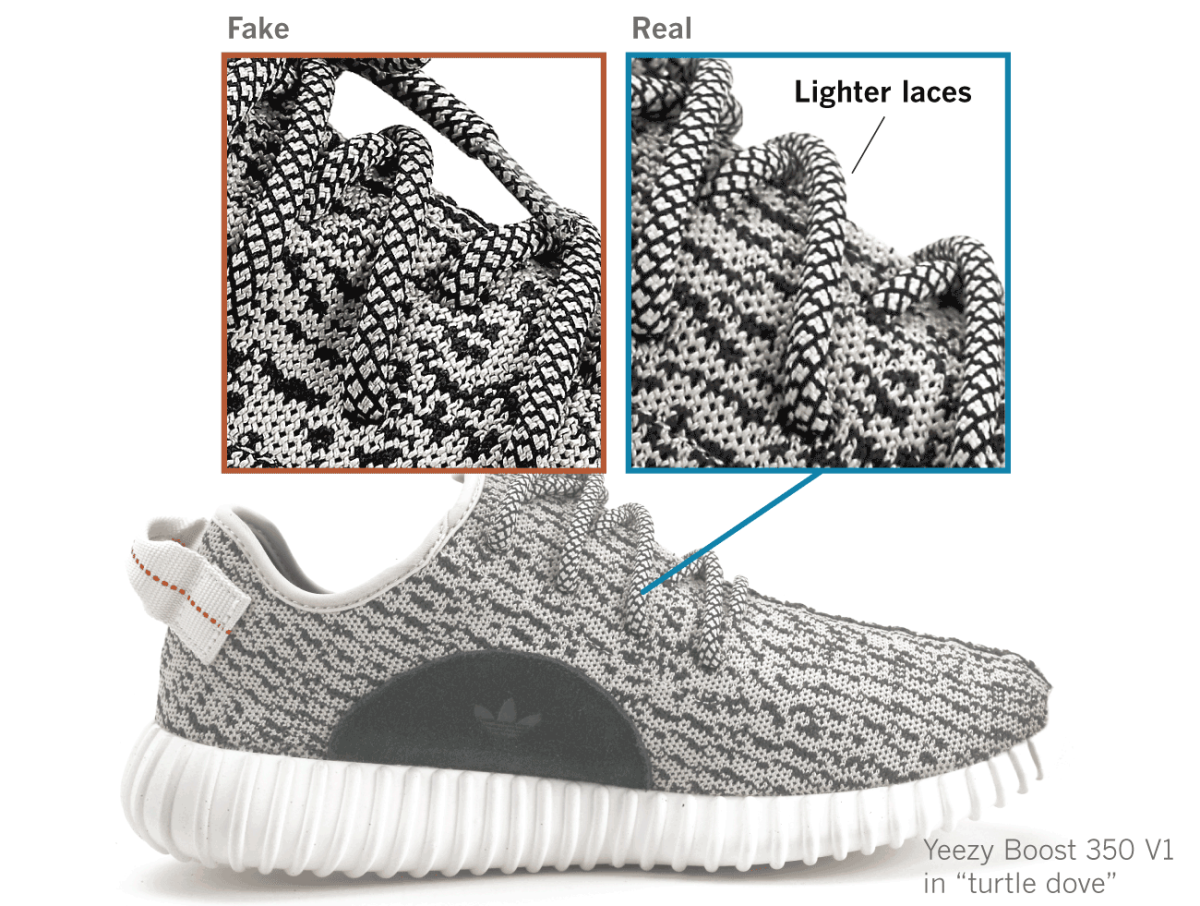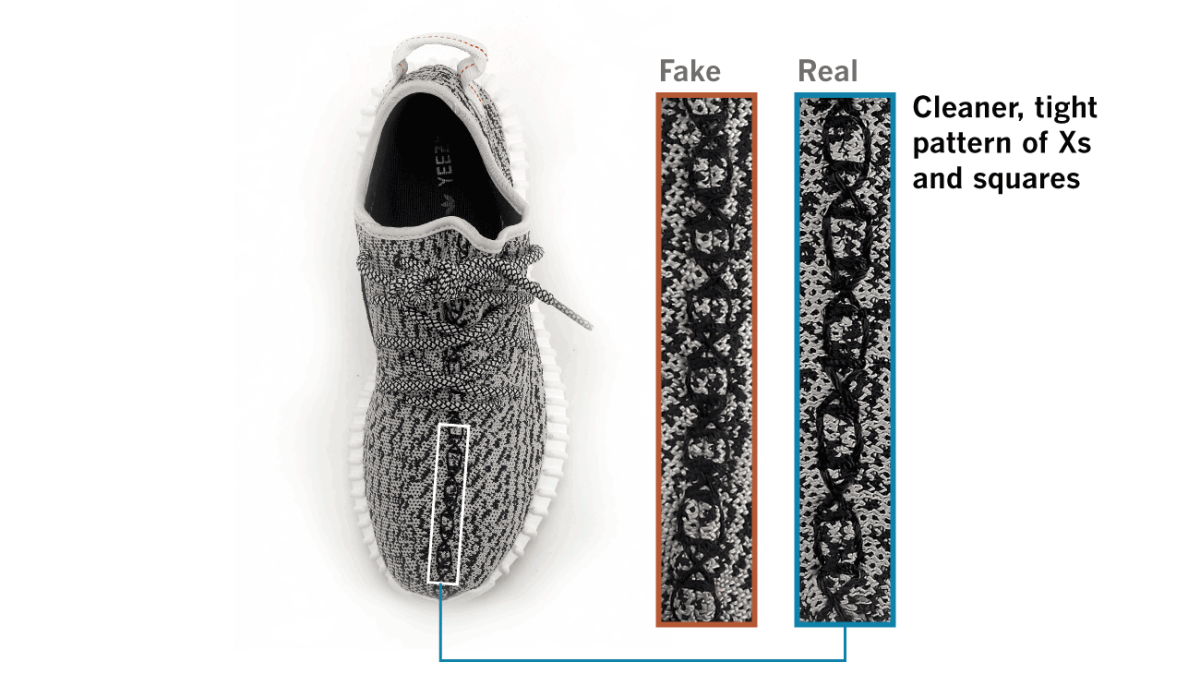 Kevin remembers begging his parents for a pair of Supra skate shoes in sixth grade. They weren't cheap to the working-class family, but he got them anyway. Ever since, the 6-foot, 250-pound former high school left tackle has had an unlikely interest in fashion. His first big splurge was a pair of Balenciaga sneakers and a Louis Vuitton belt he bought with a third of his $3,000 stipend for coaching youth football.
"My mom thought I was insane. Target and Kohl's is where she shops," said Kevin, who often shows up to practice in designer glasses and ripped, tapered jeans. "Sometimes I come to a meeting and they ask, 'You going to the club?'"
Kevin dismissed replica shoes until about three years ago when he wanted a pair of Adidas Y-3 sneakers — another designer offshoot for the German brand. As prices climbed to nearly $400, he began browsing knockoffs online.
A cursory search of Google images took him to popular Chinese sites like Taobao, AliExpress and DHgate, where crude counterfeits could be had for a little more than $20. But one image stuck out.
"These aren't fakes," Kevin thought at the time. "They're replicas. It looked like they were using the same materials as the retail shoes."
He clicked the link taking him to Repsneakers for the first time. There, he found a seller in China and placed an order using PayPal. Within weeks, the shoes were delivered by EMS, an international courier, in a shoebox no different from those used for authentic versions.
"Buying shoes overseas seemed like a scam, but it worked," said Kevin, who is versed in the law that buying counterfeit goods is not illegal, but selling them is.
The experience gave him the confidence to try buying a pair of replica Yeezys: $80 for an "oxford tan" pair that would cost $1,500 if genuine, $110 for a "turtle dove" pair that would cost $2,000 if authentic.
For his prized "pirate black" editions, he waited as long as he could, knowing that counterfeiters improve their replicas with each new batch. He eventually pulled the trigger on the 10th batch, paying $120 to a sought-after seller known as Chan.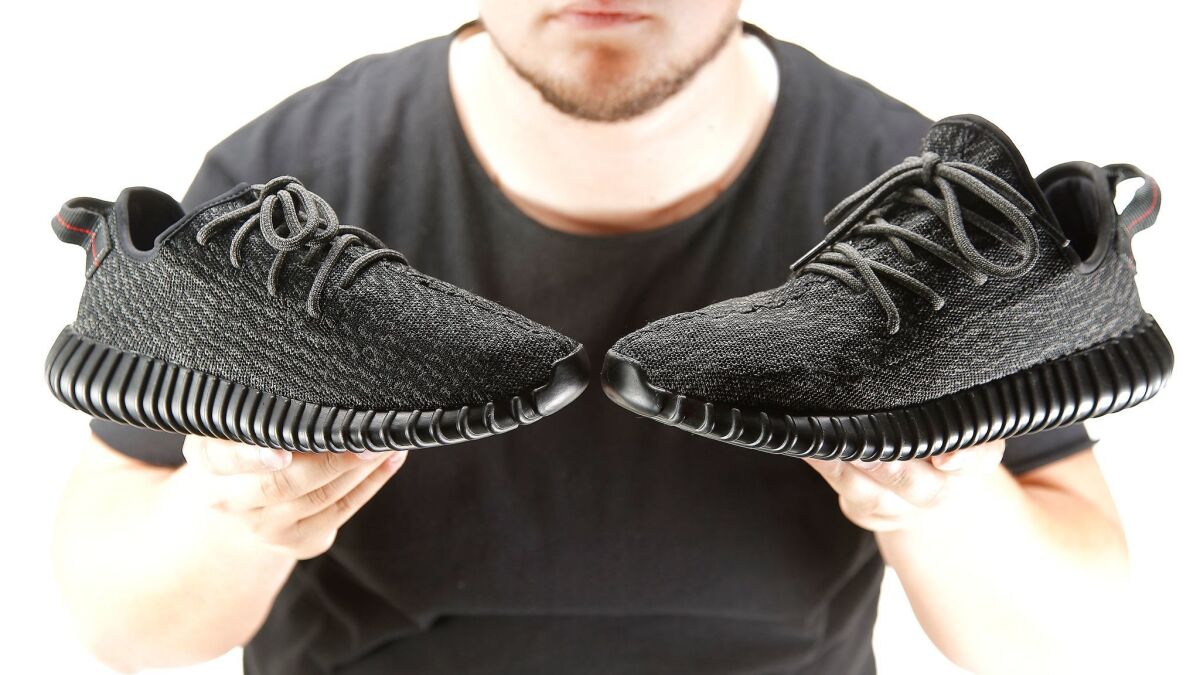 Putian, in China's coastal Fujian province, has been China's sneaker manufacturing capital for decades. As a result, it's also the center of the counterfeit shoe industry. At night, shopping centers come alive with showrooms displaying bootleg Nikes, Adidas and New Balance out in the open. Wholesalers flock in to buy so they can peddle the shoes online to customers around the world.
Chan, a Singaporean national who declined to give his full name, may never have visited Putian had he not tried to buy authentic Yeezys and balked at the price. Impressed by the craftsmanship of the replicas, he decided last year to go into business with a counterfeiter in the notorious shoe city.
While most replica sellers focused on China's domestic market, the English-speaking Chan wanted to target the niche audience on Reddit. He quickly accumulated 10,000 customer contacts on Skype. On a slow day, the 27-year-old entrepreneur can sell between 20 and 30 pairs. The number can reach 120 after a new release.
Repsneakers is crucial to Chan's business. Positive reviews spark sales. Feedback from readers allows his manufacturer to correct flaws. "I've learned plenty about replicas from Reddit," Chan said in a phone interview from Putian.
Chan estimates there are only half a dozen manufacturers in the rural areas surrounding Putian with the means and skills to produce the high-end fakes. They rely on technicians with years of shoemaking experience who can reverse-engineer a pair of Yeezys, he said.
Those illicit factories often obtain samples of new styles directly from Adidas' two factories in China. The moles are also responsible for photos of proto-Yeezys leaking online before Adidas announces their release.
"There are unofficial working relationships between these two factories and counterfeiters," Chan said. "I have heard a factory boss brag that he has a team of workers ... on his payroll to leak information or parts whenever they can."
That's not unusual in China's cutthroat and brazen manufacturing sector. Some factories produce official shoes during the day and switch to the black market at night. Chan says replicas often use the same materials as authentic pairs, either by buying from the same suppliers or by smuggling material out of official factories.
One of the hazards of doing business in Putian are the intermittent crackdowns. But Putian's local economy depends too much on counterfeiting to completely do away with it.
"When there's a crackdown, the whole industry will stop for a couple days or just stay low key," Chan said. "After a while, business resumes as normal."
---
Until recently, fake shoes from Putian could reach customers only by word of mouth, often in places known for products of dubious origin like Canal Street in New York or Santee Alley in downtown Los Angeles. Back then, authorities stood a better chance at making a bust. Brick-and-mortar stores meant sellers were more vulnerable. Large shipments could also be seized at ports.
Today, anti-counterfeiting officials say fighting fakes is akin to swatting at a growing swarm of gnats. There are fewer middlemen to arrest now that buyers can order directly from manufacturers. And contraband is shipped in small, inconspicuous packages.
"Counterfeiters are following the same patterns as consumers who are shopping online and displacing brick and mortar," said Bob Barchiesi, president of the International AntiCounterfeiting Coalition. "The Internet is a very big challenge, to say the least. The ease of purchasing something that's shipped directly to your house is a significant problem for rights holders and customs. It's a dramatic shift that's very difficult to stop."
There's been an explosion in the volume of counterfeits snared in the e-commerce era. United States customs and border agents conducted a record 31,560 counterfeit seizures in 2016 — worth the equivalent of about $1.38 billion. That's up from 24,792 seizures valued at $178 million just five years ago.
Brands play a part in catching counterfeiters, though they're far better at going after business rivals to protect their trademarks.
In the last decade, Nike has filed the 11th most trademark cases in U.S. courts with 134; Adidas the 14th most with 107, according to Thomson Reuters Monitor Suite. Nike has even gone to the U.S. Supreme Court to protect the trademark for its Air Force 1 sneakers. It also maintains a system for reporting fakes online.
Adidas, meanwhile, has sued brands such as Marc Jacobs, Forever 21 and Juicy Couture over the use of its signature triple stripes. However, it's unclear what exactly the 93-year-old athletic brand is doing about replica Yeezys from China.
The company declined a request for an interview, but said in an e-mailed statement, "We aggressively monitor the market to identify and pursue manufacturers, suppliers and vendors of counterfeit merchandise and products that infringe on our Adidas marks."
Collectors and sneaker experts say there's little incentive for Adidas to crack down on fake Yeezys. Their proliferation has little impact on sales, as legitimate Yeezys sell out almost instantly regardless. And the replicas are landing on the feet of stylish sneaker buyers who have helped drive the popularity and cachet of the brand to new heights.
"To the untrained eye they are still billboards for the brand," Elliot Curtis, who teaches a Sneakerology 101 course at Carnegie Mellon University, said of replicas and their fans.
Indeed, the Yeezys have had a halo effect on the popularity of Adidas' other shoes such as the NMD and Ultraboost, which share similar stylings but are sold to the mass market.
West hasn't said much about the black market for his shoes; a publicist for the rapper did not respond to a request for comment.
But he's aware of the phenomenon. In a widely shared video, a fan asked the musician to autograph a pair of "Red October" Yeezys. As West grabs the pen, he smirks at the sneakers and says, "These are not real."
Gaochao Zhang in The Times' Beijing bureau contributed to this report.
Follow me @dhpierson on Twitter
ALSO
Behind a $13 shirt, a $6-an-hour worker
Your face may become your iPhone password
Lego to cut 1,400 jobs and 'reset company' after sales drop
David Lazarus: Even as Wells Fargo scandal deepens, GOP lawmakers push bank deregulation