After Lego sales drop for first time in 13 years, the firm plans to cut jobs and 'reset the company'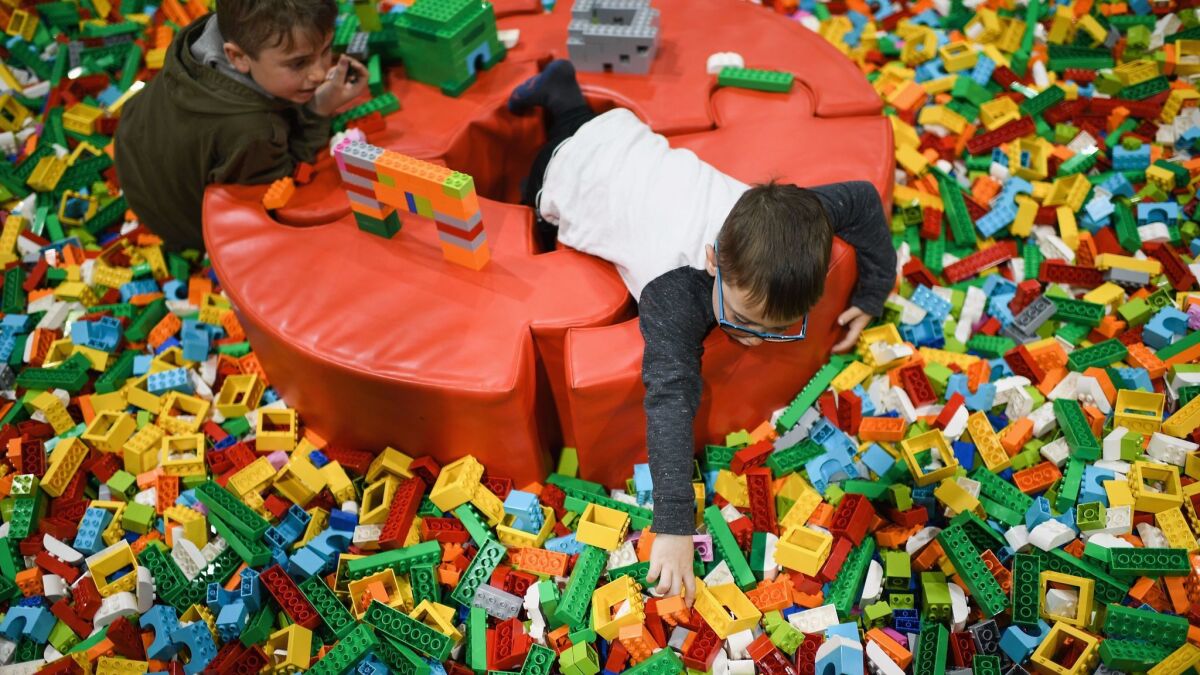 Lego Group is being forced to retrench after years as a toy-industry standout during which the Danish company leveraged its plastic brick sets and swiveled-arm characters with licensed films, video games and theme parks to double its annual revenue to $6 billion.
Lego said Tuesday that its revenue for the first half of this year fell 5% from a year earlier to $2.4 billion, its first revenue decline in 13 years. Net profit fell 3% to $544 million. Lego said the pullback was especially notable in mature markets such as the United States and parts of Europe.
In response, the privately held firm said it planned "to reset the company" and would eliminate 1,400 jobs, or nearly 8% of its worldwide workforce of 18,200, as part of an effort to streamline its operations. Lego toys are sold in 123 countries.
"Unfortunately, it is essential for us to make these tough decisions," Lego Chairman Jorgen Vig Knudstorp said in a statement. "We are disappointed by the decline in revenue in our established markets, and we have taken steps to address this."
Lego's revenue growth rate had started slowing in 2016 but "this drop really was surprising and caught the industry off guard," said Keith Snyder, an analyst with CFRA Research. "Lego has been the golden child of the toy industry the last four years."
Building back from a near collapse in 2004, Lego posted revenue of $6 billion in 2016, twice the level in 2011.
Snyder and other analysts said several factors led to the decline. Demand for some of its basic brick toys softened and sales of some newer lines, such as Lego Chima, have been disappointing. The company said some of its other classic lines — including Lego City, Lego Friends and Lego Duplo — remained strong.
Although Lego-related movies have done well at theaters, "they didn't really generate the robust top-line sales growth as they thought" for related toys, Snyder said.
And Lego, like all toy makers, faces heightened competition from smartphones and other digital technology that kids increasingly enjoy, even though Lego has licensed video games and developed such tech-oriented toys as Lego Boost programmable robots.
"Everything hits a peak," Jim Silver, editor in chief of TTPM, a toy review and research firm, said of Lego's revenue surge. "At some point within a category, you can only grow so much."
Lego also signaled that the first-half results were not an aberration, saying its organization had grown too bureaucratic "to support global double-digit growth."
"We have added complexity into the organization which now, in turn, makes it harder for us to grow further," Vig Knudstorp said. "We will build a smaller and less complex organization than we have today, which will simplify our business model in order to reach more children."
Lego also has been undergoing some management upheaval in the last 18 months. The company last month named a new chief executive, Niels Christiansen, to replace Bali Padda, who had been named CEO only last December.
Even as Lego's overall revenue growth has slowed, the company's licensed brand remains immensely popular.
In Hollywood, for instance, Warner Bros. in 2014 kicked off a film franchise with "The Lego Movie," a surprise hit that grossed $469 million in worldwide ticket sales and received stellar reviews for its irreverent humor.
The recent spinoff "The Lego Batman Movie," released in February, wasn't as big but was still a commercial and critical success with $312 million in box-office revenue.
The franchise continues Sept. 22 when Warner Bros. releases "Ninjago," which is expected to gross $35 million to $40 million in its opening weekend. A sequel to the original "Lego Movie" is expected in 2019.
Lego characters also have been a boon to Warner Bros.' video game business, which has handled Lego games since 2007 when it acquired TT Games. The studio has released games such as 2015's "Lego Dimensions," as well as games tied to the "Lego Batman" and "Ninjago" films.
In addition, revenue and attendance numbers have been mostly positive over the last year or so for British-based Merlin Entertainments, which owns and operates nine Legoland theme parks and other tourist attractions around the world.
For 2016, Merlin reported revenue of nearly $1.9 billion, an 11.7% gain over the previous year, and attendance of 63.8 million, up 4.2% from the prior year.
At Legoland California in Carlsbad, business has been so robust that the park began construction this year of its second theme hotel, a 250-room facility expected to open next spring.
The park last month also announced plans to build a submarine ride next year that will let guests see more than 2,000 sea creatures living in a 300,000-gallon underground aquarium.
It would join several new attractions added to the park over the last few years. Legoland California last year opened an interactive, 3-D ride called Ninjago World.
Silver said certain Lego toy lines also remain exceptionally strong even if Lego's overall growth is pulling back.
Looking for a $100 toy called Lego Star Wars BB-8 recently, "I went to three stores and none of them had it," Silver said. "All the managers told me they were sold out."
Lego was started in 1932 when a Danish carpenter named Kirk Kristiansen began making wooden toys in Billund, Denmark, where the company is still based. Lego says its name is an abbreviation of two Danish words, "leg godt," or "play well."
Times staff writers Ryan Faughnder and Hugo Martin contributed to this report.
To read the article in Spanish, click here
For more business news, follow James F. Peltz on Twitter: @PeltzLATimes
ALSO
Counterfeit Yeezys and the booming sneaker black market
Why wind energy has hit a lull in California
South Korean court rejects Qualcomm's antitrust challenge
---
UPDATES:
4:50 p.m.: This article was updated throughout with Los Angeles Times staff reporting and additional analysis.
9:15 a.m.: This article was updated throughout with additional details.
This article was originally published at 5:45 a.m.
---
Sign up for the California Politics newsletter to get exclusive analysis from our reporters.
You may occasionally receive promotional content from the Los Angeles Times.