Why restaurants are jumping on the food delivery bandwagon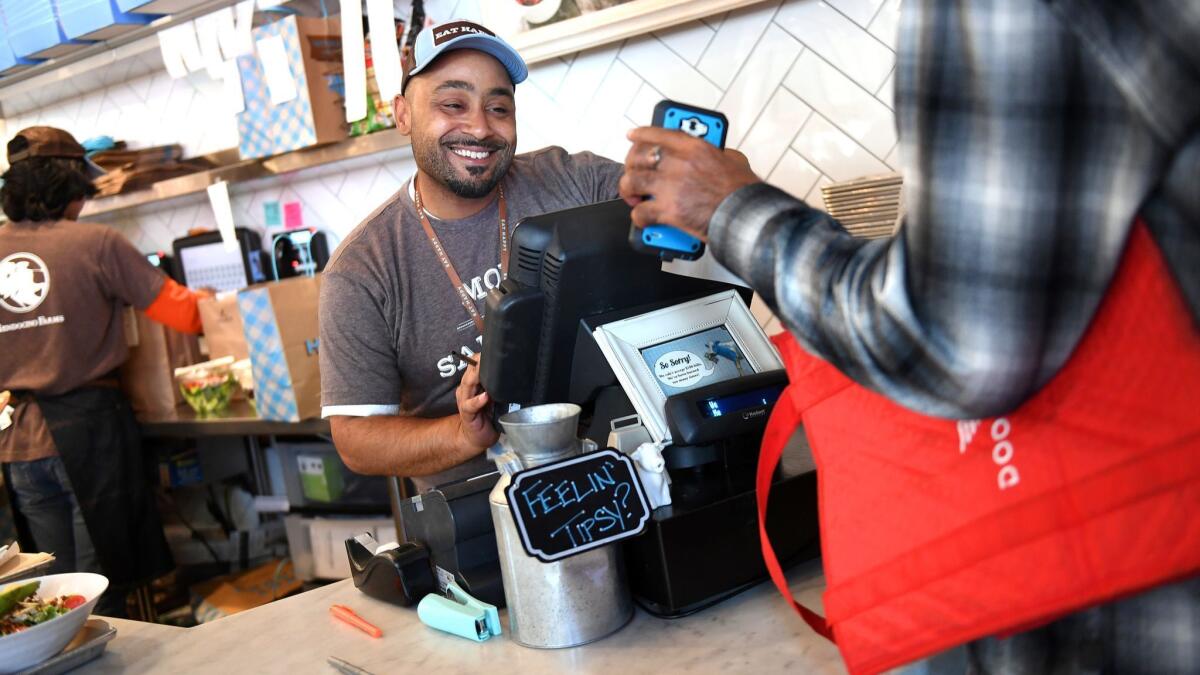 As restaurant operators struggle to entice more people to eat out, they are increasingly turning to food delivery as a way to overcome stagnating traffic.
Fueled by the explosion of mobile ordering apps such as DoorDash and UberEats, food delivery sales have grown 20% over the last five years, while restaurant traffic has flatlined. That's according to a new study released by the NPD Group, a market research firm that monitored trends in food delivery between 2012 and 2017.
The report's conclusions reinforce the shifting trends in consumer behavior as the ease of online shopping and meal delivery have taken a bigger bite out of retail sales and eating at restaurants.
People are simply staying at home more, whether they're streaming a movie on Netflix instead of heading to a movie theater or supping on a Big Mac and fries on their couch rather than ordering fast food at the drive-thru, said Warren Solochek, NPD's senior vice president of industry relations.
"Delivery has matured a lot," Solochek said. "It used to be the fast-food pizza guys and your local Chinese guy, and in the past five years, there's been this explosion of delivery opportunity because of the third-party aggregators and also because the demand for restaurants has not really grown, so restaurants have had to do something to get people to continue to use their product."
In addition to the 20% growth in delivery sales, the NPD study also found that individual orders increased 10% over the five-year period. Although digital ordering is a key factor in the growth of food-service delivery, phone orders still represent nearly half of delivery business, the study found.
In all, delivery over the five-year period accounted for 1.75 billion orders and $16.9 billion in sales, NPD said. Third-party purveyors such as GrubHub and Postmates represented 13% of delivery traffic.
Solochek is not sure whether the growth is translating into higher profits for restaurants, given the sizable commissions — as much as 30% — that the third-party companies charge. If nothing else, it may prove to be a useful marketing tool for building business, especially among independent eateries that don't have the resources to do their own delivery, Solochek added.
"The restaurant has to understand the cost of doing business with one of those aggregators," he said. "Will I get my name and menu out there and will each of those delivery orders make me money? Some independents may think it's worth it just to put their menus out there because otherwise people won't think of me when they make their orders."
Both DoorDash and UberEats say their platforms are introducing people to restaurants they might not otherwise have tried.
"If a restaurant isn't in your neighborhood, you may not venture into that restaurant, so with delivery, we're able to expand a store's customer base," said Jessica Lachs, who oversees analytics for DoorDash. "We are also able to market on our platform where we showcase a merchant and highlight newly added restaurants."
Burger Lounge co-founder J. Dean Loring said his chain's partnership with DoorDash has been profitable. Burger Lounge's own research showed it was gaining new customers because of delivery and was making money on those customers even after the commissions. Burger Lounge delivery also is available on the Postmates platform.
Loring estimates that the share of Burger Lounge's business from delivery is in the single digits but is significantly higher in some Los Angeles-area and Orange County locations where people are more reluctant to drive to the restaurants.
"Third-party delivery in restaurants, I believe, is here to stay, so we've embraced it. There's no reason not to, and restaurant sales have been challenged over the last two years," said Loring, whose chain has 23 restaurants, with three more scheduled to open in the coming months. "Also, a large percentage of our delivery happens in off-business hours, and that's business that might not otherwise be there."
Weisberg writes for the San Diego Union-Tribune.