Good news for retailers this holiday season: Americans are spending on big-ticket items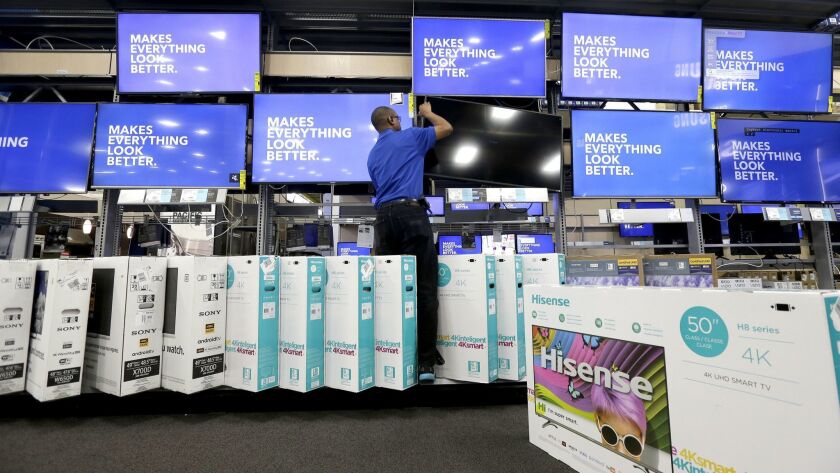 Americans spent a record $2 billion online on Labor Day this year, making it one of the year's biggest online shopping days and giving new hope to retailers ahead of the closely watched holiday season.
Online spending on Labor Day grew 23% to $2.08 billion, from $1.69 billion a year earlier, as shoppers bought big-ticket items such as electronics, appliances, mattresses and grills, according to data from Adobe Analytics released Friday.
The data paint a picture of growing consumer confidence, as a low unemployment rate and signs of wage growth help boost sales for some of the country's largest retailers. Walmart, Nordstrom and Home Depot have all posted strong quarterly sales in recent weeks, and economists say they expect that momentum to continue through the end of the year.
"The numbers bear out that we're in for a good holiday season," said Michael Klein, director of retail industry strategy for Adobe. "Consumers were shopping for larger and more expensive products during Labor Day, after slower growth in the first half of the year."
The retail industry, which has weathered economic challenges and bankruptcies since the Great Recession, had a particularly good holiday season last year. Sales rose 5.5% to $691.9 billion in November and December 2017, marking the strongest growth in holiday retail sales in 12 years, according to the National Retail Federation. The lobbying group has yet to release this year's holiday forecast.
So far, retailers seem optimistic: A number of firms, from Walmart to Tiffany & Co., have raised their 2018 outlooks in the last month as people continue to spend both online and in stores.
"There is no doubt that, like others, we're benefiting from a strong consumer environment — perhaps the strongest I've seen in my career," Brian Cornell, Target's chief executive, said in an earnings call last month. Online sales at Target.com jumped 41% in the most recent quarter, while overall sales growth rose to a 13-year high.
Nationally, the 23% bump on Labor Day surpassed sales growth during other holidays this year, including Memorial Day (when online sales rose 19% to $1.92 billion) and the Fourth of July (up 13% to $1.38 billion), according to Adobe Analytics, which measured online transactions at 80 of the country's 100 largest websites.
Adobe also found consumers are increasingly buying straight from their phones. Roughly 30% of Labor Day orders were placed on a smartphone, compared with 60% on desktop computers and 10% on tablets. It is noteworthy, though, that desktop shoppers tend to spend more than those using smaller devices: The average shopper using a desktop computer spent $142 per order on Labor Day, compared with $125 for those who used a tablet and $111 for those who used a smartphone.
Bhattarai writes for the Washington Post.
---
Your guide to our new economic reality.
Get our free business newsletter for insights and tips for getting by.
You may occasionally receive promotional content from the Los Angeles Times.