How does a mall cope when a big tenant like Macy's closes?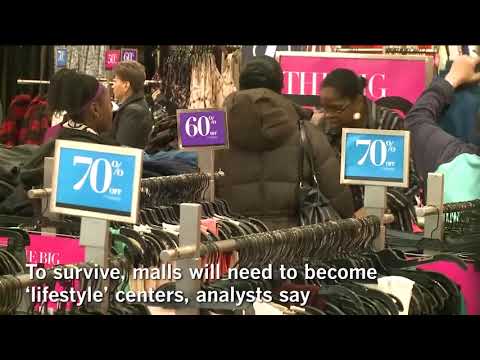 Mall landlords nationwide are facing challenges because several struggling chains have trimmed their store rosters or gone out of business.
Like many mall owners, Irvine Co. recently got troubling news: A big tenant at its Irvine Spectrum Center, a Macy's department store, would close in early 2016.
But instead of looking for a new tenant, Irvine Co. is looking for 20 of them.
As part of a $150-million overhaul of the open-air shopping mall, the two-story Macy's building has been demolished to make room for a collection of smaller merchants. Irvine Co. representatives didn't want to talk about the Macy's pullout, but in January called it "a unique opportunity to rebalance" the retail center.
Landlords nationwide are facing similar challenges because several struggling chains have trimmed their store rosters or gone out of business.
Last month Macy's Inc. was at it again, saying it would shut 100 stores nationwide early next year on top of the previous 40 closures, which included the Irvine store.
This week Kmart said it would close 64 stores, including three in Southern California.
Not every mall has the financial resources of privately held Irvine Co. to revamp its properties. For some, the loss of Macy's or other anchor tenant would be a heavy blow because such retailers are the main lure for shoppers, which benefits a mall's smaller merchants. And fewer retailers these days are big enough to replace a Macy's.
"The mall owner is left with a box that is incredibly difficult to fill," said Lea Overby, a managing director of research at Morningstar Credit Ratings. The Macy's at Irvine Spectrum Center, for instance, took up 140,000 square feet of space.
Macy's move comes as sweeping changes roil the U.S. retail industry and reshape American shopping malls where Macy's — or one of the retailers that Macy's has absorbed — has stood as an anchor tenant, often for decades.
The squeeze has extended to other big-box stores, including Sears Holdings Corp.'s Sears and Kmart department stores, Sport Chalet and Sports Authority sporting-goods outlets and Office Depot stores.
Teen clothing retailer Aeropostale Inc., facing possible liquidation, got a lifeline this month as a U.S. Bankruptcy Court judge approved a $243-million acquisition by investors including mall landlords Simon Property Group and General Growth Properties, which didn't welcome the prospect of more than 200 vacancies to fill.
Retailers are being slammed by mutating shopping patterns, including a steady shift to online buying and a growing preference for spending on experiences rather than products.
Macy's disappearing stores point up an acute problem for shopping malls, which traditionally have two or three department stores as their anchor tenants. Those anchors help lure shoppers to the benefit of smaller retailers in the mall.
The anchors are so crucial that, in many cases, they pay little or no rent to the mall operators and often own their stores. In turn, smaller merchants sometimes have clauses in their leases allowing them to renegotiate their rents if an anchor closes.
Even so, "it's going to be very challenging for the independent specialty stores to survive a major anchor like Macy's shutting down," said Logan Rodriguez, a former Macy's executive who's now strategic account director at Square Root, a provider of specialized software for retailers. "I don't know that you have too many options."
Some major mall operators don't even want to discuss increasing retail vacancies, and Macy's in particular, until they know which stores are closing. The locations are expected to be announced after this year's holiday shopping season.
General Growth Properties, whose Macy's-anchored malls include the Northridge Fashion Center and the Galleria at Tyler in Riverside, declined to comment. So did Simon Property Group Inc., whose malls with a Macy's include Del Amo Fashion Center in Torrance, and Westfield Group, which has a Macy's at its Santa Anita mall in Arcadia.
Simon Property noted in a recent securities filing with the government that some of its malls "depend on anchor stores or other major tenants to attract shoppers and could be adversely affected by the loss of one or more" of those stores.
Simon Property also cautioned that if an anchor such as Macy's left, the company might face "significant expense in replacing the tenant" and struggle to lease other spaces next to the vacant anchor store "at attractive rates, or at all." Simon Property had 108 malls at the end of 2015.
"When a Macy's leaves, there is no one else to go to and say, 'I have this space for you and I'll give you a great [lease] rate,'" said Britt Beemer, founder of America's Research Group. "When these department stores leave there's a huge hole to fill."
The nation's best-performing malls are less likely to lose a Macy's but would be able to absorb the loss and reconfigure their properties, said Garrick Brown, vice president of retail research for the Americas at the commercial real estate firm Cushman & Wakefield.
But others won't be so fortunate, and Brown predicted that the number of malls in the United States would drop from about 1,100 currently to 800 or 900 in the next decade. There were 1,300 malls six years ago, he said.
"Higher-end malls are going to keep firing on all cylinders," said Steve Jellinek, a vice president at Morningstar Credit Ratings. "We're going to see more lower-quality malls go away or be transformed."
Those transforming will change the conventional mall from one with apparel-heavy department stores as anchors to a retail "lifestyle" center, with more diversified retailers, entertainment outlets, restaurants, grocery stores, hotels, gyms, yoga studios and residential and healthcare sections, analysts said.
Lakewood Center in Lakewood, for instance, has a Macy's and a J.C. Penney but its other major tenants include a Costco and a Target. The Country Club Plaza in Sacramento, which lost a Macy's and a Sport Chalet outlet, has a new WinCo Foods grocery store.
Taubman Centers this year unveiled plans for a $500-million renovation of the developer's Beverly Center in Los Angeles that includes more upscale food choices and allows more sunshine into the eight-story center.
"But the problem with all these scenarios is that they take a ton of money," Brown said. "In the meantime, the existing landlords are going to face great challenges" if their Macy's leaves, he said.
"There will be winners and losers" among the malls Macy's vacates, and "we won't be replacing them with the same thing we had," he said. "But the retail marketplace finds ways to adapt."
For more business news, follow James F. Peltz on Twitter: @PeltzLATimes
ALSO
Hiltzik: Wells Fargo CEO John Stumpf offers a clinic in how to weasel out of real accountability
California Supreme Court votes to review a libel case over negative Yelp reviews
Rising Obamacare premiums are still lower than employer-sponsored health insurance