Ritz-Carlton plans to put its brand on luxury cruise ships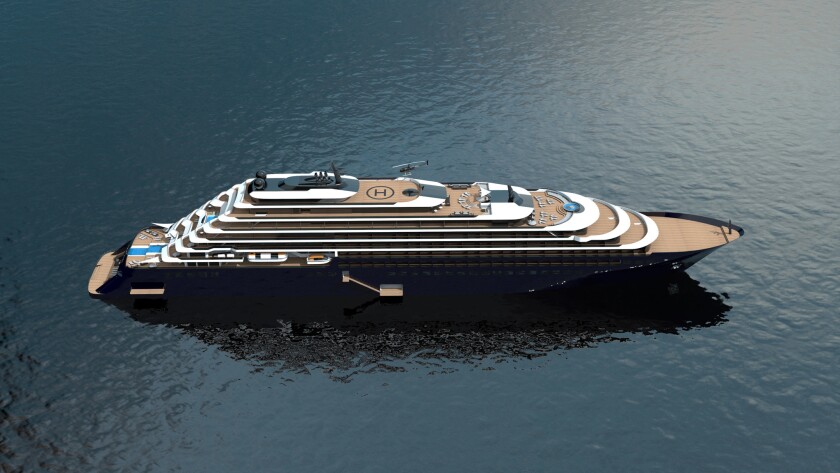 Ritz-Carlton is a brand that defined luxury in the lodging industry. Now, that name will be emblazoned on a new cruising and yachting venture aimed at upscale vacationers.
The Ritz-Carlton Hotel Co., a subsidiary of the hospitality giant Marriott International Inc., announced Thursday that it is launching the Ritz-Carlton Yacht Collection, a high-end yachting and cruising endeavor that will take to the seas in 2019.
Cruising experts, however, note that other newcomers to cruising have tried to break into the industry with little success.
"They are not reinventing the wheel by attempting to get into the six-star cruising market," said Stewart Chiron, a longtime cruise reviewer and author of Cruiseguy.com.
The venture, established in partnership with Los Angeles investment firm Oaktree Capital, will start small with three custom-built yachts, designed to hold no more than 298 passengers each. Each ship will feature 149 suites, each with its own private balcony, and will drop anchor in smaller ports not accessible to large cruise ships.
Douglas Prothero, managing director of the Ritz-Carlton Yacht Collection, said guests will be able to hire the yachts for custom charter tours or reserve a cabin on scheduled cruises.
He said the business hopes to fill a niche left vacant by traditional cruise companies that are focused primarily on filling massive ships with hundreds of passengers.
"That has left an opportunity in the market," Prothero said, adding that the Ritz-Carlton yachts will not include casinos or large show lounges. "Think of it as a casual luxury resort at sea."
Still, Marriott will face competition from luxury cruise companies such as Seabourn, Crystal and Regent Seven Seas cruises, among others. Such cruise companies sail ships that carry 400 to 600 passengers, with seven-night cruises to Europe ranging in price from $7,400 to $14,000.
The first two Ritz-Carlton ships will launch in 2019 and 2021 and will cruise ports in the Mediterranean Sea, northern Europe, Canada and the Great Lakes during the summer months while sailing to destinations in Latin America and the Caribbean Sea in the winter.
The third ship, expected to put to sea in 2022, will focus on touring the Pacific Rim.
Porthero said the company has yet to establish prices and fares, but reservations will open in May 2018.
Chiron cited several unsuccessful attempts to break into the $117-billion cruise industry with unique money-making ideas.
In 2002, Ocean Development Group teamed up with Four Seasons Hotels and Resorts to propose a 720-foot luxury residential cruise ship to set sail in 2007. But because of financing problems, the plan fell through.
Australian mining billionaire Clive Palmer announced plans in 2012 to launch a cruise ship that would replicate the ill-fated Titanic that sank in the North Atlantic in 1912 after striking an iceberg.
Palmer originally said the ship would set sail by 2016 and has since promised to put the ship to sea by 2018.
To read more about the travel and tourism industries, follow @hugomartin on Twitter.
---
Your guide to our new economic reality.
Get our free business newsletter for insights and tips for getting by.
You may occasionally receive promotional content from the Los Angeles Times.