L.A.-based Rocket Lab to build a satellite launch site in New Zealand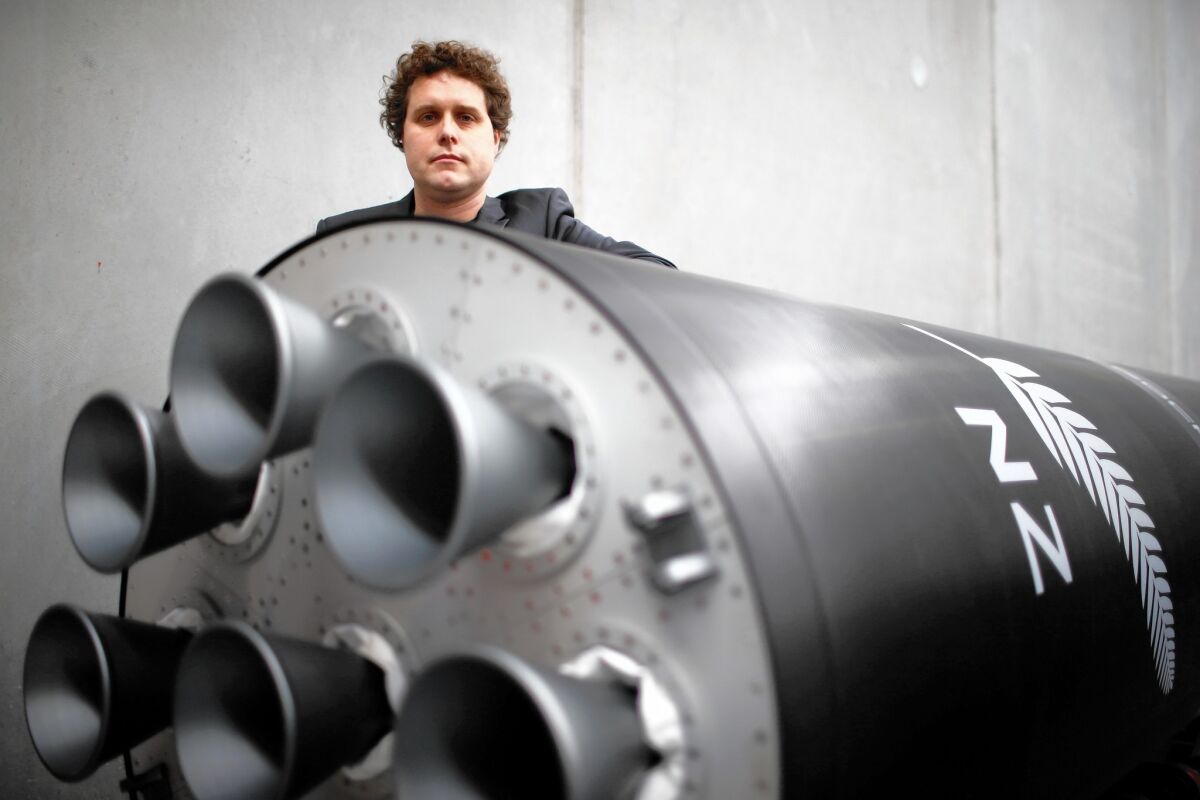 A small Los Angeles aerospace firm has ambitious plans to become the first commercial company to build and operate its own satellite launch site — in New Zealand.
Currently, most rocket launch sites in the United States are government owned and regulated. That puts restrictions on when satellites can be launched into orbit and drives up cost, experts say.
To bring down costs and improve the frequency of launches, Rocket Lab intends to finish construction by the end of the year at a private launch pad near Christchurch in southern New Zealand.
Interested in the stories shaping California? Sign up for the free Essential California newsletter >>
Rocket Lab estimates each launch will cost nearly $5 million — a fraction of the average price that aerospace firms pay today to blast a satellite to orbit.
Founded in 2007, Rocket Lab began as a start-up investment led by Chief Executive Peter Beck and other entrepreneurs. The company now has 60 employees between its New Zealand and Los Angeles locations and hopes to expand.
Rocket Lab says it can keep launch costs low by targeting small satellites weighing less than 220 pounds. Normally, these smaller satellites have to coordinate their launches, hitchhiking on a rocket with larger satellites, but Rocket Lab believes it has found a niche in the satellite market.
A satellite industry analyst sees potential. "It could have a huge impact on the market because right now we see a lot of growth in demand for small satellites," said Carolyn Belle, an analyst for Northern Sky Research, a satellite communications consulting firm. "The Rocket Lab system provides a lot more flexibility to operators in terms of where they can put their satellites and also flexibility in terms of when they can actually launch them."
Rocket Lab isn't the only company interested in the small satellite market. Virgin Galactic, which recently opened a facility in Long Beach, is working on a design that will allow its custom aircraft to launch satellite-carrying rockets from an altitude of 50,000 feet.
Virgin Galactic estimates that each mission will cost around $10 million and be capable of transporting up to 500 pounds to low-Earth orbit. Flights are estimated to begin near the end of 2016.
Hawthorne-based SpaceX dominates in launching large satellites for commercial companies. The company, founded by entrepreneur Elon Musk, has grabbed a big share of the market for blasting large satellites to space by charging about $60 million for each launch — far less than other providers.
The growing popularity of smaller satellites has created an opening for start-ups like Rocket Lab.
Rocket Lab's Beck said the venture is more than about creating a company. He said his goal is to reinvigorate public interest in space to promote advances in science and technology.
"For me personally, this is a lifelong journey," Beck said. "It's obvious that if we can reduce the price and increase the frequency that space becomes a much more accessible place for commercial industry."
Rocket Lab's promise to deliver cheaper, more efficient launches has attracted the attention of premium investors including aerospace giant Lockheed Martin, Bessemer Venture Partners and Khosla Ventures.
Matt Kramer, Lockheed Martin's external communications director, was enthusiastic about the company's prospects: "Rocket Lab's work may have application in a number of aerospace domains, and we are exploring whether their technology could complement our overall efforts in small lift and hypersonic flight technologies."
The amount of Lockheed's investment was undisclosed.
"We are also always looking for new ways to make our products more affordable and dependable," Kramer added. "Rocket Lab's Electron rocket could allow for low-cost flight testing of our technologies."
Increasing interest in launching small satellites could create incentives for additional companies to construct their own launch pads. The current demand will probably use most of Rocket Lab's initial launch capacity, said analyst Belle.
She expects growing demand for small satellite launches. Many of these satellites last only a few years before needing to be replaced because of the amount of space debris in low-Earth orbit.
Increasingly, Belle said, commercial users are attracted to constellations of small satellites operating together in orbit.
"Instead of using one really big satellite they launch many smaller ones," she said. For Rocket Lab and the satellite industry, she added, "this requires more launch capacity and this generates sustained demand."
Twitter: @nick_shively

ALSO:
More Senate Democrats back Iran nuclear deal
Victim's dad leaves some in tears at James Holmes' trial
Fox announces lineup for GOP debate, with Trump at center stage