Toss the romaine lettuce or risk E. coli, officials warn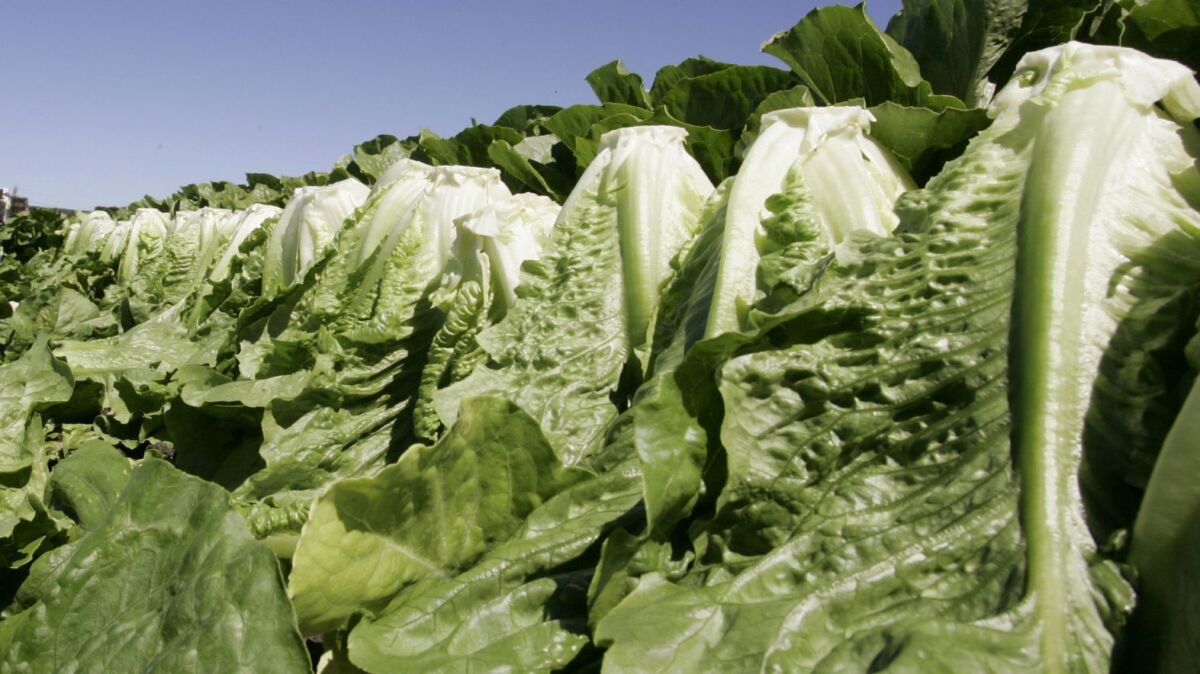 An unusually virulent strain of E. coli bacteria on romaine lettuce has sent 31 people to hospitals in 16 states, and health officials are urging consumers to throw out any of the lettuce they may have bought recently.
No grower or distributor has been identified as the source of the outbreak, which has been traced to the Yuma, Ariz., area where California's major produce companies cultivate winter lettuce, according to the U.S. Centers for Disease Control and Prevention.
The health agency this week added 18 more victims, including nine with serious kidney failure, from five states — Alaska, Arizona, California, Louisiana and Montana — to an outbreak of Escherichia coli O157:H7 that started in late March.
Besides those hospitalized, 22 people have been sickened in Washington, Idaho, Missouri, Illinois, Michigan, Ohio, Pennsylvania, New York, New Jersey, Connecticut and Virginia, according to the CDC.
Here's what the CDC advises:
Consumers anywhere in the United States who have store-bought chopped romaine lettuce at home, including salads and salad mixes containing chopped romaine lettuce, should not eat it and should throw it away, even if some of it was eaten and no one has gotten sick. If you do not know if the lettuce is romaine, do not eat it and throw it away.
Before purchasing romaine lettuce at a grocery store or eating it at a restaurant, confirm with the store or restaurant that it is not chopped romaine lettuce from the Yuma, Ariz., growing region. If you cannot confirm the source of the romaine lettuce, do not buy it or eat it.
Follow me: @LATgeoffmohan
Sign up for the California Politics newsletter to get exclusive analysis from our reporters.
You may occasionally receive promotional content from the Los Angeles Times.