Rooftop solar installations rising but pace of growth falls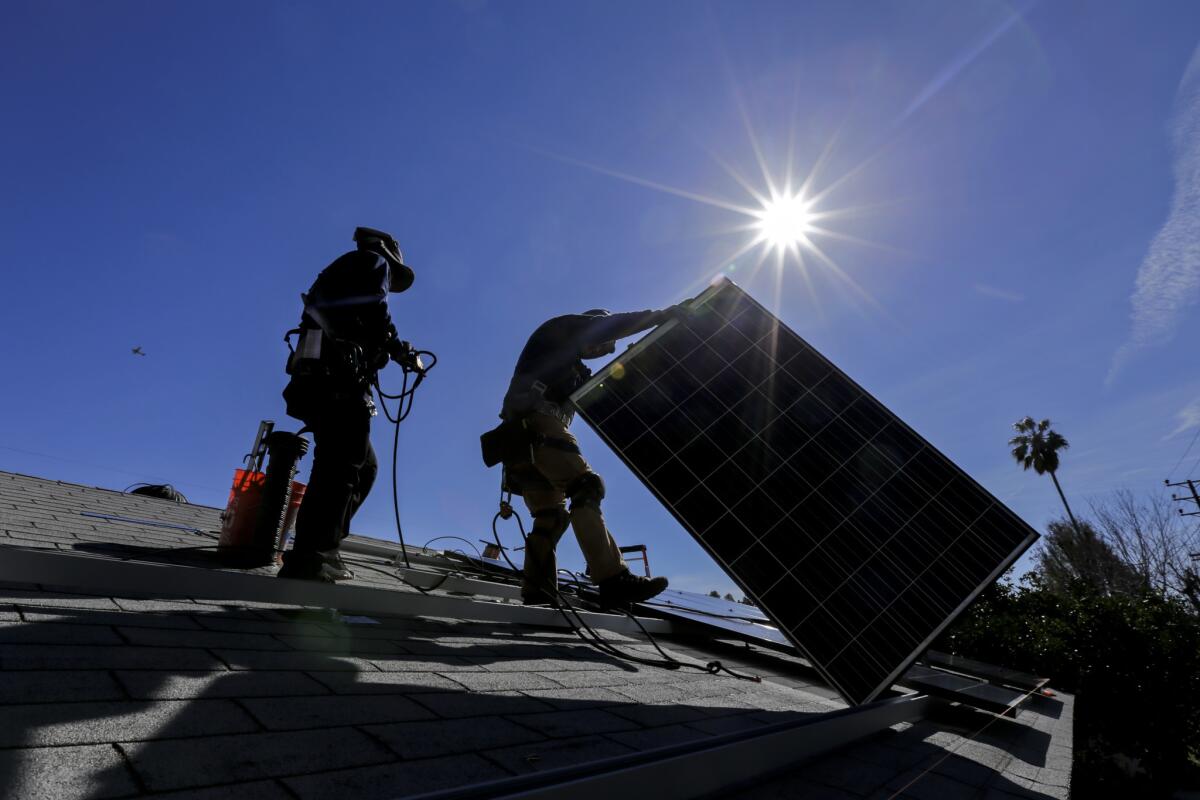 Solar power led the nation last year among new sources of electricity production, but growth slowed significantly as California homeowners and businesses cooled to the idea of rooftop panels.
U.S. rooftop solar installations increased 19% in 2016 compared with an average growth of 63% year-over-year from 2012 to 2015, even as the solar industry celebrated a record-breaking year.
Solar energy represented 39% of new electricity production in 2016 compared with 29% for natural gas. Overall, solar still provides just 4% of the nation's electricity capacity.
Industry experts attributed some of the slowing expansion of the rooftop solar sector to policies that have increased consumer costs as well as to moves by the utility sector to stifle homeowner and business efforts to generate their own electricity from the sun.
The latest data from the Solar Energy Industries Assn. highlights the ongoing tension between the focus on centralized power production from big power companies and those seeking more independence from the electric grid to help the environment and as a way to save money.
As the largest U.S. solar market, California is at the center of the conflict. The California Solar Energy Industries Assn. warns that if policymakers fail to pay attention to changing growth patterns, rooftop solar could face significant harm.
Bernadette Del Chiaro, executive director of the California group, said the state in 2016 had just a 2% increase in the number of consumers who installed solar systems through the state's three investor-owned utilities. The industry associations expect a decline in solar installations in California during 2017 compared with 2016.
"This is definitely the first year since 2008 that we have had basically zero growth," Del Chiaro said.
Consumers, she said, are questioning whether going solar will actually help their bottom lines.
"You try to do the math with consumers, you can't even with a straight face look across the table and explain to consumers how they're going to save," Del Chiaro said. "Policies need to stop harming this market."
The national solar association, which produced the findings with Boston-based GTM Research, agreed that utility-scale solar outpaced rooftop solar. But on a nationwide scale, the solar group expects to see continued growth in both sectors.
"In large markets, like in California, you have the lowest lowest hanging fruit of consumers have probably been picked already," said Tom Kimbis, SEIA's executive vice president. "That doesn't mean that there's still not low-hanging fruit."
Beyond California, Kimbis points to emerging solar markets in South Carolina, Utah and Texas as places where the rooftop market can be sustained.
Along with the continued growth in the utility sector, Kimbis said SEIA expects the number of solar installations to triple the current 42.8 gigawatts of capacity over the next five years.
Part of the growth will be driven by a growing number of state requirements such as California's 50% clean energy mandate by 2030. Senate leader Kevin de Leon (D-Los Angeles) proposes to make it 100% clean energy by 2045.
Richard McMahon, vice president of energy supply and finance at the Edison Electric Institute, a utility industry trade group, said utility-scale solar provides broad benefits, including ensuring reliability of service and lower costs.
Citing an MIT study, McMahon said the installed cost of large scale solar is "more than 80% less than private rooftop solar."
"EEI's member companies will continue to invest in America's energy future and remain focused on providing reliable, affordable and increasingly clean energy to all customers," McMahon said.
And despite the slower growth in rooftop solar, solar companies are optimistic. The fatigue from the presidential election cycle, heavy rains in California and other issues unrelated to the solar market contributed to the slowdown in rooftop solar growth, they say.
Rooftop solar leader Sunrun Inc., one of the nation's leading residential solar companies, said it expects a sustained growth rate of 20% in rooftop solar over the long term. There are five times more solar-ready homes in California than are currently sporting solar panels, and the growing electricity storage industry will make solar packages more appealing, the company said.
"We are seeing strong signs that customers are engaging with us and a rebound is beginning," said Bob Komin, Sunrun's chief financial officer.
Solar companies also are developing new products and offerings to attract customers.
Tesla Inc. Chief Executive Elon Musk announced in October that his company plans to offer solar shingles for residential rooftops as early as this summer as a more attractive alternative to rectangular panels attached to roofs.
Coupled with a growing array of storage options, including Tesla's Powerwall or Sonnen's home battery, consumers could largely become independent of their utility even as the power companies press for more solar of their own.
"Storage is definitely the game changer," said Austin Perea, a solar analyst for GTM Research who worked on the report.
Follow me at @ivanlpenn
ALSO
How I Made It: Thumbtack's president left the White House for Silicon Valley
Why Warren Buffett is investing in an airline industry he once called a death trap
Americans are skeptical about the Republican plan to replace Obamacare, new poll shows