Rose Parade floats contend with citrus bans
There won't be any potted orange trees or fresh citrus leaves in this year's Tournament of Roses Parade, which travels through a quarantine area for a citrus disease.
The voluntary diet on float decoration items came after an outbreak of huanglongbing, also known as citrus greening, a disease that has wreaked havoc on citrus industry in Florida, Mexico and Brazil.
Agricultural officials imposed the quarantine after several citrus plants near Vincent Lugo Park were found to be harboring the disease, which is caused by bacteria carried by a tiny bug called the Asian citrus psyllid.
The quarantine now covers 177 square miles, including all of the parade route except for the float display destination along Sierra Madre Boulevard.
Parading through a quarantine:
"This would be the first time in our recollection for Asian citrus psyllid impacting the Rose Parade," said Joshua Eddy, executive director of the board for the California Department of Food and Agriculture.
The agency reached out to Tournament of Roses organizers and later communicated directly with float builders, who were cooperative, Eddy said.
Floats still can use fruit peels, seeds from citrus fruit, whole citrus fruit and dried leaves from citrus trees, all of which have to be professionally cleaned and handled, according to the state agency.
"According to what I know, the materials we use were not impacted" said Chuck Hayes of Phoenix Decorating Co., which prepares floats for the parade.
Huanglongbing was first detected in 2012 in Hacienda Heights.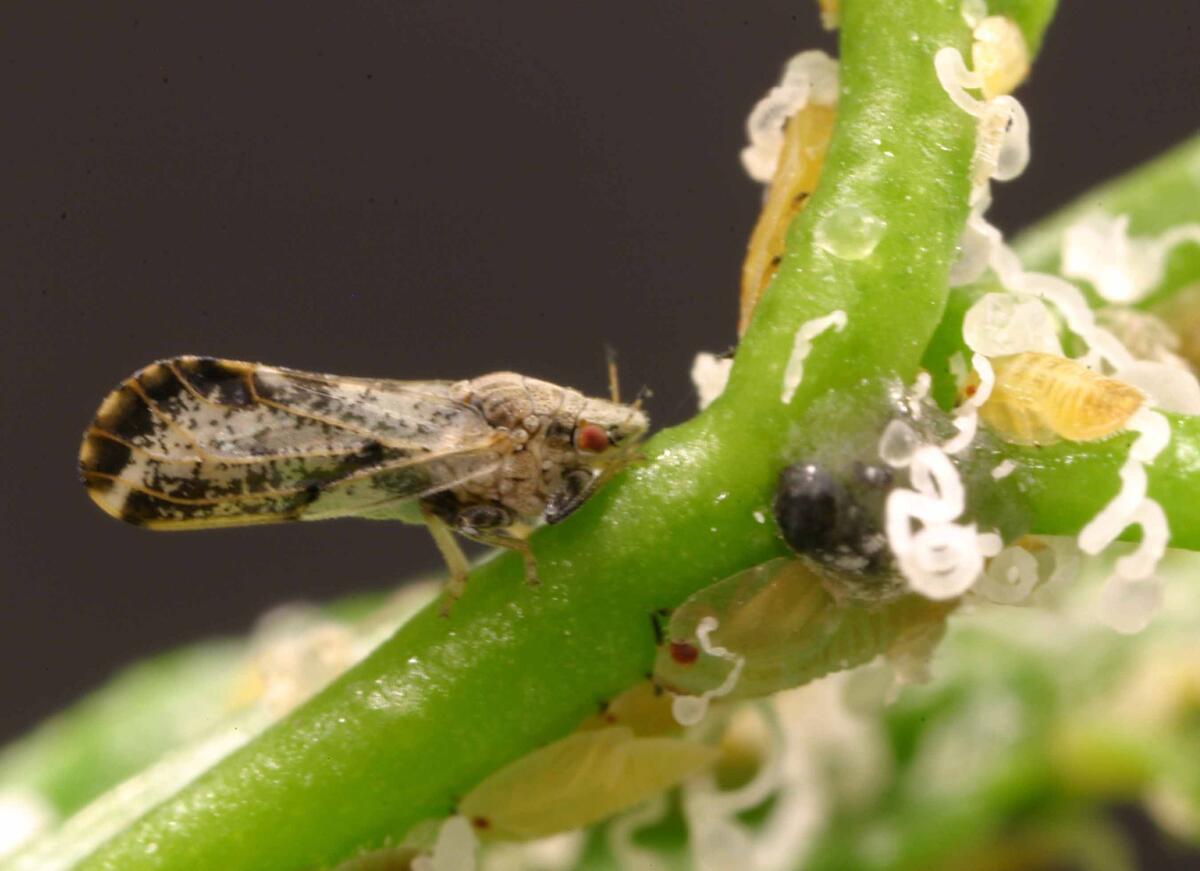 In July, authorities confirmed the disease in a kumquat tree on a residential property near Lugo Park, and launched an inspection and spraying campaign in the surrounding area. The disease later was found in lime, calamondin and mandarin trees nearby, according to the Department of Food and Agriculture.
Quarantines in response to the presence of the citrus psyllid already are in effect in 18 California counties, including Los Angeles, Ventura, Santa Barbara and San Bernardino, the agency said.
Asian citrus psyllid quarantine areas:
California's $2-billion citrus industry, which produces 80% of the country's fresh citrus, has been concerned about spread of the disease since it first was detected in Florida in 2005.
Citrus greening disease has caused $2.9 billion in damage to Florida's citrus industry, and it was a driving force behind the widespread damage to Mexico's lime crop last year.
The bacteria, which don't pose a health threat to humans, attack the citrus tree's vascular system, resulting in fruit that is hard, bitter and misshapen.
The disease has been detected in Georgia, Louisiana, South Carolina, Texas, Puerto Rico and the U.S. Virgin Islands, according to the U.S. Department of Agriculture.
At least 15 states or territories have quarantines in effect after detecting the bug that spreads the bacteria. Besides California and Florida, they are Alabama, American Samoa, Arizona, Georgia, Guam, Hawaii, Louisiana, Mississippi, Northern Mariana Islands, Puerto Rico, South Carolina, Texas and the U.S. Virgin Islands.
The state and federal USDA are ramping up efforts to release a predatory wasp to combat the psyllid and halt spread of the bacteria.
State officials are urging anyone who suspects insect or bacterial infestation to call the agency's toll-free pest hotline at (800 491-1899 or visit: www.cdfa.ca.gov/phpps/acp/.
Follow me on Twitter: @LATgeoffmohan