Historic high-rise sold as downtown L.A.'s former business district thrives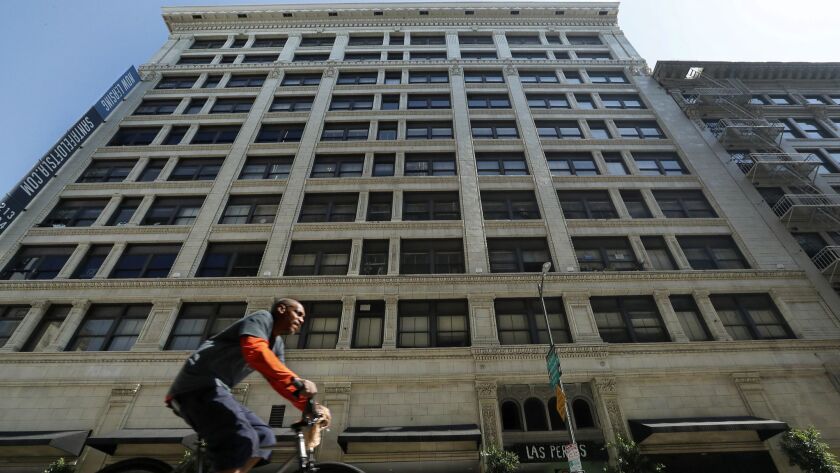 One of downtown's oldest tall buildings, the former Los Angeles offices of the Atchison, Topeka and Santa Fe Railroad, sold this week for nearly $70 million to a residential developer.
Now known as the Santa Fe Lofts, the 11-story tower at Main and 6th streets, which opened in 1908, has been an apartment building for more than a decade and was owned by investor Capital Foresight.
The new owner, MWest Holdings, plans to spend an additional $6 million to renovate and upgrade the 132-unit complex, said Matthew Ellis, chief investment officer of the Sherman Oaks landlord and developer.
MWest specializes in turning some of the city's oldest buildings into luxury housing. Company projects include the Wilshire Royale and Park Wilshire apartment buildings near MacArthur Park, which date to the 1920s, and the San Fernando Building, completed in 1906 in what is now downtown's Old Bank District.
Thousands of new luxury housing units have been built downtown in the last few years, but old buildings can still compete for tenants, Ellis said.
"There are a finite number of these historic buildings and it is our belief these buildings will outperform in good markets and bad," he said. "People love the high- ceilinged, light-filled units these historic buildings provide."
To help compete with new buildings, MWest will improve the roof deck and add tenant amenities to the now-unused basement, including a gym, business center and screening room.
The upgrade that will begin shortly is another sign that the neighborhood has substantially improved in the last two decades, said real estate broker Mike Condon Jr. of Cushman & Wakefield, who helped arrange the Santa Fe Lofts sale, which closed Thursday.
The Santa Fe Lofts is across the street from the former Pacific Electric Red Car train terminal and headquarters, another historic building, which opened in 1905. The surrounding area was considered "fringe skid row" and widely perceived as unsafe not many years ago, Condon said.
Since then, dozens of new residential buildings have opened downtown including an apartment building that was completed last year next to the Santa Fe Lofts. "We're finally getting a nice blend of new and old buildings," Condon said.
The Santa Fe office building was considered a marvel more than a century ago when it was built by lumber mill mogul George Kerckhoff.
"The long-planned Kerckhoff Building will be one of the finest office buildings in this city of magnificent structures," The Times reported in 1907, "that will top the great Pacific Electric Building by two full stories."
An addition to the Kerckhoff building was added in 1916 and the current complex is still made up of two separate structures. Kerckhoff was a partner in a business that supplied ice to Santa Fe rail cars, which led to the railroad's tenancy in the building, historian Greg Fischer said.
The railroad's La Grande Station terminal was to the east, on a site now occupied by the 438-unit One Santa Fe apartment complex built in 2014 on Santa Fe Avenue, Fischer said.
Twitter: @rogervincent
---
Be your money's boss! Learn how to make a budget and take control of your finances with this eight-week newsletter course.
You may occasionally receive promotional content from the Los Angeles Times.