Bankruptcy gives Sears the opportunity to stay alive, its chairman says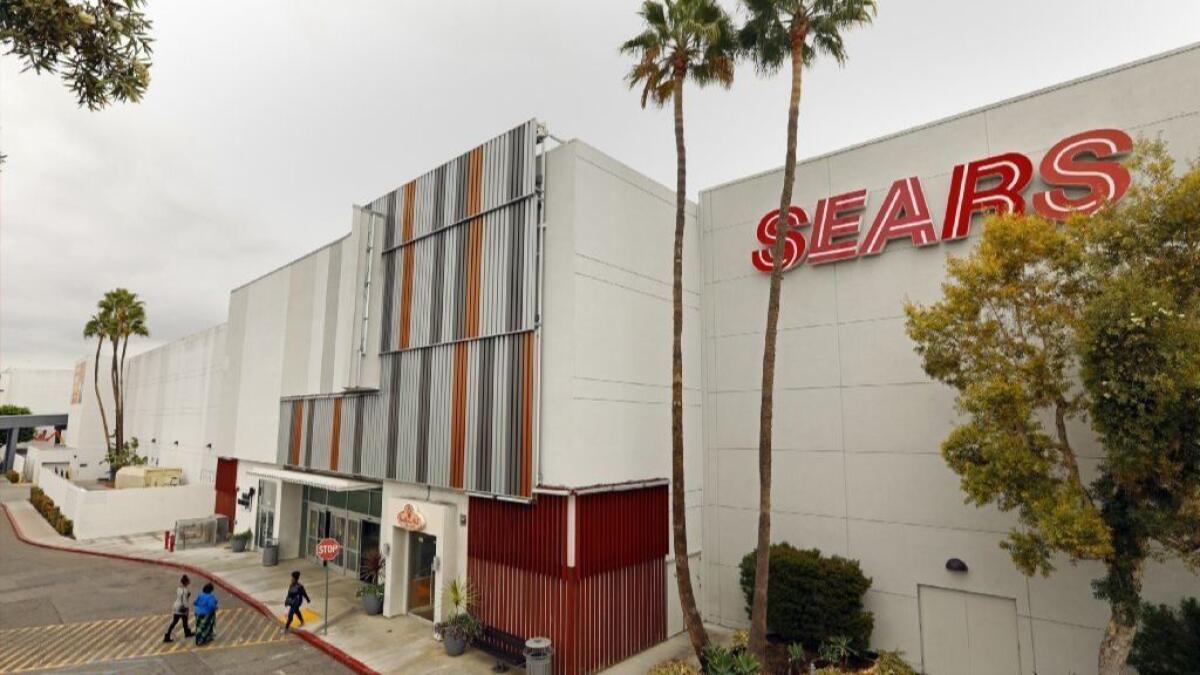 Now that Sears has filed for bankruptcy reorganization, its chairman said, the storied retail chain still "has a future" as a smaller company rather than being liquidated.
Edward Lampert said he and his hedge fund that has invested heavily in loss-ridden Sears Holdings Corp., which also owns the Kmart department store chain, "will continue to press forward with the goal of seeing Sears emerge from this process positioned for success as a smaller, less-indebted retailer."
His comments came late Sunday in a statement accompanying Sears' filing under Chapter 11 of the U.S. bankruptcy laws, where Sears will attempt to reorganize under the supervision of a Bankruptcy Court judge.
Sears files for bankruptcy, will further shrink operations »
"The company believes that a successful reorganization will save the company and the jobs of tens of thousands of store associates," Sears said.
But some analysts cautioned that a liquidation of Sears was not out of the question, noting that Toys R Us Inc. also had hoped to reorganize under Chapter 11 but ended up going out of business this year.
"I'm not convinced that this plan will be their salvation," said Bert Ely, an independent retail analyst. "They're buying time with a reduced footprint, and it will get reassessed early next year as to whether they can operate successfully with even a reduced number of stores."
Sears already has closed hundreds of stores in recent years to survive. As part of its bankruptcy plan, the Hoffman Estates, Ill., chain said it plans to close an additional 142 unprofitable Sears and Kmart stores by the end of the year. Combined, the chains currently have just under 700 locations.
Midday on Monday, Sears posted the list of the stores slated to close; they include 65 Kmart stores, including seven in California, and 77 Sears outlets, including 10 in California.
In Southern California, the closing Kmarts include stores in Ontario and Riverside, and the closing Sears stores include outlets in Cerritos, Costa Mesa and Montebello.
"Liquidation sales at these stores are expected to begin shortly," Sears said. The company said it plans "to reorganize around a smaller store platform" of profitable outlets.
In the meantime, "Sears and Kmart stores remain open for business and our dedicated associates look forward to serving our members and customers," Lampert said.
"We will know soon enough if Sears can survive as an American brand or not," Daniel Lowenthal, a partner at Patterson Belknap Webb & Tyler who heads the law firm's business reorganization and creditors' rights practice, said in an email.
"If so, we will see a smaller number of stores and a better internet presence" at Sears and Kmart, Lowenthal said. "If not, we'll see another U.S. retail liquidation."
Sears also received $300 million in loans, and it is negotiating to obtain an additional $300 million in financing from Lampert's firm, ESL Investments Inc., to continue operating through the holidays.
"The timing is critical to make sure they get enough merchandise to have enough for the Christmas shopping season," Ely said. With a Chapter 11 plan in place, "presumably the suppliers will now provide the merchandise they need."
ESL and Sears also are in talks about ESL possibly buying "a large portion of the company's store base," Sears said, but no potential financial terms were identified.
Lampert's firm already is one of Sears' largest creditors, having provided hundreds of millions of dollars in loans to the chain. The billionaire also is Sears' majority stockholder.
Lampert stepped down as Sears' chief executive, although he remained chairman. Rather than choose another individual as CEO, Sears created an "office of the CEO" made up of three top Sears executives, including Chief Financial Officer Robert Riecker.
Sears said it was "currently honoring our warranties, protection agreements and guarantees as normal" for products bought at its stores. It said that shoppers still can make exchanges and returns "in line with our usual terms," and that Sears-branded credit cards were unaffected by the Chapter 11 filing.
Sears' Chapter 11 filing capped a long decline for a company that sells an array of merchandise — including apparel and appliances — at moderate prices for value-conscious shoppers.
Once the nation's leading retailer and a familiar anchor store in shopping malls, Sears failed to keep pace with stronger competitors and adapt to the huge shift from brick-and-mortar retail stores to online shopping.
Despite its store closures and asset sales — Sears sold its Craftsman tools unit last year, for instance — the company continued to suffer operating losses and cash shortages. Over the last five years, Sears lost $6.8 billion as its annual sales dropped to $16.7 billion from $36.2 billion.
Sears Holdings' stock, which already had plunged to less than $1 a share in recent weeks, dropped an additional 20% to less than 33 cents a share Monday after the bankruptcy petition.
In the Chapter 11 filing, Sears Holdings listed total assets of $6.9 billion and total debts of $11.3 billion.
Sears had 89,000 employees as of Feb. 3, according to its most recent annual report, but that number reportedly has dropped to about 70,000 with the subsequent store closures.
Sears' Chapter 11 filing also could cause one of the biggest pension defaults in U.S. history, although the U.S. government would step in to keep pension checks coming.
The company's long-term pension obligations, which have been underfunded by more than $1 billion for years, would be covered by the federal Pension Benefit Guaranty Corp.
"If circumstances require, we are prepared to step in and provide PBGC-guaranteed benefits," the agency said Monday. "The plans, which cover about 90,000 workers and retirees, are underfunded by about $1.5 billion."
Twitter: @PeltzLATimes
---
UPDATES:
12:20 p.m.: This article was updated with information about store closures.
11:25 a.m.: This article was updated with additional analyst comments about Sears' future.
09:45 a.m.: This article was updated with an analyst's comments, details about Sears' warranties and details about the government's support of Sears pension benefits.
This article was originally published at 7:25 a.m.