SeaWorld attendance keeps dropping, and its stock falls 7%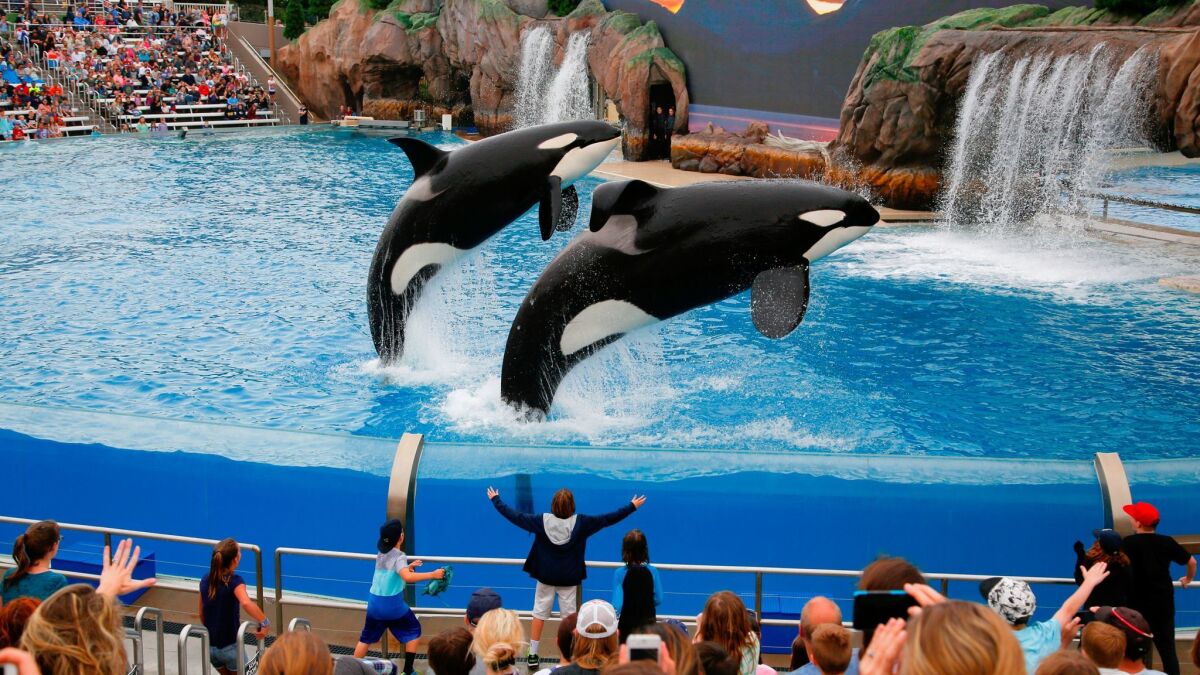 SeaWorld has been unable to reverse its falling attendance, reporting Tuesday that visitation dropped 4% during the first half of the year, with its San Diego and Orlando, Fla., parks hit hardest.
Shares of SeaWorld Entertainment Inc. sank 7.5% to $12.28 around 11:30 a.m. Pacific.
Although attendance showed a slight uptick during the second quarter, that was largely the result of the Easter holiday falling within that quarter. (Last year, Easter was in the first quarter.) A more apt comparison, SeaWorld said, is to look at performance during the first six months of 2017, when 353,000 fewer people visited its parks.
SeaWorld blamed the slumping attendance in San Diego on the reemergence of what it called its "public perception issues" after having cut back on marketing efforts to bolster its reputation. That was a mistake, Chief Executive Joel Manby said in an earnings call with analysts, noting that SeaWorld had previously been investing more in marketing than its peers.
The Orlando-based company has been facing criticism surrounding captivity of its orcas since the 2013 release of the documentary "Blackfish," which was critical of how SeaWorld treated its killer whales. The company's announcement more than a year ago that it would stop breeding its orcas and would phase out its theatrical Shamu shows apparently has not been enough to curb the attendance slide in San Diego.
In Orlando, SeaWorld executives said, the park's attendance woes were caused by reduced national advertising and competitive pressures from rival theme parks.
"While we are making progress in key areas of our plan, we are not satisfied with our results for the quarter," Manby said. "This quarter provided us with an understanding of what is working and where we need to make adjustments. We are increasing our investment in national advertising to generate sufficient awareness of our brand attributes and strong new rides and attractions, developing a new national marketing campaign emphasizing our distinct experiences, and reinvesting in our reputation messaging to target perceptions in key markets, particularly California."
The increased cost in marketing will be offset by additional cost-cutting moves on top of the $40 million in net savings it expects to achieve by the end of 2018, Manby added.
In June, the company resurrected its "reputation messaging" campaign in Southern California, and early last month, it embarked on a national advertising campaign, Manby said.
"In a brand turnaround, we'll continue to have to maintain a strong message about perception issues there that aren't true that we need to continue to fight, and that's what we had hoped to back off and we can't now," Manby told analysts.
For the second quarter, which ended June 30, SeaWorld recorded a net loss of nearly $176 million, compared with a net profit of $17.8 million for the same quarter last year. Revenue rose 1% to $373.8 million, and attendance rose 2.3% to 6.1 million visitors.
Total visitation for the first six months was 8.9 million, down from nearly 9.3 million in the same period last year.
The earnings report follows four consecutive quarters of slumping revenues and either flat or declining attendance across SeaWorld Entertainment's 12 parks.
Tuna Amobi, a senior research analyst with CFRA, said he was surprised that negative perceptions continue to haunt SeaWorld.
"We had expected their attendance to improve modestly, but that could be optimistic based on this quarter's report," Amobi said.
The company cut its forecast for adjusted full-year earnings before interest, taxes, depreciation, and amortization: It now expects a range of $280 million to $310 million, down from its prior guidance of $330 million to $360 million.
Meanwhile, questions have arisen about the apparent hiring of the investment banking advisory firm Evercore, which specializes in mergers and acquisitions, restructurings, public offerings and private placements. There had been some speculation that the hiring was a sign that SeaWorld was exploring a possible sale, but the issue was not broached during the earnings call.
Legoland's parent company, Merlin Entertainments, has indicated in recent days that it might be interested in acquiring SeaWorld's Busch Gardens parks. In an earnings call last week, Merlin Chief Financial Officer Anne-Francoise Nesmes said that although "it takes two parties to do a deal," she believes that Merlin "could certainly do a lot with [Busch Gardens], particularly around accommodation."
The beleaguered company also is facing federal probes. In June, SeaWorld disclosed it was under investigation by the U.S. Department of Justice and U.S. Security and Exchange Commission. The investigations center on executives' statements about the "Blackfish" documentary's impact and trading in the park's securities.
On a brighter note, SeaWorld said attendance was up among guests coming from within a 300-mile radius of its parks in Orlando; Tampa, Fla.; and San Antonio.
In San Diego, attendance is still down overall, although new rides and attractions — including the Orca Encounter, which debuted this year — have helped boost visitation, a trend that has continued through July, the company said.
While the company has been trying to trim costs, it has been investing in new attractions, although they're not considered on par with the sort of blockbuster additions being debuted by rivals Disney and Universal.
Along with the new Orca Encounter that replaced the phased-out Shamu theatrical productions, SeaWorld San Diego introduced its Ocean Explorer attraction this summer, which includes a three-minute mini-submarine ride.
In Orlando, the park transformed its Kraken roller coaster into a virtual reality experience.
Virtual reality also came to San Diego via a premium attraction, Orca 360, that simulates putting guests underwater with the killer whales.
---
Sign up for the California Politics newsletter to get exclusive analysis from our reporters.
You may occasionally receive promotional content from the Los Angeles Times.