SeaWorld to stop breeding orcas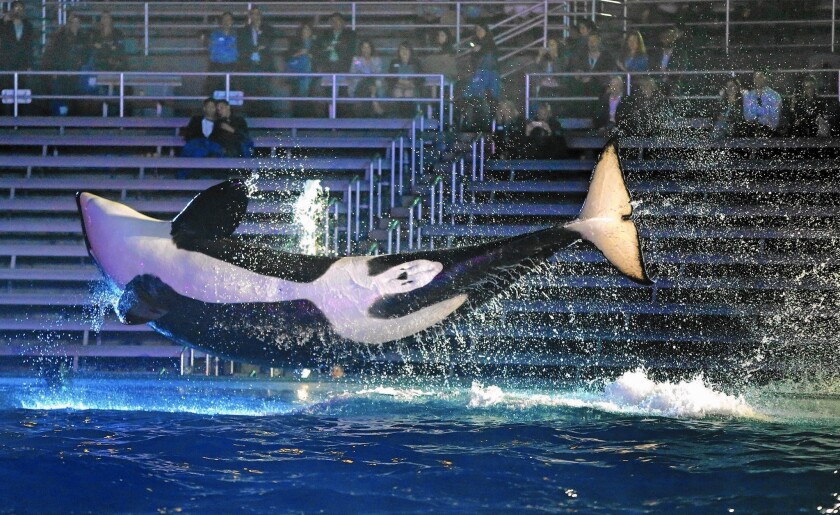 Americans' increasing discomfort with animal performances has forced SeaWorld to map out a future without Shamu.
SeaWorld will stop its orca breeding program, the company said Thursday, after years of controversy over keeping killer whales in captivity and expensive declines in theme-park attendance and stock value.
The 29 captive killer whales in the current generation are to live out their lives in SeaWorld enclosures, but they will not be replaced.
The sweeping change to SeaWorld Entertainment Inc.'s business model also will include ending theatrical shows nationwide and replacing them with exhibits that highlight the orcas' natural behaviors. That shift for the San Diego park, where attendance suffered the most, was announced in November; on Thursday, the company said parks in Orlando, Fla., and San Antonio would make the change in 2019.
"I've struggled with this decision more than any other decision I've made in business," Chief Executive Joel Manby said Thursday. "I feel relieved. I think the company now can double down on growing the business and focus on positive, energetic, inspirational and creative things again."
For decades, SeaWorld has been beset by criticism from animal advocates, and it has never fully recovered from the 2013 documentary "Blackfish," which accused the company of neglecting and abusing the orcas.
SeaWorld dismissed the criticism and disputed the documentary's allegations. But eventually it became clear that change was inevitable.
"They had to evolve because they wanted to continue to make money," said Wendy Patrick, a business ethics lecturer at San Diego State.
Since the release of "Blackfish," SeaWorld shares have lost more than half their value.
It was only last year, after saying park attendance dropped 4% in 2014, that SeaWorld began to acknowledge "public perception" was hurting its bottom line. The company launched a $15-million campaign to repair its image and pledged to spend up to $100 million to double the size of its San Diego orca enclosure.
Attendance rebounded slightly but has not grown as fast as the attendance at other theme parks, such as Disneyland and Universal Studios Hollywood.
"No company, no matter how great, could withstand such a withering, prolonged and well-funded assault without sustaining damage to its reputation and bottom line," said Kathleen Dezio, president of the Alliance of Marine Mammal Parks & Aquariums, a trade group.
Still, until Thursday, SeaWorld stood firm about continuing to breed the animals. As recently as late December, its San Diego park sued the California Coastal Commission for including a no-breeding condition on its approval of the larger orca enclosure.
Investors cheered the company's decision to stop its breeding program. Its stock jumped $1.60, or 9.4%, to $18.72 a share.
SeaWorld's decision means the company is forcing itself to envision its parks without orcas, their most popular attraction, said Martin Lewison, a theme parks expert and assistant business professor at Farmingdale State College in New York. He called the move brave.
But SeaWorld won't need to immediately decide on a future course: The 29 orcas it already has — including one that became pregnant last year — could live several more decades. And Manby said he expects that SeaWorld will continue to display other animals, such as dolphins and beluga whales.
After Manby became CEO of SeaWorld last year, he began moving the company toward emphasizing its animal conservation and rescue work. Manby said SeaWorld's decision reflects society's changing views about animals in performances and captivity.
The company announced Thursday morning that the breeding program would end immediately. The company also announced a partnership with the Humane Society.
Ringling Bros. and Barnum & Bailey Circus is ending elephant performances in May. Universal Studios stopped using orangutans in its Animal Actors shows. Some aquariums have eliminated or scaled back dolphin shows.
Thursday's move "should satisfy a very large portion of SeaWorld's audience," Bob Boyd, leisure analyst at Pacific Asset Management, said in an email. "Management should also have many years to promote their killer whales in a 'see them before they go away forever' program that should help fund their transition."
As SeaWorld moves forward, it has the backing of a longtime adversary, the Humane Society of the United States. The two announced a partnership Thursday morning.
Assemblyman Richard Bloom (D-Santa Monica) said Thursday he is introducing legislation that will permanently codify the changes announced by SeaWorld.
Noticeably absent from the bill is any reference to releasing the orcas to sea pens, which was a part of his failed 2014 bill seeking to ban breeding.
"The main underpinning of our bill in 2014 was that we end captive breeding, so we're pleased we're able to make that happen here," he said.
Still, some SeaWorld analysts, while praising the company's latest move, are taking a wait-and-see approach.
Not everyone was satisfied by SeaWorld's announcement.
The company's most vocal opponent, People for the Ethical Treatment of Animals, said in a statement that "SeaWorld must open its tanks to the oceans to allow the orcas it now holds captive to have some semblance of a life outside these prison tanks."
Manby said SeaWorld does not think releasing whales to sea pens is the answer — but he didn't completely rule it out in the long-term future either.
"It sounds nice, but we are very concerned for the animals' health. We're the ones responsible for them. If we did that and it failed ... it would be on us, and then we would be criticized for that," he said.
SeaWorld and some outside marine biologists have said that most of the company's whales have spent most or all of their lives in captivity and could not survive outside the parks without constant human care.
PETA has suggested that the orcas be kept in enclosed areas of the ocean known as sea pens.
No sea pens exist that could hold all 29 of the company's orcas, either as a group or individually. Experts say the cost of building such pens could reach $5 million each, with staffing costs of up to $500,000 a year for each pen. SeaWorld's net income last year was $49.1 million.
The most often cited example of a captive orca released to a sea pen is Keiko, the whale featured in the 1993 Warner Bros. movie "Free Willy."
Keiko was captured off Iceland in 1979 and trained to perform at theme parks. After several years at a theme park in Mexico City, the whale was transported to a sea pen in Iceland in 1998.
During a short swim outside the pen, accompanied by caretakers on a ship, Keiko swam away and turned up in a Norway inlet, cavorting with children and fishermen along the shore. He died a few months later of acute pneumonia.
hugo.martin@latimes.com
Sandra Pedicini in Orlando, Fla., and Lori Weisberg in San Diego contributed to this report.
---
Your guide to our new economic reality.
Get our free business newsletter for insights and tips for getting by.
You may occasionally receive promotional content from the Los Angeles Times.