SeaWorld and its ex-CEO to pay $5 million to settle 'Blackfish'-related SEC charges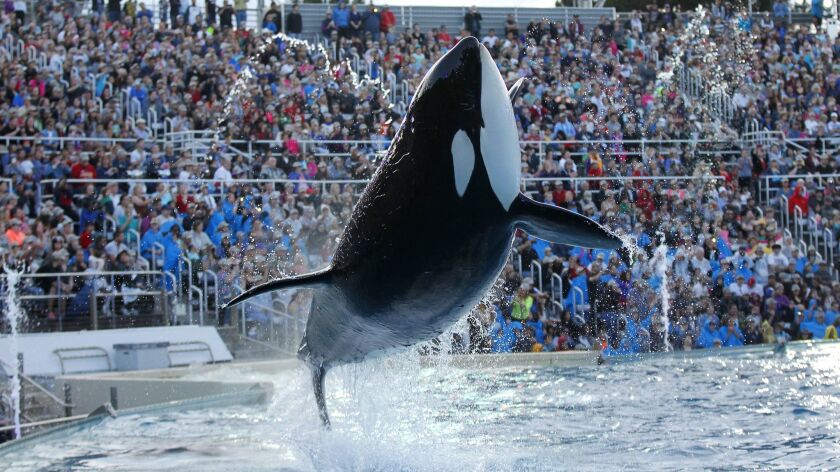 SeaWorld Entertainment and former Chief Executive Jim Atchison agreed to pay more than $5 million to settle fraud charges that they misled investors about the impact that the 2013 anti-captivity documentary "Blackfish" had on the company's reputation and business.
The U.S. Securities and Exchange Commission, which had been investigating the Orlando, Fla., company for more than a year, announced the settlement Tuesday, saying SeaWorld will pay a $4-million penalty and Atchison will be assessed more than $1 million in penalties and disgorgement.
SeaWorld and Atchison did not admit to or deny the SEC's allegations.
The SEC complaint, filed in federal court in New York, alleged that between December 2013 and August 2014, SeaWorld and Atchison made misleading statements or omitted from SEC filings and earnings releases information regarding the effect "Blackfish" was having on the company's reputation and business
It was not until August 2014 that SeaWorld acknowledged for the first time that falling attendance was due in part to negative publicity surrounding issues raised by the film, which looked at SeaWorld's treatment of its killer whales.
Following that disclosure, SeaWorld's stock price fell to $18.90 from $28.15 — a 33% drop that represented an $830-million loss in value, the SEC complaint stated. "The announcement also widely caused analysts to downgrade SeaWorld's stock to a sell recommendation," it added.
"This case underscores the need for a company to provide investors with timely and accurate information that has an adverse impact on its business," Steven Peikin, co-director of the SEC Enforcement Division, said in a statement. "SeaWorld described its reputation as one of its 'most important assets,' but it failed to evaluate and disclose the adverse impact 'Blackfish' had on its business in a timely manner."
In an SEC filing Tuesday, SeaWorld said it was "pleased to have resolved this matter and to continue to focus on delivering superior guest experiences, world-class animal care and rescuing animals in need."
SeaWorld's former vice president of communications, Fred Jacobs, also agreed to settle a fraud charge for his role in misleading SeaWorld's investors. He is to pay disgorgement and prejudgment interest of approximately $100,000. The SEC said he was not assessed a penalty because of his "substantial assistance" in the SEC's investigation.
All the settlements are still subject to court approval.
Weisberg writes for the San Diego Union-Tribune.
Weisberg writes for the San Diego Union-Tribune.
---
Your guide to our new economic reality.
Get our free business newsletter for insights and tips for getting by.
You may occasionally receive promotional content from the Los Angeles Times.