The Theranos fraud case has a lesson for start-ups: The SEC is watching for any missteps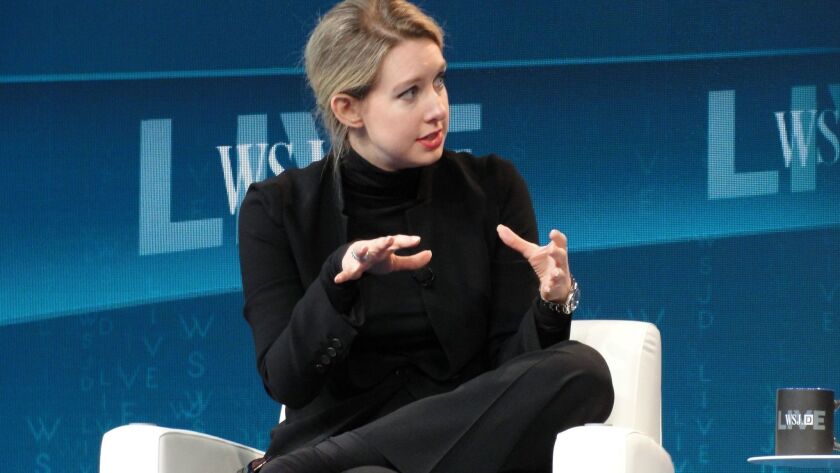 The U.S. Securities and Exchange Commission is sending a clear message to Silicon Valley: Start-ups aren't immune to regulatory action.
Theranos Inc.'s Elizabeth Holmes settled with the agency over fraud allegations Wednesday and agreed to forfeit stock, pay a fine and relinquish control of the blood-testing company she's been working on for nearly her entire adult life. Although Theranos is an extreme example, the SEC took it as an opportunity to admonish an entire industry of technology companies, which have ridden a wave of venture capital to great heights with limited public scrutiny.
"The Theranos story is an important lesson for Silicon Valley," Jina Choi, director of the agency's San Francisco office, said in a statement. "Innovators who seek to revolutionize and disrupt an industry must tell investors the truth about what their technology can do today, not just what they hope it might do someday."
The SEC began paying closer attention to technology start-ups a few years ago as capital was rushing into private markets and creating dozens of businesses with valuations exceeding $1 billion. Mary Jo White, the former SEC chairwoman, rattled tech investors in a speech at Stanford University in 2016 when she expressed concerns that such companies, known as "unicorns," weren't taking proper precautions to protect shareholders.
Since White's speech, things have only gotten more frenzied. The Bloomberg U.S. Startups Barometer, an index that tracks deal-making among private tech businesses, has climbed 81%, and companies are choosing to stay private longer than in the past.
Jay Clayton, the SEC chairman nominated by President Trump, is poised to carry on the fight against start-up misdeeds.
"The buzz is the SEC is taking a closer look and making unicorns a priority," said David Larcker, a professor of corporate governance at the Stanford Graduate School of Business. "The Theranos story is one where the SEC can say, 'We're watching you.' It's sort of the perfect example to say, 'We can see you, and you won't get away with it.'"
Probes can take years, but several efforts to wrangle unicorns have produced results in recent months. In October, the SEC fined venture-backed insurance startup Zenefits and its co-founder almost $1 million in a settlement over allegations that they misled investors. On Monday, the agency levied a $160,000 fine against Credit Karma Inc., another private company valued at more than $1 billion, over claims it failed to disclose financial information to shareholders.
The penalties against Holmes, who was accused of lying to investors and the media about the capabilities of Theranos' technology and its financial outlook, sent a much stronger message. In addition to the cash and stock fines, she's banished from serving on boards or as an officer at any company for a decade. Her attorney declined to comment. Neither she nor the company admitted wrongdoing.
Theranos said it cooperated with the investigation and was "pleased to be bringing this matter to a close." The company has been hobbled by scandals in the last few years. It wasn't ordered to pay anything in the SEC settlement, likely to avoid inflicting further punishment on investors.
---
Your guide to our new economic reality.
Get our free business newsletter for insights and tips for getting by.
You may occasionally receive promotional content from the Los Angeles Times.