Southern California home sales plunge in January, prices rise modestly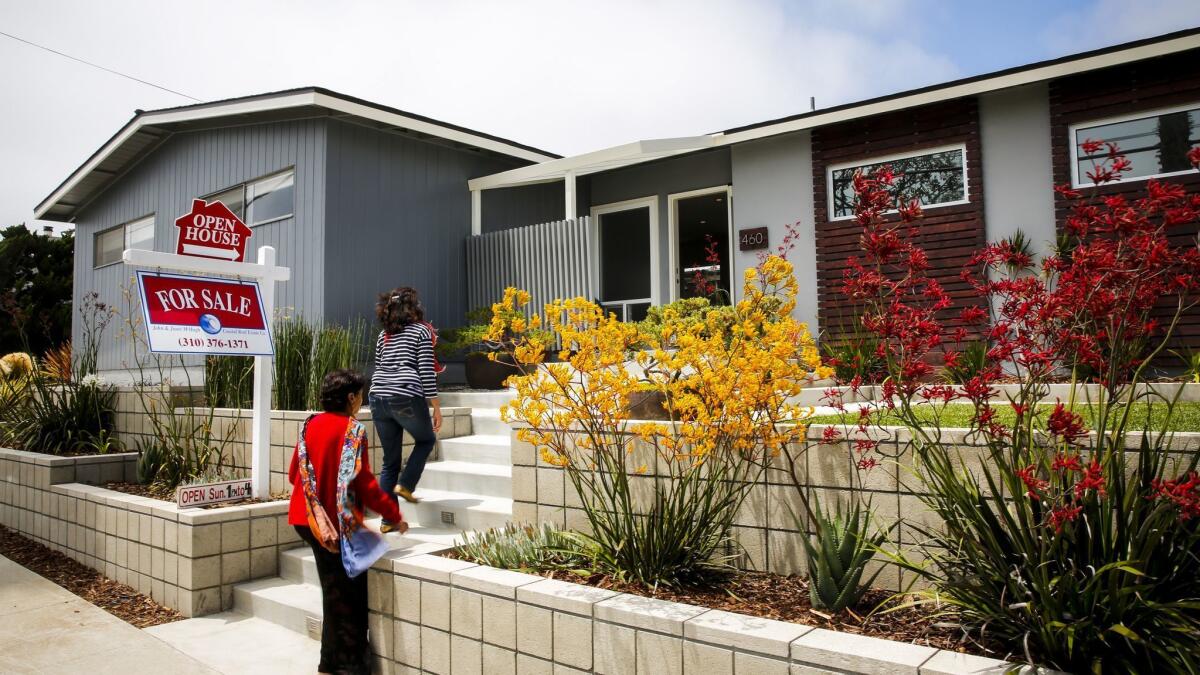 The sluggish Southern California housing market took another hit in January, with sales plunging 17% from a year earlier, according to a report released Wednesday.
The six-county region's median price rose only modestly, climbing 2% from January 2018 to $505,000, according to real estate data firm CoreLogic.
Besides the prior month's 1% gain, January's year-over-year increase in the median — the point at which half the homes sold for more and half for less — was the smallest since prices began their steady upward climb in 2012.
The median is now $32,000 below its all-time high reached in June and sales, clocking in at 12,665 last month, haven't been this low in January since 2008.
"You are hitting the limits of people's incomes," said Robert Castaneda, a real estate agent who works throughout Southern California.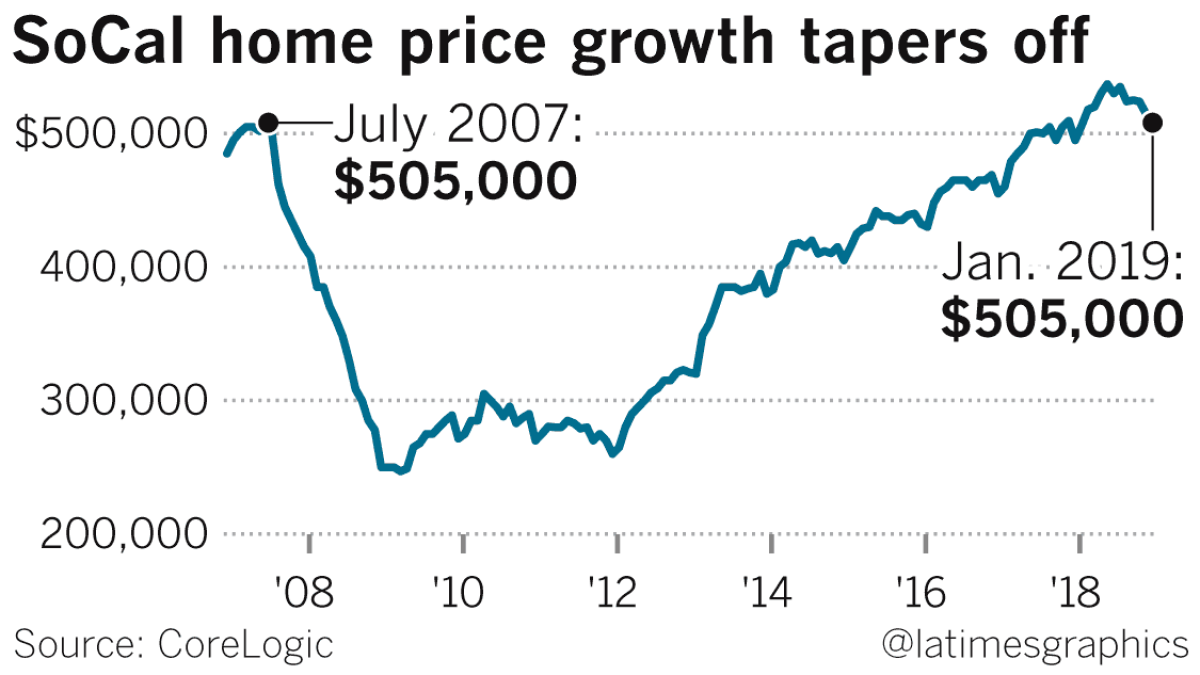 As homes have sat unsold, the number of listings has swelled, spurring more sellers to trim the asking price to close a deal.
In Los Angeles County, nearly 28% more homes were on the market in January than a year earlier, according to Zillow. Nearly 16.5% of those listings had at least one price cut last month, up from 10% a year earlier.
As in recent months, the median reduction at roughly 2.7% was modest, with the downward trend showing up in measures of price trajectory.
The S&P CoreLogic Case-Shiller index, for example, provides a delayed look at home prices but is widely considered to be the gold standard of measurements, in large part because, compared with the median, it's less susceptible to shifts in the types of home selling.
On Tuesday, data for December were released, showing prices in Los Angeles and Orange counties rose 3.72% from a year earlier — the smallest increase since 2012 and down from a recent peak of 8.2% in April.
In San Diego County, prices rose only 2.3% in December, down from an April peak of 7.6%.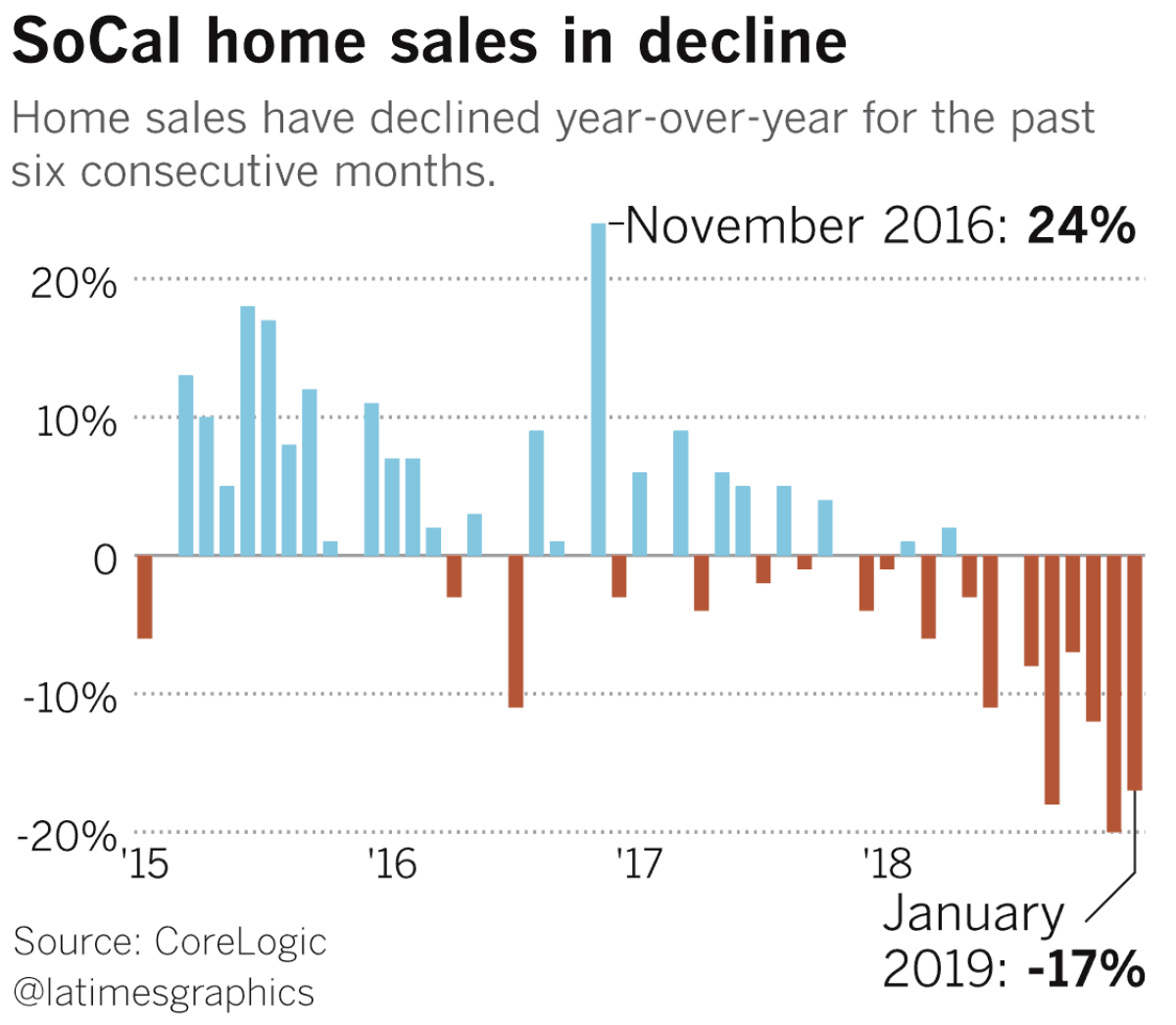 Despite the well-publicized slowdown in housing sales, some agents say they've seen more interest among buyers this month. Some of the boost is the result of typical seasonal trends after the holidays, but mortgage rates have also come down from recent highs.
Since peaking in November at 4.94%, the average interest rate on a 30-year fixed mortgage has steadily fallen, reaching 4.35% last week, according to mortgage buyer Freddie Mac. A year earlier, the average was 4.4%.
San Fernando Valley real estate agent Carol Otero cited those lower rates as one reason more people were showing up to open houses.
About 25 groups came through a recent two-day open house for a three-bedroom home, Otero said. The agent, who has the listing for the Lake Balboa home, said she'd even received offers over the $569,000 asking price.
"Some of the buyers think this is a great time to jump in because prices are leveling off," she said. "I think they are going to find out it's possibly a little bit different."
Whether Otero is correct will be clearer soon as the typical spring buying season kicks off.
If the normal flood of buyers stream through open houses eager to bid, it would give weight to arguments that the slowdown in recent months was more of a temporary pause, rather than the start of an across-the-board decline in home values.
For now, home sales are plunging and prices have moderated:
In Los Angeles County, sales in January fell 15.8% from a year earlier, while the median price rose 2.6% to $579,500.
In Orange County, sales dropped 20.3% and the median price rose 1.4% to $700,000.
In Riverside County, sales dropped 16.8% and the median price rose 2.7% to $380,000.
In San Bernardino County, sales dropped 13.1% and the median price rose 2.6% to $320,000.
In San Diego County, sales dropped 19.4% and the median price rose 2.5% to $542,000.
In Ventura County, sales dropped 21% and the median price was unchanged from a year earlier at $570,000.
Like Otero, real estate agent Castaneda has also seen more people come through open houses in February.
But buyers are being picky, he said, not willing or able to aggressively bid up homes. In addition to waning affordability, Castaneda said some buyers "are fearful" of buying at the top and don't want to overpay. As a result, they're submitting lowball offers.
"A lot of them think they can offer below asking," he said. Castaneda predicts prices will "putter along pretty flat" until incomes catch up or rates drop significantly.
Castaneda's thinking is on par with the forecast from the California Assn. of Realtors.
The trade group, whose members make their living buying and selling homes, predicts the state's median price will decline this year, but only by 0.2%.
Follow me @khouriandrew on Twitter