Southwest Airlines' decision to stop serving peanuts prompts outcry from peanut industry leaders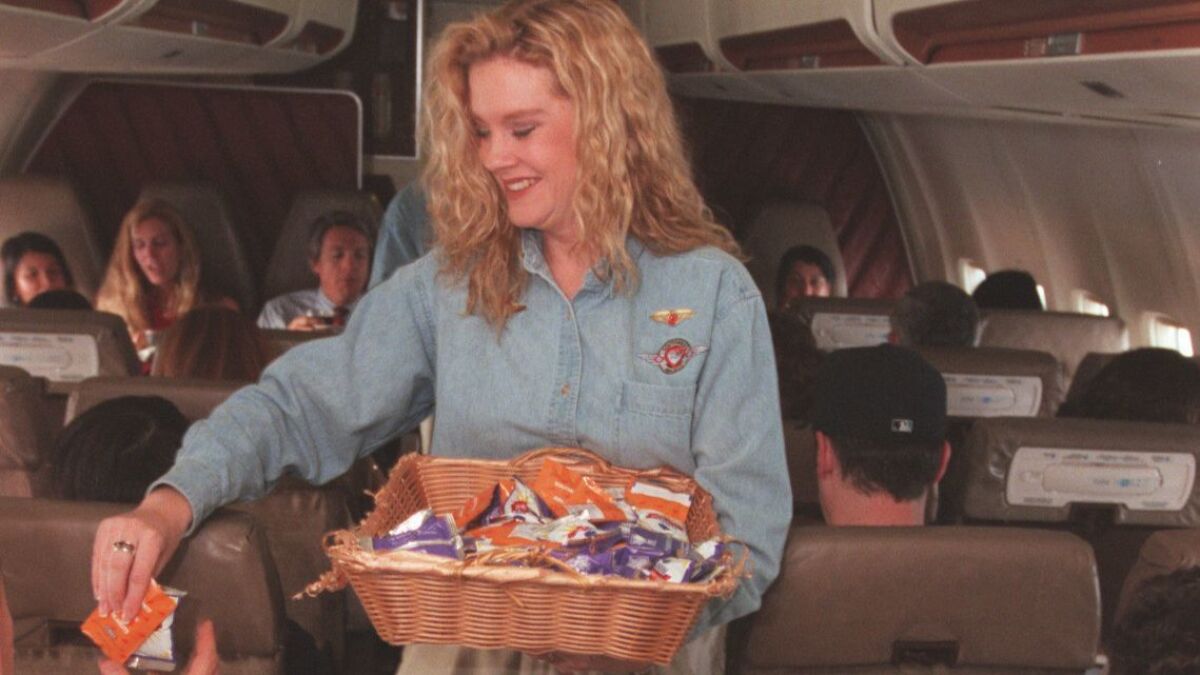 Southwest Airlines, the carrier that has for years used its free peanut snacks as a marketing gimmick, will stop serving nuts on flights starting Aug. 1.
The Dallas-based low-cost carrier cited concerns over passengers with peanut allergies as a key reason why its flight attendants will switch out the peanuts for pretzels and other free snacks in the future.
"Peanuts forever will be part of Southwest's history and DNA," the airline said in a statement. "However, to ensure the best on-board experience for everyone, especially for customers with peanut-related allergies, we've made the difficult decision to discontinue serving peanuts on all flights beginning August 1."
A day after the announcement, the National Peanut Board protested the move, saying the airline could continue to offer peanuts and take simple precautions to protect passengers with peanut allergies, such as letting them wipe down airline seats before a flight.
"It is an unnecessary step that will disappoint many of Southwest's customers," according to a statement by the group, which represents U.S. peanut farmers.
For years, the airline incorporated its peanut snacks in its advertising, saying airfares are so low that passengers could fly for peanuts. Meanwhile, many other airlines have tried to avoid conflicts with passengers who have nut allergies by switching to pretzels and cookies as their primary snacks.
Still, health experts say that for people without the allergy, peanuts are a healthy alternative to other snacks offered on airlines, such as cookies, dried fruit and candy.
"Peanuts are definitely a better alternative than pretzels and other foods," said Charles Platkin, a public health expert at City University of New York School of Public Health who has been analyzing airline food for nearly 20 years.
He noted that several airlines that don't serve plain peanuts still serve peanut M&M candies.
The concern over passengers with peanut allergies prompted the U.S. Department of Transportation in 2010 to consider several options, including banning peanuts on flights for passengers requesting a "peanut-free" flight ahead of time or setting aside a "peanut-free buffer zone" near a passenger with peanut allergies.
The agency didn't adopt such rules but some airlines allow passengers with nut allergies to board early to wipe down seats, trays and armrests of any leftover peanut residue from previous flights.
Food allergies are more common among children than adults, and the Centers for Disease Control and Prevention estimates that four out of every 100 children have some type of food allergy. From 2004 to 2006, the CDC reported an average of 9,537 hospital discharges per year because of food allergy problems among children under 17.
To read more about the travel and tourism industries, follow @hugomartin on Twitter.
---
UPDATES:
11:10 a.m.: This article was updated with a statement from the National Peanut Board.
2:40 p.m.: This article was updated with information on peanut allergies from the Centers for Disease Control and Prevention.
2 p.m.: This article was updated with comments from a public health expert.
This article was originally published at noon.
Sign up for the California Politics newsletter to get exclusive analysis from our reporters.
You may occasionally receive promotional content from the Los Angeles Times.