Can SpaceX land a rocket on a barge off California?
Elon Musk's ambitions to corner the space cargo market via reusable rockets will stand a crucial test Sunday morning, when SpaceX engineers will attempt to guide a Falcon 9 rocket back to a ship off the Southern California coast.
Neither of the two previous attempts to stick a sea landing has succeeded, although the company brought a Falcon rocket stage back to terra firma at Cape Canaveral, Fla., on Dec. 21 in what many hailed as an engineering feat.
Watch live: SpaceX rocket launch >>
SpaceX sticks the landing
Sunday's effort is far more difficult. The full round trip has been compared to vaulting a pencil over the Empire State building, then getting it to come back and land on its eraser atop a floating target smaller than a shoe box, and not tip over.
The Falcon 9 two-stage rocket is slated to lift off from Vandenberg Air Force Base at about 10:42 a.m., carrying a 1,157-pound Earth-observing satellite for U.S. and French government agencies. Its landing, off San Pedro a few minutes later, will be difficult to see with the naked eye, according to the company.
See the most-read stories this hour >>
SpaceX has yet to reuse a rocket stage, a key element in bringing the cost per launch to a level where the Hawthorne-based company could dominate the market for delivering cargo and people to space.
Sunday's launch and landing of a fresh rocket — SpaceX is saving the Dec. 21 stage for posterity — nonetheless would help burnish Musk's corporate image with a second consecutive milestone, after a spectacular explosion of a Falcon 9 last June, said Marco Caceres, senior space analyst for Teal Group Corp., a defense and aerospace analysis company based in Fairfax, Va.
SpaceX rocket explodes after takeoff
"If you have a rocket that's now able to land on a moving barge, it shows that your control of the vehicle is excellent," Caceres said. "The real cost benefits will be from re-using the hardware."
Physics, politics and economics all necessitated the water landing, a highly complicated feat with a narrow margin for error. Shortening the return trip was the easiest way to balance the requirements to deliver a heavy satellite at the high speed needed to reach a distant orbit, then put on the brakes, flip the first stage around, guide it through Earth's atmosphere, and get it to touch down gently on a barge measuring about 300 feet by 170 feet.
Hurling a pencil over the Empire State building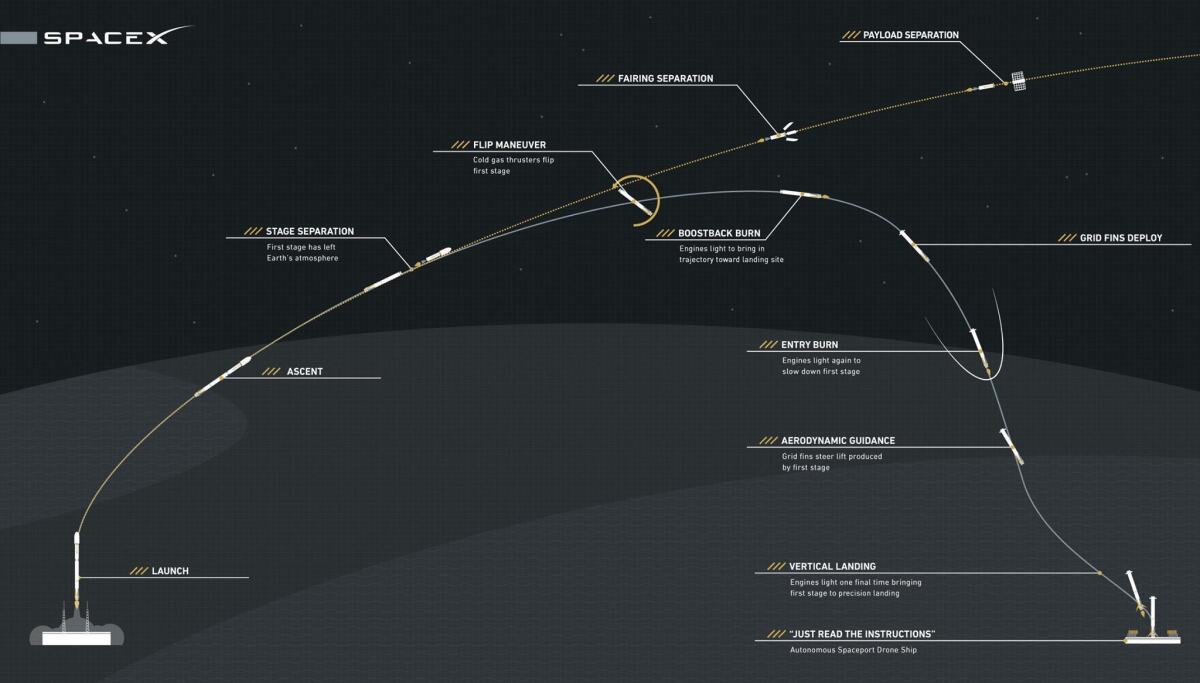 In any case, the company did not receive timely clearance from federal agencies to bring it back to land.
Fortunately, one of the U.S. agencies that cares about hazards to sea life is a client: The Jason 3 satellite aboard the launch vehicle is a joint endeavor of the National Oceanic and Atmospheric Administration, its European counterpart, and the French space agency. It is designed to measure ocean surface topography to better understand sea level rise, currents and weather phenomena such as El Niño.
See more of our top stories on Facebook >>
This is the first attempt to land the Falcon 9 off the coast of San Pedro. Two previous attempts off of Cape Canaveral ended in fiery crashes last year.
Almost, but not quite
Stabilizing the 14-story rocket alone is akin to balancing a broomstick on your palm, according to SpaceX engineers.
Musk faces little downside if this attempt fails, Caceres noted. SpaceX, a privately held company, apparently is flush with money and just won a new NASA contract, he noted.
"You're testing reusable technology. It's expected that you'll have your share of failures," Caceres said. "They don't seem to be afraid of that. Other companies seem to be a bit more tentative."
@LATgeoffmohan
ALSO
Olympus to recall and redesign medical scope linked to superbug outbreaks
Fears rise that plunging U.S. stocks could pose risk to economy if volatility continues
These top-selling dresses at Macy's, Kmart and Wal-Mart show us what retail got wrong
---
Sign up for the California Politics newsletter to get exclusive analysis from our reporters.
You may occasionally receive promotional content from the Los Angeles Times.