SpaceX will build BFR spaceships and rocket boosters at Port of Los Angeles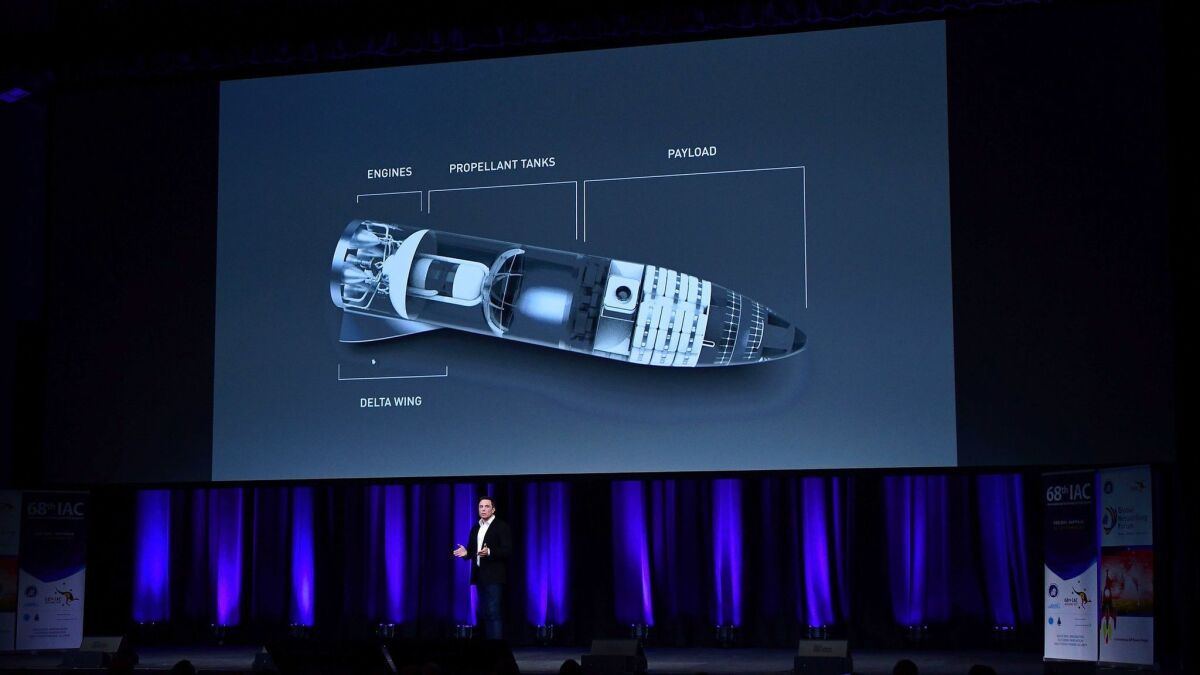 Los Angeles Mayor Eric Garcetti confirmed Monday that SpaceX will build the company's BFR rocket and spaceship system at a facility at the Port of L.A.
In a tweet about his State of the City address Monday morning, Garcetti said the vehicle "holds the promise of taking humanity deeper into the cosmos than ever before."
SpaceX Chief Executive Elon Musk has said BFR will eventually replace the Hawthorne-based company's workhorse Falcon 9 rocket and its new Falcon Heavy rocket. BFR is also key to SpaceX's eventual goal of colonizing Mars.
On Thursday, SpaceX President Gwynne Shotwell said in a statement that the port will play an "increasingly important role in our mission to help make humanity multi-planetary." The plan will go before the L.A. Board of Harbor Commissioners on Thursday for expected approval.
Last month, SpaceX and the Port of L.A. had entered preliminary negotiations on a lease agreement that would expand SpaceX's current operations at the port and allow it to build "large commercial transportation vehicles" that had to be transported via water for testing and delivery "due to their size."
That description in public documents led many to believe that the facility would be used to develop BFR, a reusable spaceship and booster that when stacked one atop the other is expected to be more than 340 feet tall.
SpaceX and port officials at the time would not comment on what exactly would be built at the Terminal Island site.
SpaceX has used the port since 2012 for West Coast recovery operations of its Dragon capsules and first-stage boosters, which arrive via droneships. Prior to this proposal, SpaceX already leased 8.1 acres at the port.
Port staff initiated discussions with SpaceX about a facility at the port in 2015, according to a staff report prepared for Thursday's meeting. After considering other sites throughout the country, SpaceX decided on the 19-acre site at the former Southwest Marine Shipyard at Berth 240.
The site has not been occupied by a tenant since 2005. SpaceX's BFR project could result in 700 jobs at the location, according to the report.
The initial 10-year lease, which has two options for 10-year extensions, has an initial annual rent of about $1.38 million with annual adjustments based on the Consumer Price Index. SpaceX can offset about $44.1 million of rent in exchange for improving the site in its first 20 years of tenancy.
The port is expected to collect a total of $30 million in the final 10 years of the lease agreement.
Twitter: @smasunaga
---
UPDATES:
1:30 p.m.: This article was updated with additional details about the lease agreement and plans for the BFR facility.
This article was originally published at 11:05 a.m.
Sign up for the California Politics newsletter to get exclusive analysis from our reporters.
You may occasionally receive promotional content from the Los Angeles Times.